Seeing Clearly
03 Mar 2021
Dr. Brad Bodkin uses the latest technology at The Vision Center at Seaside Farms
By Sophia Rodriguez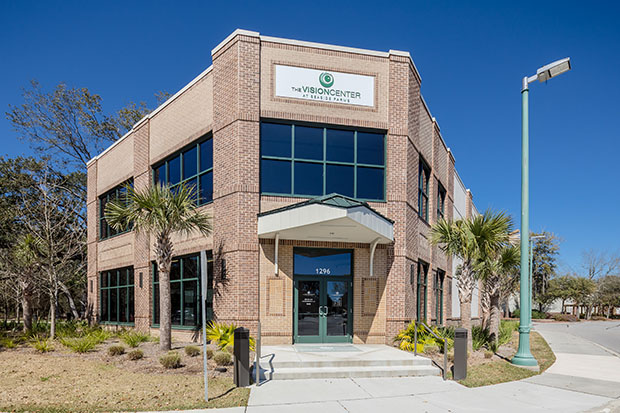 It's tempting to assume that all optometry practices are alike, especially if you've had a standing appointment at one since, say, childhood.
The yearly pilgrimages probably start to blend together even if you decide to switch eye doctors because they usually follow that predictable pattern — the test where your eyes have to follow the moving target, reading lines of increasingly smaller letters with an eye paddle, answering "Which is clearer, number one or number two?" as the doctor flips lenses on that device that looks like the stationary binoculars on the observation deck of the Empire State Building.
Or if you're visiting an optometrist for the first time, you might be nervous about anything touching your eye — like Rachel in the Friends episode when she gets an eye infection. Her phobia leads to a hilarious (and relatable) glaucoma exam. That dreaded puff of air can make even a longtime patient wince.
Dr. Brad Bodkin's Vision Center at Seaside Farms is geared toward calming exactly those kinds of fears.
"We know that some patients are apprehensive about certain aspects of an eye exam, and we have tried to eliminate those concerns as much as possible," he said. "For example, the dreaded air puff test for glaucoma — we have never used that in our office. We use a blue light instead that measures the same thing without that anxiety-inducing puff of air."
The Vision Center has other high-tech, precise diagnostic tools that eliminate the need for some of the old exam standbys, like dilating drops. The replacement? An Optos camera that allows the doctor to take 200-degree pictures of the back of the eye.
The office also has an ocular coherence tomographer that takes 3D images of the ocular structures in order to find the earliest signs of disease in the eye. The newest technology in the practice is the Neurolens measurement device, which can measure tiny misalignments precisely and prescribe specialized lenses to combat headaches, tired eyes and even neck pain.
And while most vision practices don't boast of a specialty, The Vision Center staff has made a point to focus on contact lenses — particularly multifocals that help older patients replace their bifocal glasses. Bodkin says it's a subspecialty that goes hand-in-hand with treating dry eye, which is often a big hurdle for contact lens users.
An Eye For Optometry
Dr. Bodkin opened The Vision Center in Mount Pleasant in 2009. He expanded his office space within a few years, as well as his staff with the addition of Ohio native Dr. Ellesse Boiwka. Dr. Bodkin is also a transplant, hailing from Collinsville, Virginia and graduating from The College of William and Mary. After gaining clinical experience in Beverly Hills and Boston, Bodkin and his wife opted for the mild winters and beach access the Lowcountry has to offer 14 years ago, and they've never looked back.
"I always knew I wanted to be in health care and help people," he said. "With my chemistry and math background, I was headed down the path to be a pharmacist. Then during my senior year, I decided to look around and make sure that is where I wanted to be." He eventually decided optometry might be a better fit, not in small part because of the freedom it offered.
"Part of what made optometry appealing in the first place was the ability to open my own practice. The ability to treat my patients the way I wanted to was a big draw to open my own place and exercise that autonomy."
The Vision Center at Seaside Farms has been voted Best Vision Center by Moultrie News readers eight years in a row. When COVID-19 hit last spring, Bodkin and his team were up for the challenges it posed.
"Being in healthcare, we were always diligent with cleanliness and hygiene prior to the pandemic, so not much has changed in that regard," he said. But "gone are the days when we had two or three people in our optical area looking at glasses while someone waited to go see the doctor, and a couple of family members hung out in our waiting area and another person checked in and/or out. It has made things much quieter up front, but all well worth it to protect both our patients and our staff."
Dr. Bodkin has suggestions for those looking to take better care of their eyes that suggests a holistic approach.
"I am going to sound like every other doctor, but eat healthy, exercise, and see your eye doctor every year. Most people are under the impression that they don't need to visit their eye doctor if they can see well, but that is not the case."
He still remembers one of his first patients, a healthy-looking 35-year-old who came in simply expecting an updated prescription. When he noted signs of high cholesterol during the exam, he suggested the patient get checked out by their primary care physician. The patient called him back a month later and said their doctor claimed Bodkin had probably saved their life.
"We really put the emphasis on the patient experience to make sure they get the best care possible. We use every available technology to try and make their visit feel personalized, comprehensive and comfortable," said Dr. Bodkin. "We are just trying to meet everyone's individual needs for seeing, looking and feeling their best."
The Vision Center at Seaside Farms is located at 1296 Long Grove Dr, Mt Pleasant. For more information, call 843-388-6200 or visit www.seasidevision.com.