Senior Living for a New Generation
03 May 2019
Luxury retirement lifestyle has never looked so good
Whether you're seeking independent living with fantastic amenities or an environment that provides medical care in the comfort of home, there's a retirement community in Charleston to fit your needs.
By AMANDA OLIVER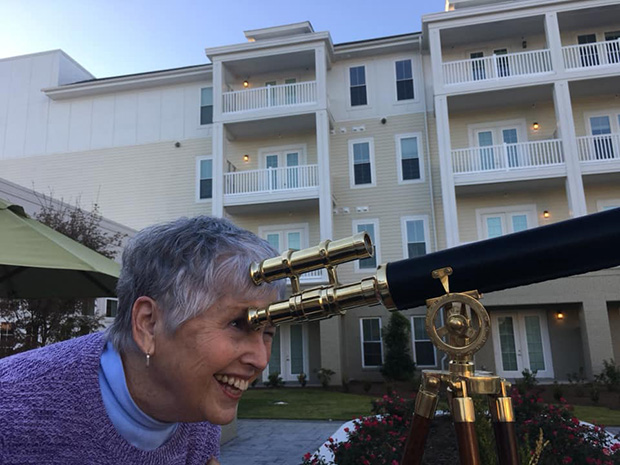 Somerby Mt. Pleasant
3100 Tradition Cir, Mt Pleasant
800-984-4096, somerbyseniorliving.com/community/mount-pleasant-sc
In days past, whenever we thought about senior living communities, we likely thought of something along the lines of a nursing home — an image not exactly filled with joy or excitement.
Yet, a senior living community of joy and excitement is exactly what Somerby has created. "We completed a million-dollar renovation last year, so our buildings have a bright and airy feel to them," says Paige Lacasse, Sales Manager at Somerby Mt. Pleasant. The new interior creates an environment that is drastically different than any clinical nursing facility from previous decades.
Even though the interior is new, Somerby has been a mainstay in Mount Pleasant for eleven years. Lacasse goes on to explain that "a number of the staff members have been a part of Somerby for most of its existence. In fact, Mark Summerville, the Director of Resident Services, has worked for Somerby since before the building officially opened."
According to Lacasse, Summerville is the "point person for all residents, since he knows Somerby inside and out." Offering independent living, assisted living, and memory care, Somerby prides itself on working with and supporting their residents as their needs may change.
"We call all that we offer 'luxury senior living,'" Lacasse says. It's easy to see why. From dining services, where they "run the restaurant just like a regular restaurant, with wait staff taking your orders," to the "day spa offering services for both men and women, including manicures and pedicures," there's no shortage of amenities.
With an onsite movie theater that includes reclining seating, art studio space, and an indoor saltwater pool, one could easily be content staying on the grounds. "Though we offer plenty to do on-site, we also take our bus out regularly to events in the community, or even just to the beach or happy hour, so residents have even more choices as to how they want to enjoy themselves," Lacasse says.
"We encourage people to move to Somerby while they are independent and active, so they can
enjoy maintenance free living. This allows them to have more time to do all the things they love," she adds.
By the way, all of this is even before you even get to their activities schedule! Jam-packed with events ranging from strength and fitness classes to Bible studies, residents have plenty to choose from to plan their day. There's even a Resident Council that guides what activities are available so offerings stay up-to-date and current with what the residents want.
The last piece of Somerby Mount Pleasant that sets them apart, according to Lacasse, is their culture. "Our Executive Director, Christopher Tharp, has meetings every week with our entire leadership team. We share what we're each doing, we discuss what we could be doing differently, and we always work towards a goal how we can best enhance the residents' experience," she shares.
Lacasse goes on to say, "I know it sounds cliche, but we really are like a family. I feel like I have 200 sets of grandparents. I know their life stories and their kids' names, and they know about my family. It's really special. For both the staff and the residents, it just feels like home."
If you're looking for that feeling of being at home when you're making your senior living plans, Somerby might be just the place to start. With their luxury senior living environment and a mission to "go the extra mile" for their residents and invest in their "physical, emotional and spiritual lives," you may just find it to be the perfect fit.
South Bay at Mount Pleasant
1400 Liberty, Midtown Ave, Mt Pleasant
843-936-2800, southbayatmountpleasant.com
As our society ages and continues to live longer, much of the focus and discussion around senior living has focused on physical wellbeing. However, Andy Loufman, Wellness Director at South Bay at Mount Pleasant, believes it should encompass much more than that. "Focusing not just on the staying physically strong, but also mentally, emotionally, and spiritually as well is what makes the difference in people living a more fulfilling life," he says.
Loufman comes from a background in athletic performance, so he has an in-depth understanding of wellness. Not only does he have a master's degree in the field, he's also an eCertified Exercise Physiologist, earned a certification in personal training in addition to being a specialist in senior fitness and corrective exercise. "My goal here at South Bay is really to provide an all-encompassing, holistic approach to increasing people's quality of life," he says.
He further clarifies that the approach he takes to wellness "is beyond just physical exercise. Truly what I hope to accomplish in each of the resident's lives is fostering 'optimal wellness,' which includes not just physical but mental, emotional, social, and spiritual wellness."
The passion Loufman feels towards supporting and working with each and every resident is shared across the entire South Bay staff: "Everyone who works here really embraces the mindset of compassion and being a caregiver and supporter, and our professional education in this field."
The offerings South Bay provides is equally as impressive as its staff's commitment to the residents. Offering what they describe as "feeling like a luxury vacation resort," yet having "all the comforts of home," they can give their residents independent living as well as a continuum of care as needed.
Loufman cites not only South Bay's "indoor pool and wellness center, but also our onsite spa, a variety of dining venues, plus chef-prepared meals and weekly maid service" to support this.
For anyone who seeks a multi-pronged approach to wellness as they age, you'll definitely want to seek out South Bay for a visit. If you envision your retirement as one that involves luxury living combined with a holistic approach to wellness, then South Bay might just be the place.
Franke at Seaside
1885 Rifle Range Rd, Mt Pleasant
843-216-2222, frankeatseaside.org
One of the major things that makes Franke at Seaside different than most other senior living communities is that it's the only faith-based, non-profit senior living space in Mount Pleasant.
"Run as an extension of Lutheran Homes of South Carolina, Franke is able to offer various residential living options, along with assisted living, memory support and long-term care, including rehabilitation and skilled nursing on our campus" explains DeAnne Reed Vane, director of sales and marketing for the Independent Living portion of Franke at Seaside.
In addition, they also provide BeWell Home Services, a non-medical home care program, and BeWell@Home, a healthcare membership program, both on-site and in individual's homes.
While most senior living communities offer an assortment of activities, the monthly calendar for Franke at Seaside is truly something to behold. Spanning 17 x 22 inches, each day boasts no less than six different selections, usually many more.
"One of our most unique offerings has to be Franke University," adds Vane. "Each 'semester,' we have courses taught both through digital format as well as lectures and discussions. A number of our residents come from academia and love to share their knowledge with others, so we provide them a way to teach others what they know."
This semester at Franke University, for example, residents can choose to enroll in "Understanding Opera," "Inventions," "Lost Words," or the "Aging Brain."
Another distinction that sets Franke at Seaside apart is the active inclusion of resident opinions in their planning. "We have a resident council that discusses and advises us on a variety of areas," shares Vane. "We have a committee for everything from Dining to Landscaping to Safety. We also had a team of residents advising on our upcoming renovation plans for the Burgess Center."
Those upcoming renovations are the biggest project on the current agenda. This facility houses everything from fitness rooms and a pool to dining options, an art gallery and more for residents. "We're not only creating more rooms so that our residents can continue to pursue what inspires them, we're also enlarging the building's footprint and building out to so that we can provide as much space as possible," says Vane.
With an entire building dedicated health care, residents have access to inpatient rehabilitation treatments and therapies. Vane points out that Franke is "set up to provide physical, occupational, speech, and even aquatic therapy. We also have a wide variety of skilled medical staff, certified nursing assistants and resident aides as well."
Considering all of the services that Franke at Seaside provides, the fact that seniors are making the transition to senior living facilities earlier, and the waiting list to move in, you won't want to dally if this sounds like the place for you. Go ahead and take a tour to truly appreciate the expansive campus and community.
Wellmore of Daniel Island
580 Robert Daniel Dr, Charleston
843-566-1000, well-more.com/charleston
The name of Daniel Island's first luxury retirement community explains its mission quite well. "As our name indicates, we have a very a wellness-focused approach to senior living," says Ashley Seeds, executive director.
Yet unlike most other senior living options in the area, Wellmore doesn't provide an independent living space. "Our CEO and President, Donald Thompson, really wanted the focus to be providing the next step past independent living," informs Seeds. "That's why we offer assisted living, skilled nursing, memory care, and short-term rehabilitation services."
Seeds says Wellmore "really strives to provide the ultimate level of each of these four services."
"The overarching goal is to bring together all of the fantastic amenities that you'd normally find in an independent living environment to a care services environment instead," she explains.
"We have a five-star dining room and a full bar, and we offer our dining services with the same mindset as a true restaurant. We also have things such as a stunning, full-service salon and a saltwater heated pool."
Having been open for only a little over a year, Wellmore of Daniel Island is able to offer these features in the most up-to-date facilities and campus. Just like in an independent living environment, Wellmore provides a plethora of social programming options. Seeds lays out how "residents have a wealth of options to pick rom. There's something happening seven days a week, whether it's music, games, outings, happy hours or educational speakers."
However, what really sets the facility apart is the wellness component. Seeds note that "while other locations will have wellness within the same department as their activities, here at Wellmore, we take it up a notch. Here, it's a completely separate department with full-time employees that have specific training and degrees in fitness."
"We not only have a packed activities calendar, but we've also got a full wellness calendar as well," she says.
In fact, their wellness program has been awarded the Assisted Living Federation of America Best of the Best Award on three occasions. Seeds explains that "what is most important is that we try and meet each and every resident where they are in terms of their abilities and wellness. We make sure we cater all of our different wellness options and offerings to residents of all levels of ability and range of movement."
When it comes time to seek out an assisted living or memory care community, Wellmore of Daniel Island makes an excellent pitch for why they should be your top choice. If you want to combine luxury amenities with a focus on wellness with the support of assisted living, consider Wellmore.