The Establishment
03 May 2019
Historic Broad Street's Dining Destination
By Wendy Swat Snyder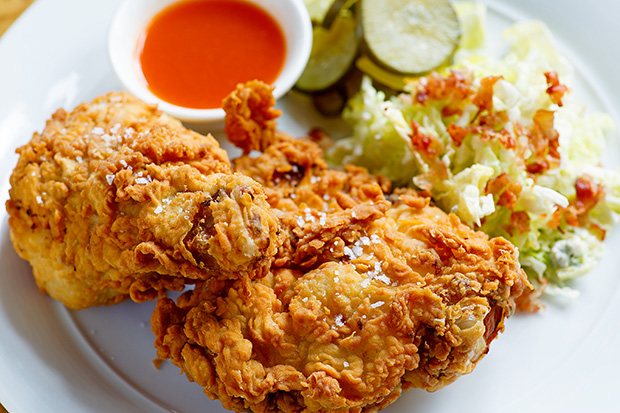 With a standout holiday dinner at The Establishment still on my mind, I decided to pop in for brunch with a friend on a recent spring afternoon. It's hard to imagine a more ideal downtown venue for a leisurely midday meal. Seated at the edge of Charleston's famed South of Broad neighborhood, the stylish eatery is bound by the harbor to the east and the Four Corners of Law on its west side. The Broad Street location delivers the best of two worlds: the restaurant is at once central yet removed from restaurant row, promising an amazing dining experience with world-class shopping and antebellum mansions a short stroll away in either direction
Inside the beautifully renovated 18th century property, jazz standards played live on a grand piano set the tone. Light streaming through French doors flood an intimate dining area overlooking Broad Street. Rustic timber-beamed ceilings and old Charleston brick contrast with contemporary elements such as concrete-covered walls and sleek furnishings.
The nearly two-year project to transform the former James Gregorie House was led by Atlanta-based firm, The Johnson Studio at Cooper Carry. The team designed several unique settings to provide a sense of separation within the open floor plan of the spacious venue. The vibe flows from Old South to ultra modern: at the eatery's center, a sleek, u-shaped bar provides a happy place to wine and dine beneath a jaw-dropping video wall streaming panoramic landscapes from around the world. Beyond that, another area, where one's focus is directed to an exhibition kitchen, with plenty of room for foodies at the chef's table.
"There's a view from every seat," notes general manager Brad Mogan, a graduate of the Johnson and Wales hospitality and tourism management program. "You can enjoy a distinct experience in the bar or one in the elegant dining room with a view of Broad Street and our pianist playing in the background."
Sophisticated yet accessible, the design concept carries through to The Establishment menu which, once a week on Sunday, departs from its seafood-centric focus.
"We wanted it to reflect a classic brunch feel while maintaining our commitment to detail," explains Executive Chef Matt Canter. "Our food, our service—they're very meticulous."
The Maryland native says he found the pressure of the kitchen "a natural fit" as a teen, and segued after high school into The Culinary Institute of America, Hyde Park, New York.
Canter went on to work in several kitchens of The Ritz-Carlton after completing an externship at the luxury hotel's Amelia Island, Florida property. "The company is very professional, really focused on guest satisfaction," he says, adding that a similar culture at The Sanctuary on Kiawah Island led him to Charleston, and eventually to FIG, where he worked under lauded chef and owner Mike Lata.
Whether prepping a poached egg or a beautiful piece of fish, Canter says his ingredient-driven approach is all about using the best technique to pay homage to the product.
"I strive to create balance between ingredients so they compliment each other," he explains. "Simplicity is at heart of it, keeping the dish clean and pure."
High-level technique and quality shined through in every dish we sampled that afternoon. Soft shell crabs were in season and showcased in a BLT, so we of course indulged. The delicate crustacean was lightly dusted with Wondra flour and pan-fried for a crisp, non-greasy finish. Served slathered with a tangy Duke's mayonnaise spread atop a Brown's Court Bakery bun, it was the perfect seafood sandwich.
Nuanced layers of flavor were developed in the fried chicken from Joyce Farms in North Carolina by brining it first in an herb-infused mixture and then marinating it in buttermilk. Dredged and fried to golden perfection, the dish was tender, crunchy — a comforting must-have. Accompanying bacon-blue slaw and a kicked-up hot sauce made in-house using several varieties of peppers were over the top too.
We were told the potato rosti is a "crowd pleaser" that takes its cues from the dinner menu.
"It's our play on a hash brown," says Canter. "We added our dinner preparation of duck confit and made a rich jus—it's very hearty."
Indeed. A finely grated potato fritter forms a crunchy base for The Establishment's signature duck confit. The rich and deeply satisfying dish came topped with a local farm egg that was gently poached using the sous vide cooking technique.
Canter's approach for French toast involves a process that starts with bread pudding, made luxurious by combining brioche with eggs, milk and rum. He cuts the pudding into thick slices of "bread' for the toasting.
We sampled the egg in a hole, the kitchen's offering for fans of the brunch classic, eggs Benedict. It arrived at table, a lovely presentation of another perfectly poached farm egg. It laid in the center of a thick slice of crusty brioche that stood up to both egg and sauce—a light, lemony affair, dotted with savory bits of country ham sourced from Boone, N.C.
Our outstanding server was Ryan Rush, well-versed in all things culinary and cocktail offerings as well. We tasted several of his beverage recommendations, and we were wowed by The Poet, crafted with 1792 bourbon, balsamic vinegar, charred honey and basil. Blonde Mary was the restaurant's spin on the classic — an elevated version made with "juice" extracted from fresh tomatoes through cheesecloth. Served in a glass rimmed with spicy Japanese togarashi, the savory drink was addicting.
For a sweet finish, we shared the housemade donuts—plump nuggets, warmed and delightfully enhanced with a hint of nutmeg and orange zest. A ramekin of caramel made with whey from the housemade ricotta was provided for judicious dipping.
With its historic Broad Street location, polished ambiance, superior food and attentive staff, The Establishment is our new Sunday brunch favorite. Now for that walk.
The Establishment
28 Broad Street
Charleston, SC 29401
(843) 789-4028
https://establishmentchs.com