Serene Views on the Stono River
09 Nov 2018
Axon Homes designs a home built to soak up the sights on this beautiful waterfront home
BY ROB YOUNG PHOTOS BY JIM SOMERSET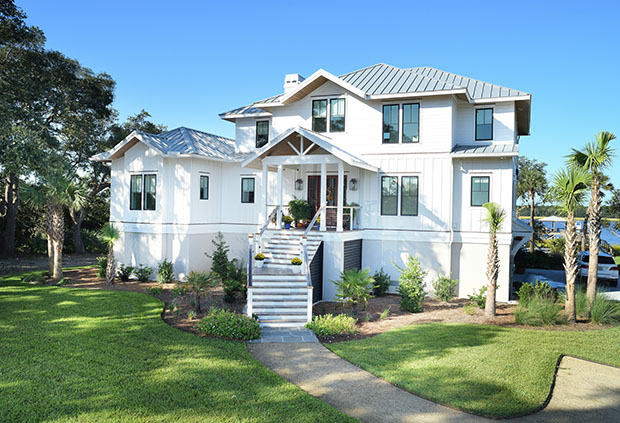 The Stono River is a picturesque tidal channel, offering up serenity and startling Lowcounty vistas. In short, it's the perfect place to build a house. And for Axon Homes, it represents another successful chapter in its growing storybook.
Axon, as led by principal Peter Oakes, constructed the residence, which was built to provide prime views of the water from the great room, living area and bedrooms. "That's the best thing about the house—the view," Oakes said.
The home overlooks the Stono on James Island, consisting of four bedrooms and 4.5 bathrooms, totaling 4,500 square feet. "Growing up here, I was raised on the water," one of the homeowners said. "It will change someday, but right now it's still wonderful, beautiful and untouched."
Truly, the house reflects the property. "The site itself is so pretty," the homeowners add. "It's all about the river."
Following through
The homeowners, who asked not to be identified, selected Axon based on the suggestion of their local lender, who recommended they speak to Oakes prior to making a final decision. Oakes wasn't favored from the outset either, as one of the owners, a lifelong Charlestonian, maintained homebuilding and financing connections stretching back years to when his father built a number of homes on Seabrook and Kiawah islands.
They ended up trusting their lender's judgment and reaped the rewards. "I think the thing that appealed to us most was that Pete followed through on the front end," the homeowners said. "He answered phone calls and reached out to us to check how the planning was coming along. Other companies would meet with us and send a follow-up email. But Pete's follow-through was thoughtful; it was not cursory."
Additionally, Oakes was the only builder who could commit to completing the job in a certain amount time. "None of the other builders could do that," the homeowners said.
Construction management
Oakes impressed the homeowners with his anticipatory service. For example, one of the first things he recommended was a soil test, helping to facilitate the test for the homeowners. "We hadn't thought of that before," they said.
Cost management was another reason the homeowners chose Axon. The company prides itself on its product offerings, cost-saving measures, and overall budget-conscious approach. "There's no cheap way to build an expensive house, and we had a realistic view of what things may cost," the homeowners recalled. "But [Oakes'] office worked really hard to stick to a budget.
Even if one of the items was more expensive than planned, Oakes and his team realized how to save costs by discounting other products. "The overages were less than two percent because of change orders. It was really nothing," the homeowners said. "We didn't get blown out of the water with anything. Pete really had a great eye with the look and feel. He was budget-minded and pragmatic."
For his part, Oakes runs an open book. "Every customer can see all the bills coming in," he said. "We worked with them on ways to save costs and to deliver products without the crazy price tags associated with some of these products that can be used.
"When we first met with them, we obviously began discussing the home—how large, what sort of products they wanted," Oakes noted. "Then we went into detail on the products, and informed them of what they were looking for, and which products we preferred to use and what not to use. Obviously, cost was a major factor."
Impressive features
Another notable component is the infinity pool overlooking the river. An elevated pool and hot tub, built by Blue Haven Pools, helps instruct the vision for the property. A large, second-floor deck, which is water-proofed, also offers an exceptionally expansive view from Kiawah to West Ashley. "That's another great feature about the house," Oakes said.
Oakes' services also include an in-house interior design team, which helped choose selections and provide the home's look and feel. "The house has a beautiful cabinet package from Spartina Cabinetry and Design," Oakes noted. "Some of the other accents inside the house included the trim details and custom staining, where we were able to match the ceiling to European white oak floor."
A seamless floor plan also includes the small and large details any homeowner would want. "The stairwell goes alongside and into the house, and wraps around the elevator shaft," Oakes said. "We had to make the elevator shaft a little bulkier to include in the architectural aesthetic of the home."
Every good build encounters challenges along the way. And any time those obstacles presented themselves, they were quickly overcome. "Axon really stepped up and made sure they were solved," the homeowners said. "There was no pushback, no hand wringing."
Family tree
One might even call Oakes' talents hereditary. His mother owns an Ohio firm that averages between 50 to 75 custom home builds per year. His father also is a civil engineer, gave Oakes a solid introduction and education of the trade. Oakes actually moved to Charleston five years ago for the warmer weather, and to golf and fish more often.
Today, as a member of the Charleston Home Builder's Association, Axon specializes in custom and market-ready homes tailored to the demands and budgets of their clients. In general, Axon operates out of its Mount Pleasant office, servicing the Charleston tri-county area. Still, Oakes once constructed a 38,000 square-foot home in Ohio, and built a pair of homes in the Bahamas, with the prices checking in at $8 million and $15 million each.
Even now, Axon maintains a busy docket. Oakes is working on a "very detailed home" in the affluential Cassique neighborhood on Kiawah Island, and he just began additional custom work for a homeowner on Edisto Island. Early next year, Axon will break ground on 16 home sites in a new development called Shell Landing in Mount Pleasant. Home prices range from $900,000 to $1.3 million. But throughout it all, Axon's mission has remained the same: delivering a great product at an affordable budget set by the customer.