Gather Round the Table
09 Nov 2018
Whether bold or natural, you're sure to find inspiration from one of these holiday designs.
BY AMANDA OLIVER Photos by James Stefiuk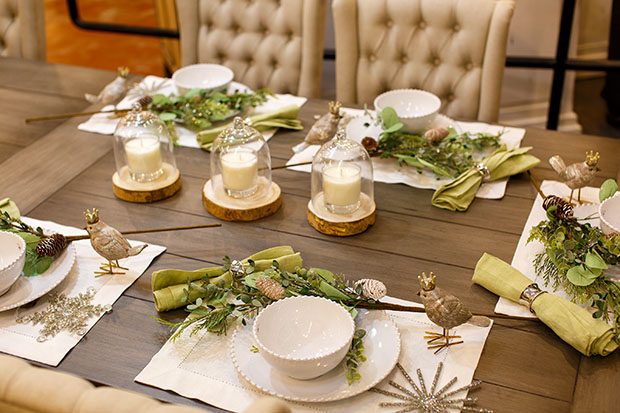 Celadon Home
You may worry that adding a touch of black to your holiday table will cause it to feel to stiffly formal, but pulling in touches of nature can easily transform your design into a fun and festive holiday setting. This season, the masterful designers at Celadon Home managed to not only mix in black accents to their holiday table but made the setting both fun and inviting while doing so.
To pair with the black, the designers combined white tableware with natural teakwood bowls and a dash of nature. "The look is classic enough that you can use it at all those holiday parties you have throughout these few months," says Designer Dani Silver. This tablescape can take you from November to January.
The use of black may seem surprising for the holidays, but for Silver—a fan of black her entire life—it was a natural progression. Within the past few years, black has been trending more and more popular for use in interior design. Though some might think the color reads stark and cold, Grace Osbourne, Furniture and Accessories Buyer at Celadon Home, describes how it transforms into being "warm and inviting" when used within this table setting and mixed with natural elements like the organic shape of the vases and the wood of the bowls. "It feels comfortable, while accessories such as the glasses keep it fancy," Osbourne says. All of this serves to highlight Silver's belief that you can "find beauty in the unexpected."
Celadon strives to create beautiful, iconic tables each year with a focus more on "making everyone feel welcome to pull up a chair versus catering to a specific holiday" according to Silver. By utilizing both the neutral palate with classic colors, this tablescape remains timeless and easily replicated for generations.
It's this exact timelessness that lends itself to making those priceless holiday memories. Silver recounts fondly how, while growing up, she and her family used to gather 'round the classic olive green fondue pot. Lauren Sutherland, General Manager at Celadon Home, has entered the stage of her life where she's now passing on her family's holiday traditions to her spouse. When she was younger, Sutherland was always tasked with ensuring the family's green bean casserole had a perfectly crushed cornflake topping. Now it's her husband's turn to take part and create new family memories with long held traditions.
Celadon's entire showroom manages to seamlessly meld together beautiful design with a welcoming vibe—and the tablescape continues that theme while also remaining stunning and unique. If this sounds like your type of holiday party, then use the DIY tips below, and be sure to visit Celadon's showroom.
Pro Design Tips:
•Bring nature inside by finding elements you can incorporate at your table.
•Don't be afraid to go bold with black.
•Memories are what matter, so make the table the backdrop for creating lasting ones.
Elizabeth Stuart Design
Bold, deep colors and patterns provide elegance with an element of surprise for your guests in this tablescape by Elizabeth Stuart Design. Whether attendees arrive in black tie or blue jeans, this table design offers the ultimate background for your holiday gathering.
When planning your holiday table, feathers and animal prints are likely not the first design elements that spring to mind. However, by using rich, saturated colors and grounding the prints with classic, neutral tableware, Elizabeth Stuart Design manages to make a holiday table setting that's equally as elegant as it is inviting.
Jacqueline Freund, Retail Manager at Elizabeth Stuart Design, describes how their team "wanted to incorporate an element of surprise that still evoked cooler temps and exciting gatherings." Using Ardmore textiles sourced out of South Africa, these colorful prints lend themselves to setting the tone for a fun and wonderful meal. "By adding white tableware with crystal stemware, you're able to balance these patterns" says Fruend. The balance also ensures that the print doesn't become overwhelming.
Everyone holiday host wants their gathering to be memorable, and this tablescape from Elizabeth Stuart Designs is sure to leave guests smiling. "Whether you're hosting an upscale high-end dinner party or a low-key family get together, we wanted a design that invoked excitement, celebration and elegance without ever being overly formal," describes Fruend.
If you like to shake things up but still want to allow for a nod to the vibrant, deep colors of the season, this tablescape will be the perfect inspiration. "You're able to be authentic to who you are with your use of prints as you bring together all those you love," says Fruend. Use these designs as the backdrop to the conversation and connection that you'll treasure all year round.
This table will leave your guests in awe and perfectly highlights the mixture of elegance and approachability embodied at Elizabeth Stuart Design. Whether you're looking to add these bold patterns as trimmings or place settings, this team of experts can find you the unique pieces that truly make a house a home.
Prod Design Tips:
•Find patterns that speak to you and your table design to make it feel authentic and deliberate.
•Textiles are able to be repurposed. Look for scarves or other patterned fabrics to gain inspiration or to use at the table.
•Ground your patterns by using neutral glassware and dinnerware to ensure the design doesn't become overwhelming.
Steven Shell Living
Chic settings can still be intimate and approachable when done right. By designing a table that mixes comfort with glamour, Steven Shell Living shares how to make your gathering feel warm without losing an ounce of style.
Whether your family is large or small, or even made up more of your "framily" of closest friends, "the holidays provide all of us with an opportunity to come together and remind ourselves of what's truly important," says Stacy Litwinowicz, In Home Design Director at Steven Shell Living.
"We spend so much of the year attached to our phones and computers," says Jennifer Michaud, Vignette Designer at Steven Shell Living, adding that we often replace face-to-face contact with text messages or tweets these days. "There is nothing like this time of year to bring everyone back to the table so that we can reconnect with those we love."
These emotions set the stage for all of the holiday meals and dinner parties hosted throughout the season, and Litwinowicz and Michaud understand that perfectly. They wasted no time in providing designs to enhance these connections by starting their tables with, as Litwinowicz describes, "a neutral canvas and then adding in color and greenery."
Next, Litwinowicz used snowflakes that previously served as tree ornaments to "lend the table some sparkle," while the crowned birds provide a bit of whimsy. "These pieces, along with the touches of gold, candles, and greenery all combine to make the table and gathering feel so special that you want to hang around," she notes.
Both this tablescape and their self-described "indoor holiday picnic" utilize pieces from the fragrant pines that we all associate with gift-giving and gatherings. Though the plaid design used in their picnicky-themed spread is clearly reminiscent of more traditional holiday designs, it stands on its own thanks to the pillar candles and the addition of white and gold accents.
In the second, chicer tablescape, the calming green and gold tones seamlessly flow with the votive candles down the center, allowing for the unique touches of the snowflake and bird to truly shine. "Whether you're going for rustic chic or glamorous and sparkly, both table settings provide a little something for everyone," adds Michaud.
This same theme of intertwining different styles to provide a comfortable and inviting space shines not just at these tables but throughout the Steven Shell Living showroom. You'll find everything you need for both your holiday table and your entire home throughout the year here.
Pro Design Tips:
•Repurpose what you have! The plaid table runner is actually a throw blanket and the snowflakes were once tree ornaments. Use pieces with significant meaning to you and your family to make your table special.
•Make the table feel cozy with lush fabrics or elements of nature.
•Mix and match dinnerware. You don't need holiday specific table settings if you have classic neutrals that can work all year.
640 Coleman Blvd., Mt. Pleasant
843-216-3900, stevenshellliving.com