Serenity and Comfort
10 Nov 2016
Designer Margaret Donaldson styles a comfortable home on Kiawah with unique nautical blues, keeping the overall interior transitional and clean
By ROB YOUNG » Photos by HOLGER OBENAUS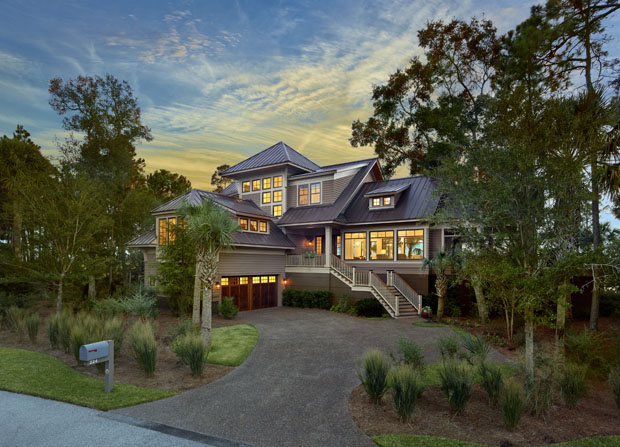 For Jim and Cookie Gilliam, the choice to move to Kiawah Island was easy. As it turns out, so was their choice in partners to help them build their dream home.
The Gilliams have long loved the area. Jim is from Aiken, South Carolina, and Cookie once lived in Goose Creek and attended Bishop England for 18 months. The couple even honeymooned on Fripp Island, and they've been vacationing in state with the family since 1990, mostly on Kiawah Island. An interesting side note as well: Cookie's grandfather, Cassin Young, was awarded the Medal of Honor for his bravery during Japan's assault on Pearl Harbor in 1941, as his memory is still honored at the National Medal of Honor Museum in Mount Pleasant. "There's just nothing like Kiawah," Cookie says. "It's so natural. We love the vegetation as well as the beach. You can see dolphins close to the beach during low tide. You'll see loggerhead turtles. We've even seen alligators. It's just a beautiful place."
Then a bit more recently, the Gilliams decided to build on Kiawah, moving into their home in October 2014. They found a beautiful lot with incredible marsh views. "It will be the only house we will ever build, and the most exciting thing was dealing with such fabulous craftspeople," Cookie says. "I get excited by talking to real professionals, and these people were. It was a lot of fun."
Chief among those experts: Margaret Donaldson, the principal of a Charleston-area interior design firm. Donaldson pays special heed to form, function, detail and creativity to craft personal experiences for her clients. "We interviewed a number of interior designers, and Margaret understood what we wanted," Cookie says. "We wanted to be somewhat involved, but I've never been the type of person who spent a lot of time cutting out pictures of my dream house. So she guided us in our decisions, which was fabulous, but she also let me do my own thing."
Donaldson, a long-time designer has watched the business change over many years, but some needs remain the same. "I've definitely been doing it a long time and we've seen the industry change quite a bit. When I first started, there was no Internet. Someone had to go to a designer if they wanted a well-designed home. There weren't outlets for people to do it themselves. There was no Pottery Barn, no West Elm or Crate and Barrel, or Restoration Hardware. All of that has contributed to the change," Donaldson says. "But people still crave a certain level of design, expertise and service that we can provide."
Chief Collaborators
In addition to Donaldson, the Gilliams also partnered with customer home builders Steve Bennett and Jedd McLuen from Bennett McLuen Homes and Marc Camens of Camens Architectural Group on the project. "The architect and builder really understood what we were trying to do," Cookie says. "We just really wanted windows to accentuate the view."
Camens prides himself in listening to his clients to reach the essence of their needs. Instead of checking off boxes – how many bedrooms, etc. – he uses a different method. Camens asks his clients how they want to live, how they see themselves cooking and so forth. It's a collaborative experience, as Camens tries to get at how the home lives and abides, rather than how impressionable a room may be.
Camens stressed those elements – the view, the windows and open floor plan, a comfortable and relaxing setting for the Gilliams and their adult children. The interiors were designed to be transitional, clean and simple. Uncluttered, really. Stunning blues, including the blue Bahia granite kitchen island, help give the home its personality. "Blue Bahia is one of my favorite colors," Cookie says. "We were in Spain and went to Alhambra, and everything was colored an azure blue. The mosaics there show a reflection of water, and most of our décor and fabrics contain blue as well."
The kitchen, itself, is a custom fit, in more ways than one. Cookie stands about 5 feet tall, and the cabinets, cooktop, island and bar counters were built at a lower height for comfort. The views of the marshland remain a center point. "In the middle of the kitchen is the island, and I can be near the bar, where it's almost as if I can be the captain of the ship looking out at the marsh," Cookie says. Again, it's resultant from Camens' gentle art of listening and learning.
Navigation Expert
Donaldson also helped navigate those choices, tackling the daunting process of selecting materials, from flooring to cabinetry to furnishings – really, the pieces that help compose the home's character. "It was a challenge for Margaret, because we just have so many windows instead of walls," Cookie says, "and she helped guide that process."
For instance, the dining room contains a tree slab converted into a dining table. It is actually a living edge that had been turned into a dining table. "Margaret helped me pick it out," Cookie says. "I spoke to several, different wood craftsmen, and found a guy in Michigan. He had the most beautiful piece of wood on his website. It is 11 feet long and then we have 12 chairs for the table. It just flows."
The great room, as one enters the home, contains a stone fireplace accentuated with walnut and metalwork that Camens helped design. Donaldson also suggested book-matched tables, which are also made from walnut with a natural edge. "Everything is wonderful, but it doesn't detract from the view," Cookie says.
Donaldson also helped create the Gilliams' unique powder room, its interior colored by nautical wallpaper. "I wanted to use nautical charts on the walls, and we found a guy on houzz.com in Oregon who creates wallpaper made from your nautical charts," Cookie says. "We used a chart of Kiawah Island and Charleston for the design."
The first floor and master bedroom are likely the Gilliams' favorite area of the home. "It's the most dramatic. I just love the first floor," Cookie says. "The master bedroom overlooks the marsh – you can just see forever from the window. Margaret found the beds as well as the beautiful linens to make the room perfect and comfortable."
And in the end, that's what they were seeking. Serenity and comfort. Home. And that's what Donaldson and the team helped the Gilliams achieve.
Resources
Interior Design: Margaret Donaldson Interiors, 843-722-2640, margaretdonaldsoninteriors.com
Architect: Camens Architectural Group, 843-768-3800, camensarchitecturalgroup.com
Builder: Bennett McLuen Homes, 843-209-7820