Continental Cuisine
10 Nov 2016
Just in time for the holidays, take a step back and include one or more of these old-world dishes on your holiday table. A recent trip to Vienna with my wife began as a 20th anniversary celebration, and became the trip of a lifetime for a chef. I watched, assisted, filmed and took notes. The food these Intercontinental Hotel chefs prepared came from old recipes, updated but faithful to a long culinary history. They were delicious. I hope you'll try them in your own kitchen.
By CHEF FRANCOIS FISERA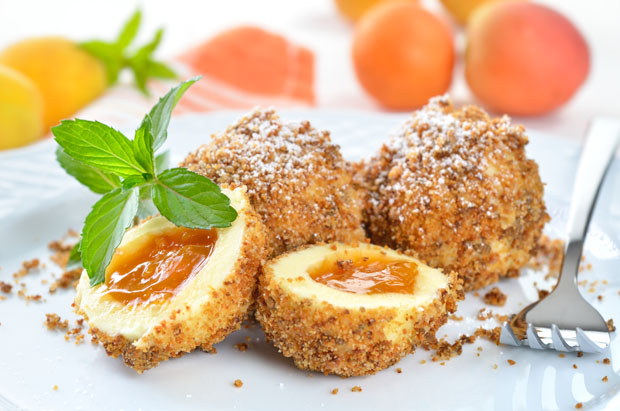 Potato Soup
Ingredients
1 ½ cups diced potatoes
1 small bundle green onions, chopped
1 zucchini, finely chopped
1 leek (white part only), finely chopped
¼ cup minced mushrooms
1 ½ oz. diced bacon
1 onion, chopped
1 tablespoon oil
1 tablespoon flour
2 ½ cups beef stock or vegetable stock
½ cup sour cream
½ cup whipping cream
Parsley, chopped
Chives, chopped
Marjoram
1 splash white wine
Pinch of ground caraway seeds
Salt and pepper to taste
Preparation
Sweat the onion and diced bacon in hot oil. Add soup greens and potatoes and brown briefly. Deglaze with white wine and pour in beef stock or vegetable stock. Cook until all ingredients are soft.

Add the minced mushrooms and allow to boil for another 5 minutes.

Add sour cream and whipping cream, then add seasoning to taste.

Serve sprinkled with chives, parsley and marjoram. Top with dollop of crème fraiche, if desired.
Boiled Beef
Ingredients
3 ½ lbs beef (bottom sirloin cut)
¾ cup chopped parsley
½ cup onion
½ leek stalk
1 lb. beef bones
½ tablespoon sea salt
2 ½ tablespoons chives, sliced into fine rounds
4 juniper berries
½ tablespoon pepper and mustard seeds
Preparation
Wash meat and bones in cold water. Bring 2 ½ quarts of water to a boil in a large pot. Add meat, bones and seasoning (except salt) and simmer for 3-4 hours. Remove the foam as it rises to the surface.

Cut the onion in half and brown the cut surfaces in a pan. Clean the soup greens and cut into chunks. Add to the soup about 1 hour before it is finished and allow to continue simmering.

Remove the meat from the pot when it is done, strain the soup using a fine sieve and then add salt.

Traditionally served with Kartoffelschmarrn (hash browns) with roasted onions, apple horseradish or horseradish bread sauce and chive sauce.
Wiener Schnitzel
Ingredients
4 4-oz veal cutlets (from the haunch)
3 tablespoons flour
5 tablespoons breadcrumbs
2 eggs, beaten
Salt
Clarified butter
Preparation
Pound cutlets with a meat mallet until less than 1/8 inch, or as thin as possible. Salt both sides, dredge both sides in flour and then in egg. Coat with breadcrumbs and press them in lightly, tap off excess and fry in a pan with a thick layer of clarified butter until golden brown.

Serve with potato salad.
Apricot Dumplings
Ingredients
2 ¼ lbs apricots
Sugar cubes
1 ¾ lbs baking potatoes
8 oz flour
Salt
2 eggs
Butter
Breadcrumbs
Cinnamon and sugar
Preparation
Potato dough:
Boil potatoes until soft, remove skin, mash and allow to cool. Mix in flour, salt and eggs and knead into a smooth dough.
Dumplings:
Cut apricots lengthwise, remove stone and replace with a sugar cube. Roll out the dough and cover each apricot with a very thin layer. Form into dumplings with floured hands.

Place the dumplings in boiling salted water. Allow to cook until the dumplings rise to the surface (about 7 minutes).

Brown breadcrumbs in butter and sprinkle on top of the dumplings. Serve with cinnamon and sugar.
Kaiserschmarrn
Ingredients
1 tablespoon butter
3 eggs
3 tablespoons granulated sugar
¼ cup flour
½ cup milk
1 tablespoon raisins
1 packet vanilla sugar (available at gourmet food shops and through Penzeys Spices.)
Salt
Confectioner's sugar
Preparation
Preheat oven to 350 degrees.

Separate egg yolks and whites. Whisk together milk, a pinch of salt and vanilla sugar. Stir in egg yolks. Beat egg whites with 2 tablespoons sugar until stiff. Stir one third of the egg white mixture into the batter, then fold in the rest of the egg white mixture and the raisins.

Melt 1 tablespoon butter in a non-stick frying pan (with a heat-resistant handle). Spread the batter in the pan evenly and fry over medium heat until the bottom is golden brown. Turn the pancake over, put the pan in the oven (middle rack) and bake until done (for about 5 minutes).

Remove from the oven, tear into pieces and move to the edges of the pan. Melt 1 tablespoon butter in the middle of the pan, sprinkle in 1 teaspoon granulated sugar and caramelize. Mix shredded pancake with the caramelized sugar.

Sprinkle with icing sugar. Serve with stewed plums or apple sauce.
Viennese Hot Chocolate
Makes 4-6 servings
Ingredients
3 cups low-fat milk
7 oz. premium dark chocolate, grated
1 tablespoon granulated sugar
1 cup heavy cream, chilled
½ teaspoon good vanilla extract
1 tablespoon confectioner's sugar
Garnish
Cocoa powder or chocolate shavings
Preparation
In a sauce pan, gently heat one cup milk with grated chocolate. Simmer over low heat until all chocolate has dissolved. Combine remaining milk and granulated sugar in another saucepan and gently heat, whisking until all sugar has dissolved.

Add chocolate mix to sugared milk and continue simmering over low heat.

In a bowl, whisk heavy cream and vanilla together on high, slowly adding confectioner's sugar until peaks form. Remove hot chocolate from heat and divide into cups. Place a generous dollop of whipped cream on top of each. Garnish with a pinch of cocoa powder or sprinkle with chocolate shavings and serve.