Painting America
07 Sep 2019
Mary Whyte finds inspiration painting portraits of veterans
By Leah Rhyne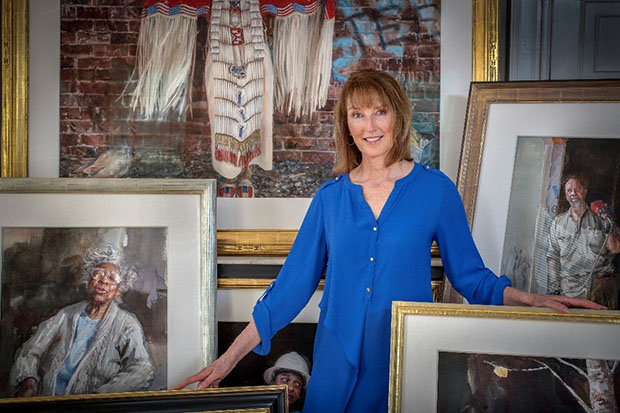 Mary Whyte wanted to paint America. That was her original plan, anyway. Lofty, yes, but she always wanted to paint the heart of a person. Why not aim for an entire country?
Her vision was a cumulative portrait of America as it is, not as we wish it was featuring a diverse selection of people from all fifty states.
But what is America? Really? What does it mean to be American? That was the question Whyte asked herself, over and again, until she found her answer.
"What makes a person most American," she says, "Is any person willing to sacrifice their life for their country."
Mary Whyte found the true heart of her project when she began painting United States military veterans, one from each of our fifty states. It took seven years of seeking to find the true "heart" of our country.
Her subjects were diverse in all ways – from the colors of their skin, to their beliefs, to their socio-economic status.
"I painted everything from an astronaut and a mayor all the way down to a homeless person. We certainly have a lot of homeless veterans in this country," she says. "The veterans that I selected from each of the 50 states came from all walks of life. Most served unheralded and diligently and then returned to live quietly with their families in the land they defended.
"Each represents the diversity, challenges and realities of living in America today. The ongoing service and sacrifice of our military remind us that the fundamental rights of liberty set forth by our forefathers is as imperative today as ever. Whether they live in a house on the hill or under a tarp in the woods, all of these men and women once signed a blank check on the value of their life and handed it to the American people."
The resulting paintings – fifty in all – are vast in scope. Whyte paints in watercolors, a medium she's spent a career mastering, and one not ordinarily known for creating lifelike portraits. However, in Whyte's hands, the results are startling.
Each portrait is intricate. Vibrant. One can count the beads threaded atop the ceremonial costume of a Native American woman standing against a brick wall; the wrinkles on the face of another woman tell the secrets of her life. That's what Whyte strives to paint in each of her subjects: not the "best" side, necessarily, but certainly what she sees in their hearts. There's a zookeeper, sitting quietly before swimming sea lions. A science teacher's whiteboard notes could be used to teach a full class, as he strives to reach out to his young students. A young man with clownish face paint stares into the distance. Each subject has a story, and you can see that in their eyes. She calls her project WE THE PEOPLE.
As WE THE PEOPLE progressed, Whyte realized she was becoming a part of something larger.
Not only was she seeing America and its citizens, but she was learning more about the veterans themselves. "What I discovered in my travels across America was an astonishingly beautiful country," she says, "as well as an extraordinary group of men and women willing to do whatever it would take to preserve its abundance of blessings. I asked every veteran that I met what they thought was the best part of being in the military and unequivocally almost everyone answered that serving our country made them a better person."
And thus an even bigger project was born. Whyte created The Patriot Art Foundation, a 501(c)(3) organization, dedicated to honoring veterans who have served our country, celebrating their return to civilian life and assisting them in their re-entry process.
Utilizing visual arts as a medium, the organization is creating a better world for our veterans and the public through initiatives in art, history, education, leadership and imagination, Whyte explains.
WE THE PEOPLE marks the organization's first initiative. The Patriot Art Foundation supporters are comprised of veterans, military leaders, business leaders, educators and artists, and partner organizations like The Citadel, The University of South Carolina Press and The Charleston Symphony Orchestra.
WE THE PEOPLE will debut at the City Gallery in downtown Charleston on Oct. 25 prior to setting out on a national tour. The exhibition will be on display through Dec. 22.
The opening weekend October 25, 26 and 27 will also include two premier concerts with the Charleston Symphony Orchestra, gallery tours, brunch on the USS Yorktown and other ticketed events honoring the featured veterans who will be invited as guests.
Funds raised by The Patriot Art Foundation will be used to help the 50 subjects of the 50 paintings attend the opening and will also help to find the collection a permanent home.
As part of the debut, receptions will be held at the gallery itself, as well as onboard the USS Yorktown maritime museum. Get information on how to support veterans via The Patriot Art Foundation and the weekend events at www.patriotartfoundation.org.
Support for the project
WE THE PEOPLE, a collection of portraits of military veterans reintegrating back into society and the workforce, will debut at the City Gallery at Waterfront Park in downtown Charleston on Oct. 25 prior to setting out on a national tour. A reception will be held at the gallery at 7 p.m.
The collection's opening weekend October 25, 26 and 27 will also include two premier concerts with the Charleston Symphony Orchestra, gallery tours, brunch on the USS Yorktown and other ticketed events honoring the featured veterans who will be invited as guests. Learn more about The Patriot Art Foundation at https://www.patriotartfoundation.org/