Sewing Down South
02 Nov 2022
'Southern Charm' star Craig Conover follows his passion
Story and photos by Jenny Peterson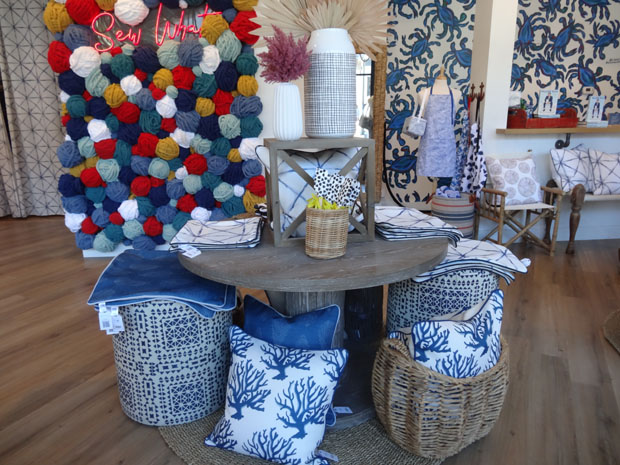 On weekends, a line will form on King Street, curious shoppers eager to peruse Sewing Down South, a one-of-a-kind shop that offers a variety of decorative pillows stacked along floor-to-ceiling shelves and displayed in baskets and on many round coastal tables.
An entire wall is adorned with balls of colorful yarn and a neon script sign that reads "Sew What," perfect for a photo-op.
Of course, a big part of the popularity of the store is a chance to catch a glimpse of co-owner Craig Conover, of reality television fame starring on BravoTV's Southern Charm.
Conover is the outgoing and affable creator of the store and reason for its success. He designs all the pillows—a childhood hobby he turned into his full-time passion as an adult—and regularly stops in to engage with customers about the pieces, maybe even offering a pint of beer from the store's in-house tap.
"If it was up to me, I'd give everything away for free," he said. "When I'm in the store, I just love sharing everything. I take photos with everybody."
Originally from southern coastal Delaware, Conover learned how to sew in his seventh-grade home economics classes.
"Half the year we learned to cook, and half the year we learned to sew," he said. "I wanted to make clothes, but they're a lot more difficult than you would think. I ended up tearing up two old shirts and made pillows out of them," he said.
Pillow designer was an unusual career pivot for 34-year-old Conover, a lawyer and reality TV show star (Southern Charm just wrapped on season 8), but three years ago, following a breakup, he leaned into his passion for sewing pillows.
"It was a creative outlet. All I had was my sewing machine and I was going the fabric shops and just buying whatever I could find," he said. "I just started to challenge myself through YouTube tutorials."
He started first with an online store and then opened Sewing Down South's brick-and-mortar at 493 King Street.
While the store has been wildly successful, Conover describes in his memoir, Pillow Talk, that it took grit to see his passion through to fruition.
"I was the only one in my life that thought this was a good idea," Conover said. "I talk about in my book that when no one else think it's a good idea, that might actually mean it's a good idea."
Welcome to Charleston
Conover first came to Charleston for college, eventually getting his law degree and putting down roots in Mt. Pleasant.
"I had a great home life in Delaware, but I got bullied growing up and knew there was more out there for me. I moved to Charleston and really started to find myself. This is the place that I love. I love dressing up. When I moved here, all of a sudden, it was okay to dress up in bright colors," Conover said.
His life became an open book when a friend who knew BravoTV producers messaged him on Facebook about an opportunity to be on a reality show; the friend was looking for cast members for a show called Southern Charm and thought of him.
"They were looking for a certain type of guy and I met that profile," Conover said. "It took me six months to decide to do it and at the end of the day, I thought, 'what would I regret more? Doing it or wondering what would happen if I didn't?'"
The Southern Charm cast embodies Charleston with bright colors, fancy locations and lavish parties as cameras tail along. That same coastal style inspires Sewing Down South fabric designs.
Conover said many of the designs are personal, including pillows that have vibrant blue crabs accented in red—the store's first top seller and his favorite collection.
"The crabs were based on my dad and the Eastern shore of Delaware with the crab stands and crab feasts," Conover said. "That was the first design to really take off and that's why you see the crabs painted on our wall. That was our proof of concept."
Designs expanded into more conceptual patterns—blue petals that looks like dots and ikat patterns. Several designs come from Conover's travels, including a pink flamingo pillow design that was inspired by time spent living in the Bahamas.
"I had so much positivity and feedback when I started to sew and kept track of stuff people liked and a ton of people asked for things, like a zebra print pillow for a nursery," he said.
While he still has a law firm in Mt. Pleasant, Conover has put that career on the backburner for his entrepreneurial endeavor.
"A goal I have for the firm is that there's a lot of homeless veterans here and I want the firm to do pro work for them," he said.
Sewing Down South Takes Off
Eight small family businesses are involved in all of the manufacturing for Sewing Down South products, Conover said.
"Our factory is in Beaufort, we print designs in South Carolina and cut and sew in South Carolina and North Carolina; we do as much as we can here," he said.
Sewing Down South has 15 employees, seven full-time with benefits, which Conover said was important for him to offer after he saw his dad, a business owner, offering that incentive to employees.
Conover continues to create and design the pillows and credits his team and employees— especially co-owners and business partners Jerry Casselano who handles the business side and Amanda Latifi who handles the brand side—with the store's resounding success. Latifi was the genius behind the Instagramable yarn wall.
Sewing Down South recently created a coconut collection with RumHaven Caribbean rum spirits, with a tropical special edition pillow print that include a large green leaf and mermaid, a coconut candle and set of four coasters.
"RumHaven is a completely unique brand and the designs in the collection use beige colors that we didn't previously have," Conover said.
While Sewing Down South sells largely decorative pillows, it also sells branded hoodies, candles and tote bags as well as its pillow prints adorned on aprons, oven mitts, T-shirts and more—all products Conover personally models on the store's ecommerce website.
Beyond Pillows
Sewing Down South is launching its first sleep collection, moving beyond decorative pillows to pillows on the bed.
"We're moving to the bedroom and then eventually the kitchen; I want to build this into a Williams Sonoma-type brand," Conover said.
Conover said he also envisions customizable products in the future.
"We have embroidery machines here from our partner Bernina. I want to do wedding sets, maybe towels with embroidery in the future," he said.
A future collection will be all black and white pillows, set to be created by Conover's girlfriend Paige DeSorbo, also a BravoTV star on the show Summer House.
"It will be a fun collection, mostly coastal chic," Conover said.
While Conover says he would love to see Sewing Down South expand to Nashville, Florida and possibly a popup in Martha's Vineyard, the King Street flagship store will always hold a special place in his heart.
"This store wouldn't have worked if I didn't have ties to the city and I love sharing it with everyone," he said.
He hopes Sewing Down South will inspire others to go after their passion.
"I wrote in my book about not feeling guilty about your side hustle," Conover said. "I meet so many families where the dads and the boys sew and they never really talked about it and now they're embracing it. The store really does bring people together. It's got a healthy message. It's not overboard about being yourself, but it's an accepting place."
BIO
Name: Craig Conover
Hometown: Fenwick Island, Delaware
Education: College of Charleston, BA, in business administration; Juris Doctorate, Charleston School of Law
Hobbies: Food and wine, gardening, cooking, golf carting around Mt. Pleasant
Family: Golden retriever, Fenwick and girlfriend Paige DeSorbo