A Place for Everyone
02 Nov 2022
Stylist-inspired holiday table settings
By Adie Lee
Photos by Priscilla Thomas
The star of the holiday meal isn't just the turkey; it's the table it's sitting on. A thoughtful holiday table sets the mood for a party, can spark conversation and can show off your personality and special heirloom pieces. Take inspiration from local experts who offer tips on unique ways to elevate your table setting this season.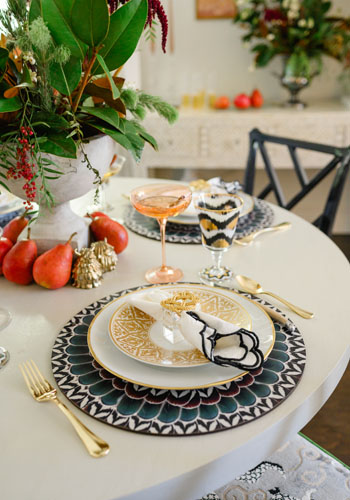 Vivere Interior Design
Drayton Campbell Weldon, Interior Designer and Owner

Charleston
803-920-5199
@draytoncampbell
Interior Designer Drayton Campbell Weldon's holiday décor evokes a vibe reminiscent of lauded children's book, "Where the Wild Things Are."
Drayton owns Vivere Interior Design in downtown Charleston and regularly urges clients to use colors and incorporate elements they love into their homes. How does that advice translate for the holiday season? For a fresh, authentic take, she suggests forgoing typical colors. Consider swapping Thanksgiving's autumnal hues and Christmas hallmark reds and greens for a favorite color or two, in shades that speak to the host or hostess.
Creating a sense of occasion means looking beyond the table. Consider the other areas guests frequent, from the bar to an entryway table. Drayton echoes the shades of green in her centerpiece with sprigs in an antique mint julep cup on the bar. She suggests a bit of imagination when it comes to arrangements.
On her table, an indoor/outdoor container is elevated, providing ample room for the arrival of family-style serving platters. Her grandparents' champagne bucket holds feathery flora, boxwood cuttings from her yard and white snowberries. Garland made with magnolia leaves and eucalyptus pods drapes the mantle, flanking stockings and an adorable replica of the pink home she adores.
Placemats and glassware from Charleston-based Fritz Porter's home line in a vibrant ikat complement a pair of tabletop pewter pheasants. Together with gold creatures from the L'Objet Haas Monsters series and derrière le dragons on her dining chairs, Drayton deliberately mix and matches energetic pieces for a cohesive feel.
A gilded china pattern melds with like accents on the table, like gold nautical-looking napkin rings. Known as Heart Knots, she recently partnered with longtime friend and jewelry designer Mary Kent Hearon to bring her pieces from Columbia to the Lowcountry.
A large-batch cocktail is perfect for filling blush-tinted coupes. Modern holiday gatherings include any combination of friends and family, including four-legged good boys like Moose. Drayton's tips and tricks of the season are sure to delight man, beast and wild things in between.
Pro design tips:
-Forego typical colors. Consider swapping Thanksgiving's autumnal hues and Christmas reds and greens for a favorite color.
-Keep accent colors the same, like gold napkin rings and gold guilded China plates.
-A large batch cocktail can be made in advance and enjoyed by everyone
Lavender Hill Designs
Tracey Wonnacott, Owner
10 Resolute Lane
Mount Pleasant
843-352-7042
@lavenderhilldesigns

Treasured collections taking up space in the cabinet? Not if Tracey Wonnacot, owner of I'On's Lavender Hill Designs, has anything to say about it. Her Thanksgiving table is a mixture of old and new. Perfecting Sandra Lee's portmanteau, this outdoor tablescape proves entertaining can be easy.
"Often we're stressed near the holidays and entertaining can add to it, but it doesn't have to be that way," Wonnacot said.
Inspired by her surroundings, she took more than just the table al fresco. She took her wedding china too. Atop walnut-brown colored chargers, the fine China's pattern coordinates just so with the floral linen tablecloth at a half drop. Velvet pumpkins provide pops of whimsy, gentle reminders to take things a little less seriously.
"Find a common thread; here, it's the colors from the tablecloth," said Tracey. They're reflected in nature and replicated on the dishes and décor elements for cohesion.
Part of holiday vernacular now, the term Friendsgiving was unheard of 15 years ago. Today, nearly 40 percent of Gen Z and Millennials report attending a Friendsgiving. When Tracey's daughter, Caralina, looked at this year's Thanksgiving tablescape, she said, "Mom, I could do that! It is so simple, and it still looks elegant!" Precisely the idea. Helping grown birds feather their nests might mean more than just passing down the heirlooms this holiday season.
Keeping in step with modern entertaining, Tracey sees a sort of evolution of the Southern holiday table. Formerly overloaded with knickknacks and gargantuan floral centerpieces, fussy is antiquated. Cindy Donovan, Lavender Hill's director of e-commerce and Tracey's long-time friend, perfectly describes this kind of festive aesthetic as achievable. Exactly how Tracey wanted it.
Light and airy glassware pieces make this Thanksgiving experience relaxed, yet sophisticated. Hurricane vases with bubbles, once thought of as imperfections, now represent an intentional glass blowing technique. Use them with candles atop sustainable finds like autumn leaves or greenery.
Lavender Hill Designs is a mecca of curated European home accents, tabletop linens, clothing, accessories and gifts, thanks to Tracey's buying visits to France and beyond.
Pro design tips:
-Mix old and new pieces on the table
-Highlighting a color can achieve a common thread throughout the table.
- Light and airy glassware offers a relaxed feel.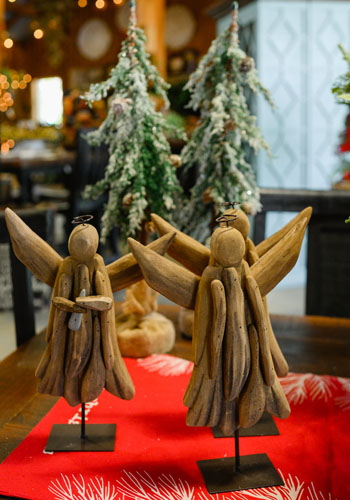 Heavens Marketplace
Frank and Sonya Pacera, Owners
2521 N Hwy 17
Mount Pleasant
854-854-0486
@heavensmarketplace

Slide in for a seat at this table from Heavens Marketplace, which recently opened shop in the former Boone Hall Market in Mt. Pleasant and sells a mix of home furnishings, locally-made items, vintage reproductions, décor, gifts and more. Owners Frank and Sonya Pacera created a traditional holiday table long on style with driftwood angels and varying sizes of wood pillar candle holders, complete with Moving Flame Candles. Meant to flicker like a natural flame, these LED-powered candles are safe to use for holiday dinner—even at the kids' table.
Mimicking the table's length in his design, Frank uses a cheerful red "Merry Christmas" runner and multiples to extend his centerpiece.
"We set up our holiday table like we've set up our shop, simple enough, but we aren't afraid to go big!" Frank said.
Frank and Sonya love the little touches. Farmhouse beads, often called wood bead garland, adorn the candle holders and can be used to add texture or interest nearly anywhere. Rustic beads drape or tie easily and can even top off lanterns on the mantle. After the holidays, the couple suggests using them casually coiled in a pretty bowl or to accent stacked books on a tray or shelf.
Have little ones that love to draw and make masterpieces? Use twine to attach old school wooden clothespins to the beads, then clip on their artwork for a sweet display.
When it comes to adding elements to the holiday landscape, Frank suggests collecting pinecones and greenery or use a pre-assembled garland with a charming ribbon to weave a cohesive look. Although mixing metal with wood décor is a hallmark of modern design, the couple creates a cozy, pastoral feel with freestanding, red metal Christmas trees. These hand-torched trees are the opposite of cold on their holiday mantle.
"The most important part of this year's holiday table will be your friends and family gathered around it," said Frank. Take a seat in a chair dressed up with actual Christmas bells or scoot down a bit to make room for everyone on the bench.
Inspired by faith and anchored by family, the Panceras look forward to hosting during the holidays.
Pro design tips:
- Moving flame candles are a safe way to add a candlelight mood to the kids' table.
- Rustic beads draped or tied on the table add texture and a farmhouse feel
- Deck your chairs with actual Christmas bells.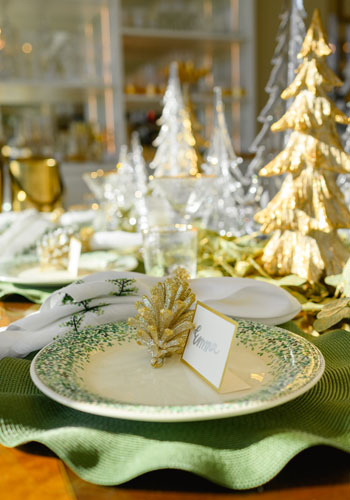 Rhodes Home & Gift
Caroline Rhodes, Owner
Blair Nichols, Designer and Merchandiser
84 Folly Road Blvd.
Charleston
843-789-3180
@rhodeshomeandgift
Rhodes Home & Gift owner Caroline Rhodes likes her holiday tablescapes elegant and simple. She said, "using timeless accent colors like green and gold creates a look that can easily transition through the seasons with subtle tweaks to the centerpiece." Located in South Windermere, her home furnishings universe is just a few doors away from its sister shop, Rhodes Boutique.
Iconic Simon Pearce trees, like the ones on the holiday table, are in stock now. Using a centuries-old Georgian glassmaking technique and the finest natural materials, these are sure to become pieces to pass down. Rhodes features the bubble glass, silver leaf, spruce and Vermont evergreen collections of trees. Perfect for gift-giving, since glass complements nearly any holiday décor.
"Gold accents make an occasion feel special, and as for the holidays, it'll never go out of style," Caroline said.
Caroline's second in command is Blair Nicols, the store's merchandiser and designer.
"I like sticking to a general color palette, like the various greens, and work around that," Nicols said.
Small details create an impact, from hand-painted green leaves on the plates to the embroidered branches of the linen napkins.
"Mixing textures is important when assembling any display and a tablescape is no exception," Nicols said.
For individual place settings, easy elegance means presenting a signature cocktail or wine glass and a water glass. Resist the temptation to set four different glasses for each guest. Antiquated rules are just that and unnecessary salad plates create clutter, especially if the host is only serving dinner and passing hors d'oeuvres.
Mythical holiday perfection is not synonymous with old school rules for basic, casual or even formal place settings, according to the Rhodes team. Think about the guest list and let it lead the way for a gathering with a functional tablescape and a stylish holiday atmosphere.
Pro design tips:
-Small details create an impact, from hand-painted plates to embroidered napkins.
-Gold accents make an occasion feel special.
-Formal place settings aren't a rule; only put out glasses and plates that will be used by guests for less clutter.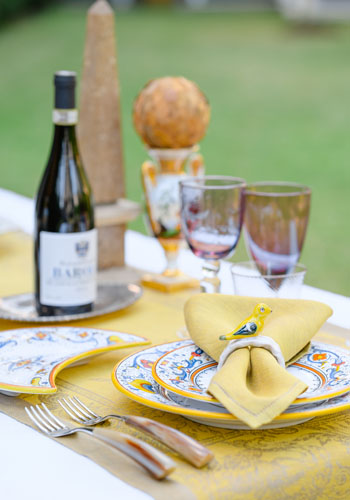 The Hidden Countship
Donatella Cappelletti della Porta, Owner
21 Burns Lane
Charleston
843-577-5570
@thehiddencountship
For a holiday dinner brimming with charm and old-world elegance, Donatella Cappelletti della Porta finds her inspiration by revisiting family history. Quite literally, her travels take her home to the Umbria region of Italy throughout the year.
The resident Italian turned Charlestonian fell in love with the Lowcountry after visiting years ago. Fast-forward to today, Donatella owns The Hidden Countship, a downtown-area shop featuring fine Italian imports for luxury living.
Holiday tablescapes in Donatella's idyllic garden setting complement rather than compete. Woven in both gorgeous terracotta and a vibrant gold, "the runners remind me of the perfect atmosphere, around my grandmother's formal festive table in Umbria," she said. Made with mitered corners from 100 percent Italian linen, use the runner to anchor a dining table or add sophistication to a buffet. Too pretty to pack away once the season passes, Donatella suggests using the floral damask patterned runner in a bedroom to draw the eye to a dresser or other furniture. Custom sizes are available.
Look to glassware for an unexpected way to incorporate Italy's trendiest colors, seen here in shades of jade and aubergine. The gold tablescape features hand-painted plates from Deruta, a nearby village. When Donatella speaks of the plates' pedigree, it is a wonder small crowds do not gather to listen to her intricate details, which are as lovely as the wares themselves. She says the region is known for artisan craftmanship dating back to the Middle Ages. The ceramic earthenware is still painted today using the centennial technique. Master painters create pigments from semi-precious stones and organic elements to use in intricate patterns on the plates. Ever gleaming, these heirloom pieces provide a delightfully Italian twist of the phrase, "these colors don't run."
The unique napkin rings, handmade in Tuscany exclusively for The Hidden Countship, are mini ceramic sculptures. Delicate rosettes in red or rose gold and a sweet songbird top the distinguished pieces, which make lovely conversation pieces at the start of a holiday meal.
"I cannot resist adding tabletop obelisks, antique vases ill-suited for holding water and filled instead with dried flowers or marble fruits," she said. As the saying goes, "everything old is new again."
Pro design tips:
Take inspiration from your family history
Use a table runner to anchor a dining table or add sophistication to a buffet
Antique vases are perfect centerpieces with dried flowers or marble fruits