Hand-Crafted Hard Cider
By Frank Peterson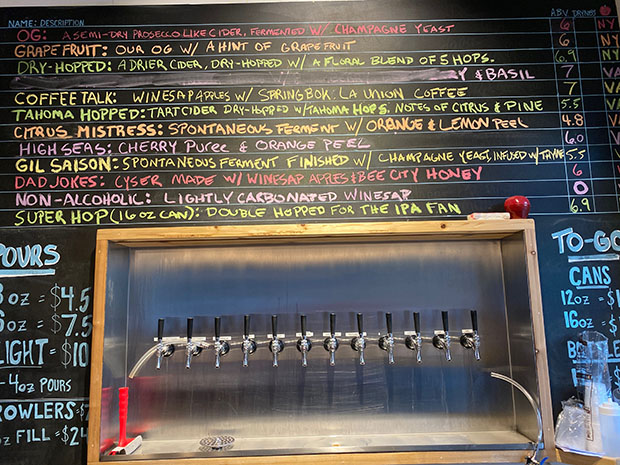 Kurtis Bishop, manager of the Ship's Wheel taproom in Park Circle, has always had a genuine liking for cider, that popular sparkling drink made of fermented apple juice.
Bishop is helping run Ship's Wheel Cider, the Lowcountry's only cidery, to offer a special array of crafted hard ciders to the public. They are available in cans and on tap. The family-owned business features cider-maker John Jamison.
"It's more like wine in the production," says Bishop. "We even use white wine and champagne yeast in the fermentation. We have grapefruit blends, original and dry hop." The cidery now has eight different ciders available on tap and even a non-alcoholic version. The cider is naturally gluten-free.
Jamison grew up outside of Charlottesville, Virginia and later went to school in Charleston. He found it was curious there was no cider scene here. "The beer scene here is huge," says Bishop, "but no one is doing cider." The family finally pulled the trigger on producing cider for the Lowcountry a year ago.
Apples from Virginia and New York are their favorites. The high-quality apples are pressed right on the orchard and shipped directly to the North Charleston location.
"Virginia is very much cider country," said Bishop. "People there take day trips to go to visit a cidery. The Virginia area has been making cider ever since the colonial British were doing it. The same thing is the case with New York. There are still heritage apples in the state, and other great apples can be found in upstate New York . We get a lot of our apples from LaFayette, New York."
Bishop has become fond of good ciders, which range from just over 4 percent alcohol to up to 7.5 percent. "My personal favorite? I like the dry hop. It features apples from New York with five dry hop blends. It's crisp, not too sweet, and is 7 percent alcohol."
"Fall and winter is the time we refer to as the high season. Good cider is especially nice in the fall. We do a warm non-alcoholic cider in the wintertime. We also are working on getting a higher cider blend to make it mildly alcoholic; we're still working on the final version," Bishop said.
The cidery is creative with their production, often taking suggestions from staff on new blends. Their rotating taps include "High Seas" made with cherry puree and orange peel and "Dad Jokes" made with Bee City honey.
"We are now working on a ginger cider," says Bishop. "We made the last release as a blend of New York and Virginia apples called Hoppy Hazy. We will do a coffee cider as soon as it gets colder."
Ship's Wheel Cider does a snack menu, featuring pretzel bites, and offerings from food trucks; a Southeast Asian food truck is there every other Wednesday.
The space housing Ship's Wheel was originally two spaces, with the whole patio fronting East Montague Street. Of course, the cidery is still doing social distancing, and the site has added larger tables and a picnic table.
According to Bishop, there is no indoor seating now due to social distancing, but the weather cooling off is perfect for outdoor eating. "We just started a happy hour on weekdays," he says, "and right now, the first two hours from 5-7 on Wednesday, Thursday and Friday we feature 6 dollar pints."
Ship's Wheel Cider has been open for one year, and much of that year has been under the shadow of a viral pandemic.
As daily life gradually returns to normal, Bishop feels that the Lowcountry is ripe for the sparkling taste of crafted cider. Ship's wheel is still selling to-go cider out of its taproom window.
"People are excited about cider and that ours is not a sugary mass-produced thing," Bishop said.
Ship's Wheel is open Wednesday-Sunday. Wednesday-Friday it's open from 5-9 p.m. Saturday it's open from 4-9 p.m. and Sunday it's open from 1-6 p.m. Visit www.shipswheelhardcider.com for more information.