Shrimp Baiting Season
03 Sep 2021
A step-by-step guide to this uniquely fall sport
By the S.C. Department of Natural Resources
Photos by Philip Jones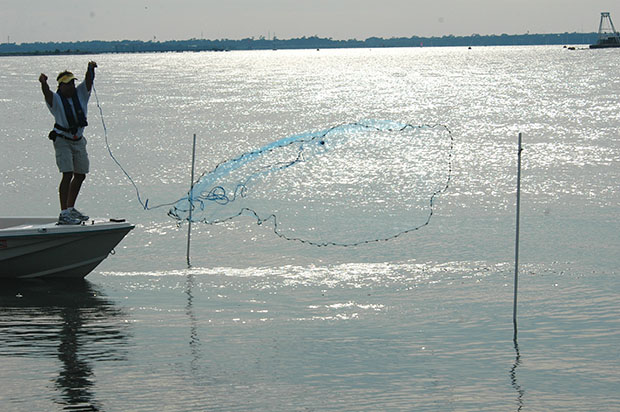 It's September in South Carolina – the season of school bells, tropical storms, and, for some crustacean-crazy folks, shrimp baiting.
The sport of shrimp baiting gained popularity in the Southeast several decades ago, offering enterprising anglers the opportunity to attract and catch coveted white shrimp by cast-netting over areas scattered with homemade bait.
Poles stuck in the pluff mud are the tell-tale sign of shrimp-baiting season; anglers use them to mark the areas in which they've dispersed bait balls.
In its heyday in the late 1990s, the South Carolina Department of Natural Resources (SCDNR) issued a high of about 18,000 shrimp-baiting permits yearly. As the popularity of the sport has waned, license sales have declined but it's still a fun, seasonal way to catch loads of shrimp and spend time in the area's marshes and tidal waterways.
Shrimp baiting season this year will run from Friday, September 10 at 12 p.m. through Tuesday, Nov. 9 at 12 p.m. (It's not allowed during the rest of the year).
Many fishing shops have all the gear you need to bait shrimp, including bait mix, cast nets and the poles needed to to mark where the bait balls have been dropped and act as a corral for the shrimp.
Here's a primer on how to get started in this unusual sport:
You'll need to buy a specific shrimp-baiting license before you hit the water, which is $25 for residents and can be purchased

online

at

www.dnr.sc.gov

or by phone at 1-866-714-3611.
2. Gather your materials and containers for mixing and find a place outside to make your bait balls. For the bait balls you will need:
fish meal

clay

measuring cups

one bucket for mixing

another bucket containing water

gloves (optional)
Additional items:
A cast net with a mesh size of ½-inch square (about 1-inch stretched)

PVC pipe pole no more than 1-inch diameter with a smaller metal pole secured to the inside of it.
3. Measure out your materials to make the shrimp bait. Recommended mix is 2:1 (fish meal:clay) ratio, but many different other mix ratios work. Many bait-ballers use all-purpose flour to get the proper mixture, too. The goal is to make these last long enough to sit on the bottom of the water near your bait poles without breaking apart too easily while they distribute the fishmeal into the water, drawing in the shrimp.
4. Pour your measured dry materials into the mixing bucket. Stir around with your hand a few times to make sure that they are properly mixed. Slowly stir water into dry mixture.
5. Continue to add water until you get a thick enough consistency to be able grab the mixture and form it into balls with your hands. Helpful tip: it is much easier to add water a little bit at a time than to have to let it dry out because you added too much water.
6. Once you have a mixture that will hold together, begin patting them together to form patty-like shapes. This helps them stay closer to your bait poles instead of rolling around with the current on the bottom.
7. Let the balls dry out in the sun to get hard. You want to have enough bait balls to put 2-3 around each pole and some in between them. If you are trying to go out right after making your bait balls, let them dry enough so that they aren't sticky on the outside.
8. Get your poles prepared before you get out on the water. You can get poles at most fishing shops. Poles are made of one-inch diameter PVC piping with a smaller metal pole secured to the inside of it. This will allow for the pole to better stand up in the soft mud of the intertidal areas where you will likely find the most shrimp. Each of them should be marked with reflective tape, no more than 1 inch in diameter, and numbered with a tag that corresponds with the boat's shrimp-baiting license. All poles of a licensed set must be within 100 linear yards of each other, and different sets of poles (yours and another shrimper's) must be at least 25 yards apart. Poles may not be set within 50 yards of any dock, public landing or boat ramp. No more than 10 poles can be used per boat. Owners of private docks or persons with written permission may bait from those docks, once properly licensed and with numbered tag displayed.
9. Plan to get out to your fishing spot and have your poles placed and bait balls in the water as the tide is coming back in. Shrimp typically follow a pattern that brings them back into the intertidal areas during low tides.
10. Bring out your bait balls. If they are dried completely, get some ocean water and get them wet to allow them to start dissolving. Toss at least 1-2 at each pole and maybe one in between each pole to disperse the bait into the water. By the time you are done placing the bait balls at your last pole, the ones you placed in the beginning should already be bringing in the shrimp.
11. Now you're ready to get your cast net and get some shrimp! Make sure that your net has a minimum mesh size of ½-inch square (about 1-inch stretched). As the bait draws in the shrimp around your poles, cast a few times around each pole and then drift/steer towards the next one.
12. As you catch shrimp, place them in an iced cooler (preferably a 48-quart size). Your limit per day (sunrise to sunrise) is 48 quarts whole or 29 quarts 'headed' (with the shrimp's head removed) per set of poles.
The season for shrimp baiting is 60 days long. Good luck and happy shrimping!