Simple Salads and Sandwich Spreads
09 Jun 2013
New Twists on Classic Summer Fare
Photographs and Text by KIM BYER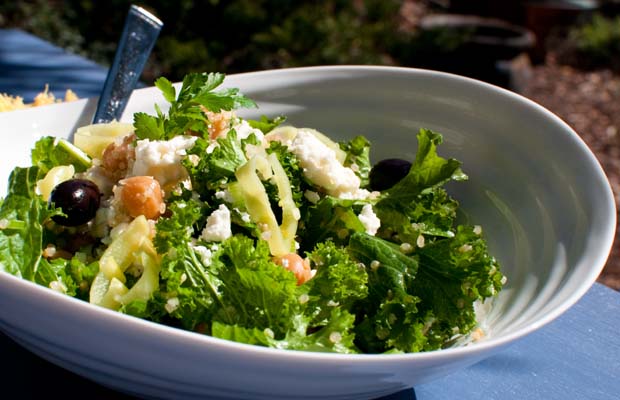 "S" is for summer and simple joys. It's for sundresses, straw hats, sunshades and shorts. Strappy heels and sexy sandals. Salted margaritas and sun-kissed shoulders. Summer in Columbia means steamy days under a searing sun. And once the sun begins to slip away in its majestic blaze of peach, mango, and melon, we venture outside to eat beneath the stars.

In my house, summer also means turning off the stove and leaving it off. You'll find me at my kitchen island most mornings, peeling fruit and juicing green vegetables. If I'm lucky and the heat doesn't conquer our garden, a freshly picked tomato, sliced and topped with salt and pepper, accompanied by olives and hummus, hard cheeses and pita rounds, is my go-to snack. Around sundown, there's little more satisfying than the smell of dinner on the grill. Toss a few fresh herbs into fragrant olive oils, break into a crusty baguette, and the meal has begun. On the weekends, long days by Lake Murray call for easy salads and quick sandwich spreads-- the more chilled, the better.

Halcyon days and their memories make us want to share summer dishes from our childhood. Unfortunately, many of our childhoods were whipped up with cups of mayonnaise and sugar. Perhaps it's time we tossed in a few superfoods and alternative sweeteners into our grocery carts. As cooks, why not ask our families to sit down to paper plates piled high with fresh and healthy memories? It'll make the ice cream for dessert that much sweeter.

This summer, try some new twists on your favorite recipes. I'm in love with this wilted curly kale in place of lettuce in these not-exactly-Greek pitas. I've also given pimiento cheese a mini make-over with white cheddar and less mayo. Want to serve a more sophisticated salad? Try this niçoise with wild salmon instead of tuna or this caprese salad overflowing with fresh grape tomatoes. For the adventurous palate, the mustard greens salad with quinoa, feta and lemon vinaigrette will wake up your whistle. And don't forget the kids! For those of you who've been paying attention to the trends, the new PB&J is an AB&J. I'm pairing almond butter with fresh strawberries – it's a mash-up not to be missed.

Summer is a time to make memories. I hope yours are garden-fresh and delicious.
Curly Kale and Calamata Olive Pitas
Makes eight small pitas

8 cups curly kale, washed and pulled into small bite-size pieces
1 1/2 t kosher or sea salt
1/2 lemon, juiced (approximately 2 T)
1/2 orange, juiced (approximately 4 T)
1 avocado
1 1/2 T sesame oil
1/3 cup pitted kalamata olives, chopped
2 T sunflower seeds
1 T black or white sesame seeds
1 green onion, chopped
8 small pita rounds (Jacob's Flax pita pockets are great)

Wilt the kale with the salt, lemon and orange juice for five minutes. Mash avocado and sesame oil together and thoroughly cover all of the kale leaves. Add the remaining ingredients, toss and stuff about 1/2 cup into each pita.

White Cheddar Pimento Cheese
Yields approximately 1 1/4 cups

2 blocks (approximately 10-12 oz.) extra sharp white cheddar, finely grated (try Premium Cabot Reserve)
¼ cup Duke's mayonnaise
1 4-oz. jar of pimiento, chopped
1/4 cup loosely packed basil, sliced in a chiffonade
Salt and freshly ground pepper to taste

Combine all ingredients and chill for at least one hour. Serve with crackers, baguette rounds or spread on your favorite sandwich bread.

Salmon Niçoise
Serves two

1 filet of wild salmon, grilled (may be chilled and cut into chunks)
1 dry pint of microgreens or lettuce of choice (look for City Roots varieties)
2 eggs, boiled and quartered
4 oz. haricot verts (French green beans), lightly steamed or boiled, then chilled
4 small red potatoes or 1 8-oz. bag mini potatoes, boiled then chilled and sliced
1 small ripe tomato, quartered
½ cup niçoise olives
¼ red onion, sliced into thin crescents
2 T capers

Dressing:
½ lemon, juiced
½ orange, juiced
1 T apple cider vinegar
1T Dijon mustard
1 t agave or sweetener of choice
1/4 cup extra virgin olive oil
Salt and freshly ground pepper to taste

For the dressing, combine all ingredients in a small jar and shake until emulsified. Makes enough vinaigrette for the dressing and a quick salmon marinade.

Marinate salmon in half of the dressing before grilling. Arrange chilled ingredients on a platter, placing the microgreens near the center. Place salmon on top of microgreens and pour the remaining dressing over the platter.

Mustard Greens Salad with Quinoa, Feta and Lemon Vinaigrette
Serves two, easily doubled

1/2 cup uncooked quinoa (cook like rice – in 1 cup of salted water)
1 cup cooked garbanzo beans
4 cups loosely packed mustard greens, torn into bite-sized pieces (baby mustard greens are recommended)
5-10 kalamata olives
3 pepperoncini, cut into slices
1 scallion, chopped
Chunks of fresh feta cheese

Lemon Vinaigrette:
3 T extra virgin olive oil
3 T white Balsamic vinegar
Juice and grated peel of 1 medium lemon
1 t honey or equivalent sweetener of choice
Salt and freshly ground pepper to taste

Combine all ingredients in a small jar and shake until emulsified. Makes enough vinaigrette for two recipes.
In a large salad bowl, combine cooked quinoa, garbanzo beans and half of lemon vinaigrette. Add remaining ingredients and toss.

Caprese Salad with Grape Tomatoes
Serves two to four

1 1/2 cups grape or cherry tomatoes (mixed variety)
4 oz. whole milk fresh mozzarella
1/2 cup loosely packed fresh basil, shredded
Extra virgin olive oil, for drizzling
Salt and freshly ground pepper to taste

Scatter all ingredients on a platter, pour on the most fragrant olive oil you can find and serve with a fresh baguette.

Almond Butter and Strawberry Mash
Makes one sandwich

2 T almond butter (chunky or smooth)
6 strawberries, rinsed and hulled
½ t agave or equivalent sweetener of choice (optional)

Mash whole strawberries in a mortar and pestle until macerated; add agave. Spread almond butter on your favorite sandwich bread, and then top with strawberry mixture.