Some Assembly Required
05 May 2017
Do-it-yourself delicious & heroic summer sandwiches
Recipes and photos by KIM BYER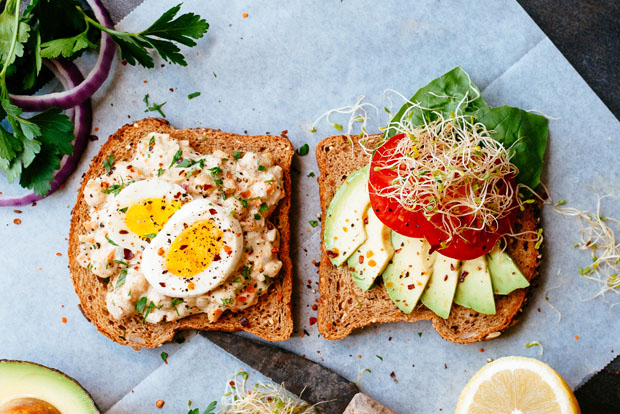 The hammock's up, the shoes are off, the music's on, … ah, the day is yours. Summer in the South is kicked back and comfortable. So, it's no surprise that Southerners are experts in the art of the easy meal – slapping slices of bread around cold cuts and cheese and yelling, "Lunch!"
Sandwiches are the ultimate no-shoes, no-shirt (we don't judge) meal. But at the risk of seeming overdressed, we've crafted some new versions of the big easy, starting with the muffuletta's cousin, the Roast Beef Sandwich with Tarragon Mayo & Olive Tapenade. It's a mouthful to say, but far more easily assembled. Love an 80's revival? Try our Pesto Chicken Croissants with grapes and pecans. Or, treat your favorite millennials to a Vietnamese banh mi destined for their Instagram feeds. And since no summer day is complete without a primal scream for you-know-what, forgo the campfire and make our frozen s'mores indoors.
Now who's the sandwich hero? High-five, dude.
Roast Beef Sandwich with Tarragon Mayo & Olive Tapenade
Serves four to six
1/2 pound medium rare delicatessen roast beef, sliced for sandwiches
1 round Paesano loaf or similar
Olive Tapenade (see below)
Tarragon Mayonnaise (see below)
Arugula or lettuce of choice
Olive Tapenade
1 cup mixed green and black olives, pitted
1 carrot, chopped
1 garlic clove
2 tablespoons extra virgin olive oil
2 tablespoons chopped sundried tomatoes
1 tablespoon capers
1 lemon (zest only) –or 1 tablespoon preserved lemons, minced
1/2 red bell pepper, chopped
Tarragon Mayonnaise
1/2 cup mayonnaise (homemade or Duke's)
2 tablespoons tarragon, chopped
1 tablespoon capers, chopped
3 teaspoons creamy horseradish
2 teaspoons Dijon
1/4 teaspoon sugar, or sweetener of choice
To make the Olive Tapenade, add all ingredients to a food processor and pulse until desired consistency is reached. Store for up to two weeks in the refrigerator.
To make the Tarragon Mayonnaise, stir all ingredients in a small bowl.
To assemble, generously spread Tarragon Mayonnaise and Olive Tapenade on bread and top with roast beef.
Bacon, Burrata & Tomato Baguette
Makes 1 French-style baguette sandwich
1 French-style baguette, toasted
3 slices bacon, fried
1 large ripe tomato or equivalent, sliced
1 ball of burrata mozzarella (brined), sliced or torn
Mayonnaise
Basil leaves
Aged balsamic vinegar
Salt and freshly ground pepper to taste
Slice toasted baguette lengthwise and spread mayonnaise on one side.
To assemble, layer bacon, tomatoes, mozzarella, and basil. Sprinkle with vinegar and seasonings.
Pesto Chicken Croissants
Yields 4 or more cups
1 rotisserie chicken, skin removed, deboned and shredded
1/2 cup mayonnaise
1/2 cup pecans, chopped
4 dozen green grapes, halved, sliced into rounds or quartered
1 stalk celery, chopped
Pecan Pesto (see below)
Pecan Pesto
2 loosely packed cups of fresh basil
1/2 cup pecans
1/2 cup grated Parmesan cheese
1-2 garlic cloves
1/4 tablespoon freshly ground pepper
1/4 cup extra virgin olive oil
In a large bowl, mix chicken, mayonnaise, pecans, grapes and celery. Refrigerate.
Add basil, pecans, Parmesan cheese, garlic and pepper to a food processor bowl. With machine running, slowly pour in olive oil until pesto is a smooth consistency.
Gently fold Pecan Pesto into chicken salad. Refrigerate for a minimum of four hours. Overnight is best.
Spoon into croissants or bread of choice.
Smashed Chickpea Salad Sandwich (shown in photo)
Makes 6-8 sandwiches
Chickpea Salad (see below)
Avocado, tomato, boiled egg, and/or red onion, sliced
Basil leaves and/or alfalfa sprouts
2 slices rustic, whole grain bread, lightly toasted, per serving
Chickpea Salad
1 fifteen-ounce can chickpeas (garbanzo beans), rinsed, drained and smashed
1 teaspoon red onion, minced
2 radishes, minced
1 carrot, minced
1/2 cup tahini (ground sesame seeds)
1/2 cup warm water
1 garlic clove, smashed and minced
3 tablespoons fresh lemon juice
2 tablespoons finely minced parsley
1 1/2 teaspoons maple syrup
1/4 teaspoon salt
1/8 teaspoon red chili pepper flakes
Freshly ground pepper to taste
In a large bowl, add chickpeas, red onion, radishes, and carrot.
In a separate, smaller bowl, whisk tahini and warm water together. Add garlic, lemon juice, parsley, maple syrup, red chili pepper flakes and salt. Whisk until combined.
Pour over chickpeas and vegetables. Add freshly ground pepper and season to taste.
Assemble sandwiches by spreading a layer of chickpea salad on a slice of lightly toasted bread. Add your favorite accompaniments to another slice, then stack and serve.
Sriracha Shrimp Banh Mi (small photo)
Makes 4 large banh mi
3/4 to 1 pound (medium) fresh shrimp, deveined and shelled
4 six-inch baguettes or buns (soft inside and lightly crisp outside)
4-6 slices of extra thin ham (such as Serrano or prosciutto)
5 ounces French country or pork paté
1/2 teaspoon Vietnamese fish sauce
Sriracha Mayonnaise (see below)
Do Chua (see below)
1 medium cucumber, sliced thin
2 jalapeños, sliced thin
1 bunch cilantro
2 limes, quartered
Sriracha Mayonnaise
1 cup mayonnaise
2 teaspoons Sriracha sauce
1/2 tablespoon fish sauce
1/2 scallion, thinly sliced
1/4 lime
Do Chua
2 medium carrots
1 daikon radish
1/4 cup rice vinegar
2 tablespoons sugar
2 tablespoons warm water
1/4 teaspoon salt
Cook the shrimp by flash frying them in a skillet with a small amount of oil or boiling them in a large pot of salted water. Cool, then refrigerate.
Fry the ham. Set aside.
In a small bowl, use a fork to incorporate the fish sauce into the paté. Set aside.
To make the Sriracha Mayonnaise, combine the mayonnaise and other ingredients in a small bowl.
Pat the shrimp dry, and then coat them with the Sriracha Mayonnaise. Refrigerate.
To make the Do Chua, julienne carrots and daikon into small, matchstick sized pieces. Combine the next four ingredients in a medium-sized bowl and add the carrots and daikon. Refrigerate.
Before assembling the banh mi, gently toast the buns for a few minutes to crisp the outside and soften the inside. Slice buns lengthwise, being careful not to cut through the bottom.
Spread the pate on one side of each bun. Add a layer of sliced ham and then pile the shrimp on top. Layer each banh mi with the Do Chua, cucumber, jalapeño and cilantro. Serve with lime wedges.
S'mores Ice Cream Sandwiches
Makes 16 ice cream sandwiches
32 graham cracker squares (two perforated crackers wide)
1 seven-ounce jar marshmallow creme
1 thirteen-ounce jar of chocolate hazelnut spread, such as Nutella
1 carton (squared cornered brick-style works best) of vanilla and/or chocolate ice cream (1.75 quarts)
Place half of the graham crackers in a single layer on a baking sheet. Spread a thick layer of chocolate hazelnut over each cracker. Place baking sheet into the freezer.
Pre-heat broiler to High.
On a separate baking sheet, arrange the remaining half of the graham crackers. Spread a thick layer of marshmallow creme. Broil for up to one minute or until the marshmallow turns golden brown (or burnt, if desired.) Do not walk away from the oven during this step! Cool, then store the baking sheet inside the freezer for ten minutes.
Remove the cardboard wrapping from the top and sides of the ice cream carton. Using a large knife, slice 1/2" or thicker squares of ice cream and place onto each chocolate-covered graham cracker. Top with a marshmallow-covered square. Transfer leftover ice cream to a new container.
Serve immediately or place back into the freezer for ten more minutes for a slightly less messy treat. Optionally, wrap individually in squares of wax paper and freeze until ready.