Southern Charm
Posted On March 30, 2013
Historic joggling boards handcrafted in the traditional way make porches fun, and romantic.
By JASON A. ZWIKER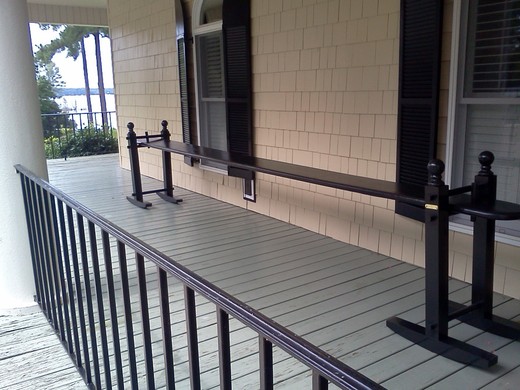 Chris Outland knew exactly what he wanted to give his wife-to-be for a wedding present: a joggling board. Historic, lighthearted, and romantic, joggling boards are a time-honored staple of the South and a perfect symbol of romance. But he couldn't find a company that could have one ready in time for the wedding.
So he built one for her himself. That was the beginning of what is now The Joggle Factory.
Today, you'll find Chris handcrafting joggling boards one after the other in his small workshop in Summerville, assisted by his basset hound Murphy and his lab Drake.
"Oh, they're hard workers all right," he says with a laugh. "One will be outside tanning in the sun while the other's in here sleeping. They take turns."
Chris studied the history and traditional methods of making joggling boards and he strives for authenticity. The wood he uses is Southern yellow pine, local to the area, the joinery is traditional, and the paint is Charleston green. "I try to keep these close to what they would have been, historically."
That said, he's not averse to throwing another color into the mix on customer request or for a special occasion. "Right now we're doing one all in red. That one will be a donation for the Go Red for Women Heart Run and Walk."
He brings out the joggling board he's talking about, and it is a sight to see: bright red and beautifully made, with just the right amount of spring. He makes traditional joggling boards in four standard sizes, 10 to 16 feet, and offers two different choices for finials – cannonball and gothic.
He talks about the careful process of planing down the wood to make it pretty and then holds up an example of a well-crafted mortice-and-tenon. He's a humble guy, but this is clearly a man well at ease in the world of working with wood.
"I guess it's been about four years now," he says, sweeping the sawdust into a large, neat pile. "Our first show was at Flowertown Festival. We go back every year now and every year we do so well there. Summerville really has a strong local backing."
And this year, The Joggle Factory is bringing an all-new item to Flowertown – mini joggling boards for kids, painted in bright, happy colors and sized just right for little bottoms.
His joggling boards have found homes in front of ponds and on porches, in gardens and outdoor spaces at private residences and businesses alike.
While plenty of locals and visitors discover his work at the annual festival (which is a true joy for anyone who appreciates handcrafted goods, fine food, and family fun), he also receives a steady stream of orders from afar.
"We get a lot of orders from up north. We've shipped joggling boards as far as France. This is the product no one has heard of – but that everyone wants once they see it!"
That's understandable. Joggling boards are, simply put, a hoot. The story of their role in nineteenth century Southern courtship has just the right touch of charm to make anyone want one. Traditionally, the gentleman would sit near one rocker end, the lady near the other, and they would gently "joggle" their way toward one another in the middle. Should their hips touch in the middle, they would live happily together ever after, or so the story goes. It is said that there has never been an unmarried daughter in a house with a joggling board on the porch.
Romance aside, joggling boards are functional pieces that can take the place of any two rocking chairs. "They don't make your porch look crowded," Chris adds. It goes without saying that kids adore them and that you'll never be without a way to get a conversation started when folks are gathered in the yard for a summer barbecue or a winter oyster roast.
Chris is especially proud of using sustainable, locally harvested lumber and environmentally friendly paint as well as traditional joinery methods. He takes his time with each joggling board, making sure that each detail is exactly as it should be.
"I try to keep the price affordable. People sometimes think of joggling boards as being kind of exclusive items, but originally they were not. They were something fun made from the wood left over after dad built the house. They were for everyone." 843-200-2073, www.thejogglefactory.com