Spoleto 2021: A Welcome Return to a (New) Normal
04 May 2021
Spoleto 2021 guarantees the cultural experience we've all missed
By Leah Rhyne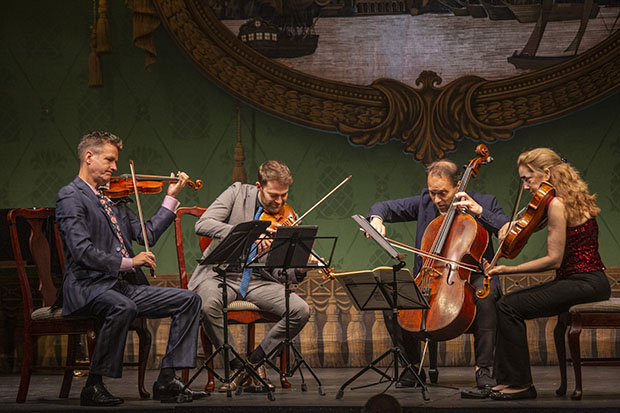 Throughout its distinguished 45-year history, Spoleto Festival has endured hardships but remained a cornerstone of the south's cultural calendar. From using its 1990 festival to signal a return to life for the city following the devastation of 1989's Hurricane Hugo, through economic crises, to an eventual revitalization of the Holy City thanks in part to this annual celebration of culture and the arts, it is the anchor of every Charleston spring.
That is, until the COVID pandemic of 2020 forced Spoleto to close its doors, the first ever cancellation in the festival's storied history.
In 2021, however, Spoleto is back, from May 28 through June 13, marking a return to a new normal with two weeks of music, theater and dance that promises to fill hearts and minds with light after a dark year. This festival also signals the end of another era: longtime general director Nigel Redden will say goodbye. A free, virtual gala on May 22 will celebrate Redden and the careers he has impacted over Spoleto's 45 years. The gala will feature pre-recorded performances and messages from festival friends such as Laurie Anderson, Ayodele Casel, Steve Reich, Rhiannon Giddens, and Bill T. Jones. The event is free and will be available to stream through June 13. Donations from the event will support the Nigel Redden Emerging Artist Fund, created in Redden's honor to bolster future programming efforts.
The festival lineup features live, in-person events, as well as specially crafted virtual experiences that can be viewed from home. In scope, it will only represent approximately 25% of prior years' festival events and attendees, but that's by design.
"In many ways, this season will be quite different—not least because of the reduced number of performances and seats as a result of physical distancing," says Redden. "Still, despite the constraints and challenges, this season will be remembered for its moments of immense beauty. I want each audience member to have an unforgettable, magical experience—the kind that can only come from seeing live performance."
More Outdoor Venues
To safely accommodate in-person performances, Spoleto got creative and will make more use of outdoor spaces than normal. 2021 festival venues include:
The Charleston Visitor Center Bus Shed: Nightly performances of The Woman in Black, adapted from Susan Hill's novel by Stephen Mallatratt and directed by Robin Herford, will take place at 8:30 p.m. As the Bus Shed is in use as a transportation hub by CARTA daily until 5:00 p.m., these theatrical performances will require the building and dismantling of the stage and seating every night.
Rivers Green at College of Charleston: This new outdoor stage will feature three dance programs: Caleb Teicher & Company; Ephrat Asherie Dance; and the program Ballet Under the Stars, performed by American Ballet Theatre and New York City Ballet's Isabella Boylston, Adrian Danchig-Waring, Joseph Gordon, Unity Phelan, and Calvin Royal III.
The College of Charleston Cistern Yard: All performances associated with the Festival's Wells Fargo Jazz and First Citizens Bank Front Row series will take place at the outdoor stage at the Cistern Yard. Performances will include a celebration of the music of the Great Migration - a period from 1910 – 1970, when Black families fled racial violence in the South and traveled North and West – as well as the historic Preservation Hall Jazz Band.
The Dock Street Theatre: The building that occupies the site of the first purpose-built theater in the United States will continue its tradition of hosting the Spoleto Chamber Music Series, albeit with a decreased capacity to allow for physical distancing and safety protocols.
Schedule Highlights
The Spoleto at Home series offers two bespoke virtual experiences for those who do not yet feel ready to partake in in-person events. A Thousand Ways: Part One (A Phone Call), created by 600 Highwaymen, is one of those experiences. The event's description is cryptic: "Pick up the phone. Someone is on the line. You don't know their name, and you still won't when the hour is over, but as you follow the recorded instructions, a portrait of your partner will emerge through fleeting moments of exposure." This "social experience" promises to be fascinating.
Odeon by Ephrat Asherie Dance will layer breakdance, hip-hop, house, and vogue for a high-energy, hybrid creation for six dancers from award-winning choreographer Ephrat Asherie. It combines the legacies of street and club dance styles and remixes them to challenge choreographic contexts.
And for jazz fans, the New Orleans Jazz Celebration will be nothing short of spectacular. Celebrating the music of Danny Barker, a jazz raconteur who helped spark a resurgence in the New Orleans brass-band tradition in the 1970s, an eight-piece all-star band—led by clarinet virtuoso Dr. Michael White and Grammy-winning vocalist Catherine Russell—will bring the Cistern Yard to its feet.
Safety Protocols
To safely produce an in-person festival, Spoleto staff began working immediately after the cancellation of their 2020 season. Says Spoleto Director of Marketing and Public Relations, Jessie Bagley says, "This journey included endless pivots, re-imaginings and hurdles to jump through. We knew from the start that we had to prioritize the return of live, in-person performances, and to do it as safely as possible."
The festival partnered closely with MUSC's Back to Business program. "We had doctors, consultants, and administrators informing all our decisions," continues Bagley.
Wanting the festival to feel both welcoming and safe, they established the following protocols:
Masks required for all visitors and staff

Tickets are sold in "safe seating pods" for groups of 2-4 to allow for social distancing

There will be no refreshments sold during performances and no intermissions.

A flexible ticketing return policy.
"We never want finances to be a reason for you to put yourself or others at risk," adds Bagley. In short: if you feel sick, stay home. You'll get a refund.
And with most artists already fully vaccinated against COVID-19 prior to their travel, Bagley anticipates a healthy and exciting 2021 Spoleto Festival for all.
What about Piccolo Spoleto?
Of course, no Spoleto season would feel complete without its cousin-festival, Piccolo Spoleto, which focuses on smaller venues with a wide variety of artistic genres, including literature and comedy. This year will be no exception – within the framework of the new normal, at least. At the time of the writing of this article, Piccolo Spoleto has announced a 2021 festival with the same dates as Spoleto. None of its events will be ticketed and safety will come first. However, the full schedule will not be released until mid-May. We all look forward to the eclectic lineup of the first COVID-era Piccolo Spoleto. Visit www.piccolospoleto.com for more information.