Art on the Town
04 May 2021
The Charleston area offers a plethora of public art
By Monica Kreber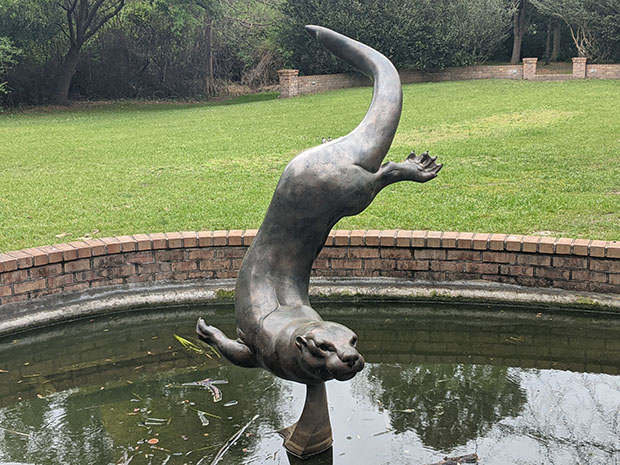 Whether it's getting your picture taken in front of a mural or checking out sculptures crafted by college students, the greater Charleston area offers a plethora of public art for residents and visitors to check out.
Below is a roundup of free art exhibits and displays throughout Charleston.
North Charleston
The Park Circle Gallery, located at 4820 Jenkins Avenue, rotates exhibits on a monthly basis – and it's all within walking distance of Park Circle's bars, restaurants and shops. The gallery also displays prints, notecards, jewelry and other fine craft items by local artists available for sale.
More than 75 art pieces are featured in the City's Public Art Collection. Artwork is displayed along the atrium areas of three floors in North Charleston City Hall, located at 2500 City Hall Lane.
Artists from around the world participate in the National Outdoor Sculpture Competition and Exhibit, a component of the annual North Charleston Arts Fest (held in April). Although the Art Fest is over, sculptures from the competition are installed in North Charleston Riverfront Park (1001 Everglades Drive) for display until next March.
Open to the public year-round and set on the banks of the beautiful Cooper River, North Charleston Riverfront Park is a favorite destination for residents and visitors. There are several permanent pieces from the City's collection on display in the park, and the Naval Base Memorial at the park has some sculpture components.
Another component of the Art Fest is the African American Fiber Art Exhibition, showcasing original creations by African American fiber artists from across the nation. These curated-themed exhibits will be on display on all three floors of City Hall until the end of June.
Mt. Pleasant
The Town of Mt. Pleasant previously invited artists to submit applications for their art to be painted on 4-foot fiberglass oyster shells that will be installed throughout town, at locations including Dunes West and Park West, Memorial Waterfront Park, a pocket park near Red's Icehouse by Shem Creek, near the farmer's market on Coleman Boulevard, near the tennis courts on Whipple Road, at the bus stop in front of Town Hall, on Pitt Street and on Carolina Park Boulevard.
The town has purchased eight more that will need to be painted.
There are more than 20 painted metal traffic boxes throughout Mt. Pleasant, featuring images of everything from local seafood, to a basket weaver, to a map of Charleston. This program started in 2016 as a way to showcase local artists.
The Mt. Pleasant Culture, Arts and Pride (CAP) commission partners with the College of Charleston Sculpture Department each year to display two students' sculptures at the pocket park on Coleman Boulevard near Moultrie Middle School. There are several permanent sculpture displays at the Park West Recreation Complex program building, the R.L. Jones Center and the Mt. Pleasant Regional Library on Anna Knapp Boulevard.
Mt. Pleasant has an interactive art map on the town's website showing where to find free art around town.
Summerville
Sculpture in the South has installed more than 25 figurative bronze sculptures to display throughout Summerville since 1999. These sculptures can be found in Azalea Park, downtown Summerville, Gahagan Sports Complex, Shepard Park and more. The Summerville Visitor Center offers a brochure for a self-guided tour of the collection in town.
The B.I.R.D.S. Program brings together the Audubon Center at Francis Beidler Forest, Sculpture in the South and Summerville D.R.E.A.M. to highlight Summerville's native bird species. There are more than 20 life-sized bronzes overlooking the town from their "perches" on balconies, windowsills, shop signs and rooftops. The first sculpture was unveiled in 2013. (Learn more at scupltureinthesouth.com)
The Public Works Art Center in downtown Summerville showcases both local and national art. The center hosts free events like Third Thursday Open Studios, art show openings, documentary screenings, artist talks and more. Fresh shows debut every six weeks. The Center is located at 135 W Richardson Ave.
Summerville also has a number of murals throughout town, such as a large image of two American redstart birds on the side of the parking garage downtown near Short Central Street, and a giant Mason jar on the side of the Summerville Chamber of Commerce building on North Main Street.
City of Charleston
The City Gallery at Waterfront Park features contemporary artwork from the Lowcountry and Southeastern United States with six to eight exhibitions a year – specific information is available on the City Gallery's website. The gallery is located at 34 Prioleau St. Admission is free.
More contemporary artwork can be found at the Halsey Institute of Contemporary Art at the College of Charleston. The institute is named for Charleston artist William Halsey, who passed away in 1999. The Halsey Institute hosts five to seven exhibitions a year, highlighting work by emerging and mid-career artists of national stature. The institute is located at 161 Calhoun St.
On the first floor of the Cato and Simmons Center, attached to the Halsey Institute of Contemporary Art, is the Hill Gallery, which displays College of Charleston student artwork and rotates exhibits. The gallery can be accessed through St. Philip Street.
The Gibbs Museum welcomes visitors with an activity-filled first floor that is free and open to the public. Visitors can purchase tickets to view galleries on the upper floors, and there is also a museum store with jewelry, gifts, art supplies and more. The museum is located at 135 Meeting Street.
Murals Around Town
Photo enthusiasts can check out Limelight Custom Sign Co.'s "interactive mural" at the Elan Midtown Luxury Apartments located at 441 Meeting Street downtown. The mural is accessible to the public and located inside the lower parking deck off Spring Street.
Famed Charleston muralist David Boatwright has many murals around Charleston, including a an eye-catching mural at 341 East Bay Street shows a Charleston street scene past and present.
Romney Urban Garden, located at 222 Romney Ct. in Charleston, features a 50-foot-long mosaic mural across a cinder-block wall. Local mosaic artist Meryl Weber created it in June 2015 with help from about 40 volunteers.
A large cluster of local murals can be found in West Ashley's Avondale neighborhood. Visitors might recognize some familiar faces in the artwork such as late Lowcountry blacksmith Philip Simmons, or naturalist Charles Darwin.
A vibrant depiction of Jimi Hendrix can be found on the side of Charleston Pourhouse on Maybank Highway. Muralist Riivo Kruuk completed the project this past year.
If one ever wondered how big a Great White shark is, there is a scale painting of Mary Lee, a shark that was tagged off the coast of South Carolina in 2012, at Half-Moon Outfitters, located at 425 Coleman Boulevard in Mt. Pleasant.