Retro-inspired resort wear for spring
Photography - Mira Adwell
Production - Aleece Sophia and Avery Hanson
Styling/Art Director - Lisa Jean Walsh with Oui Style
Styling Assistant - Michelle Gerardot
Hair and Makeup - Marley Simmons with DirectionsUSA
Models - Reed with Ursula Wiedmann Models and Michael with Directions USA
Location - Dunes West Golf and River Club
Special thanks to Jason Hanson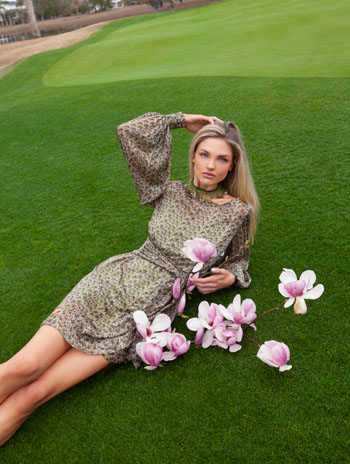 Traffic People Dot print dress, $230; Hand Beaded necklace, $215 and Wildflower & Whiskey, 1440 Ben Sawyer Blvd., Mt. Pleasant.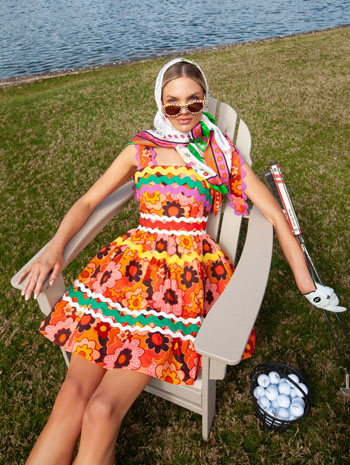 Celia B Lazuli dress, $325; Vilagallo scarf, $108; Zoe sunglasses, $85, at Rhodes Boutique, 92 Folly Rd Blvd, Charleston. Stylist's socks and golf shoes.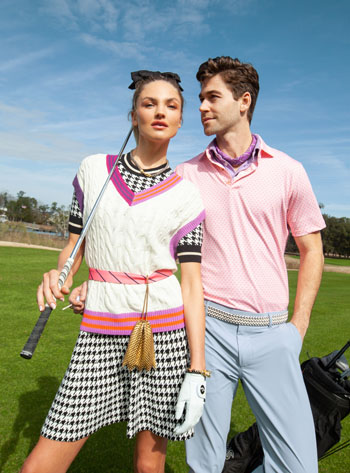 On Her: Wild fable cream sweater, $18; pink tie belt, $18; 525 American black and white herringbone dress, $38; Tiger bracelet, $48; Silver chain, $38, at Reinvented Upscale Resale, 847 Savannah Hwy. Stylist's own socks, golf glove and hair bow.
On him: Harlestons sea scallop Edisto shirt, $110; Layered FEDELI purple polo shirt, $245; Eton pocket square (tied around neck), $65; Leather man macramé navy belt, $42; Grayson Montauk trouser, $130 at M. Dumas & Sons, 294 King St., Charleston. Stylist's golf shoes.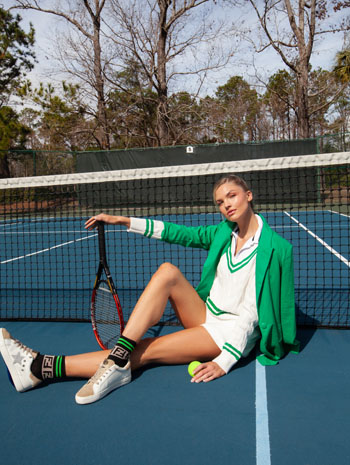 Lush Logan oversize blazer, $74; Octavius, Erinn cable knit sweater, $49; Second Skin by Roxanne crew shell, $32; BTFL life romper short, $69; Vintage Havana Excel sneaker, $130, at House of Sage, 51B George St., Charleston and 186 Seven Farms Drive, Daniel Island. Stylists own socks.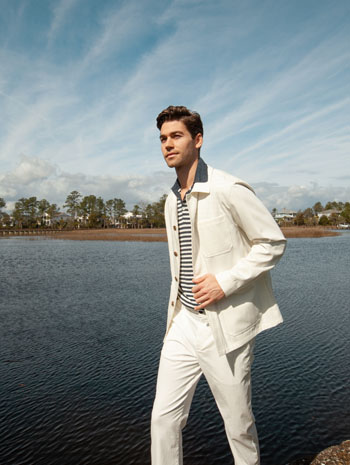 Maurizio Baldassari chore jacket, $895; Maurizio Baldassari stripes linen polo shirt, $365; Eleventy white joggers, $395, at M. Dumas and Sons, 294 King St. Stylist's own shoes.