Style Reimagined
02 Nov 2022
Breathing new life into pre-owned pieces at Reinvented Upscale Resale
By Katelyn Rutt
Photos by Jenny Peterson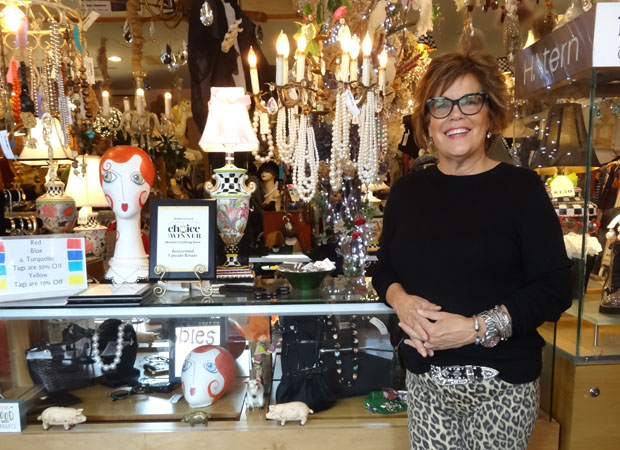 "I noticed many King Street Stores focused on young, trendy items. I thought to myself, 'Where do ladies over the age of 40 go shopping?' The answer was Reinvented Upscale Resale," said Beth Cook, owner of the consignment shop in West Ashley.
After a 10-year stint in California, Cook returned to Charleston in 2004 with the dream of "selling a little magic." She took to transforming an old South Carolina liquor store into her very own consignment clothing concept—an area of familiarity for the entrepreneur, who had owned a similar Charleston-based shop in the early 1990s.
"I like West Ashley," Cook says. "It's close to my home and my previous store was there, so I knew the neighborhood. I was looking for a location that would get a lot of traffic and have great display windows. The old Moluf Liquor Store was right on the main artery, had four large display windows...and was vacant."
On the heels of her cross-country move, Cook had big plans for her next business venture. Little did she know that empty building in Avondale would become the foundation for something incredible and would become an award-winning consignment store.
The brick and mortar, conveniently located on Savannah Highway, operates as a high-quality consignment store with inventory that changes daily—including clothing, shoes, purses, and accessories, often at one-third the cost of retail. Even better: There's something for in every price range, from items at Reinvented's $5 sale events to $1,500 full-length minks. There are designer bags by Louis Vuitton and Gucci, shoes by Louboutin and Jimmy Choo, and dresses by St. John and Lafayette 148.
"Our clothes are second-hand from lots of ladies' closets," Cook says. "I pick only the best from consignors' fabulous clothing and accessories. I also go to trade shows to learn emerging styles. I prefer timeless, good-quality clothing that will enhance the wardrobe."
Throughout Reinvented's 17 years of operation, Cook has cultivated an eclectic, welcoming environment for her customers. The store's interior is peppered with 13 chandeliers, as well as a carousel horse, votive candles, and birds in a cage chirping away. Plus, a fantastic music playlist—a must for Cook.
"There is a lot of eye candy, but the atmosphere is very relaxing," Cook says. "Most of our display cases and fixtures are—you guessed it—pre-owned."
As for the shop's success? Reinvented is a five-time winner of The Post & Courier's Charleston's Choice Best Consignment Store, as well as a five-time winner of the Post & Courier's Charleston's Choice Best Vintage Clothing Store. Most recently, the store was named Charleston Living Magazine's Best Consignment Store, and Post & Courier's Charleston's Choice Best Women's Clothing Store.
Despite the accolades, Cook says it's the simple, day-to-day experiences that remind her why she does what she does.
"I love every day," Cook says. "I learn something new. My proudest moment is when people open the front door...I know they had a choice on where to shop and chose us. Reinvented has received lots of great attention over the years, I've made great friends and met wonderful customers. My team are hard workers and share the same goal: to be the best."
Community connection is the lifeblood of Reinvented. The store partners annually with the Charleston Parks and Recreation's Inclusive Prom night to donate time and a selection of cocktail dresses, gowns, and accessories to women with special needs. Cook says it's a privilege to help ladies feel beautiful through fashion, just as she does daily with her customers in the store.
"I often say that it's the thrill of the hunt that keeps people coming back time after time," Cook says. "Our clients come from all walks of life. The governor's wife, the mayor's wife, and all of Charleston's best-dressed ladies shop at Reinvented."
As for the element that transforms first-time customers into Reinvented regulars? Cook has a theory, and it's all about the feeling an incredible outfit has the power to evoke.
"At Reinvented, feeling good about your look is not expensive," Cook says. "I believe mid-career and older ladies want to look exciting, classy and confident. They want to be remembered for a great entrance to any event. How you dress for the day reflects who you want to be that day."
Check out Reinvented Upscale Resale at 847 Savannah Hwy, Charleston and www.reinventedresale.com. The consignment store is open Monday through Friday from 10 a.m. to 5 p.m., and Saturdays from 10 a.m. to 4 p.m. Watch the shop's weekly fashion show via Facebook Live on Wednesdays at 9 a.m.