Summer Forecast
24 Jul 2015
The any-kind-of-weather summertime guide for what to do in Charleston
By JASON A. ZWIKER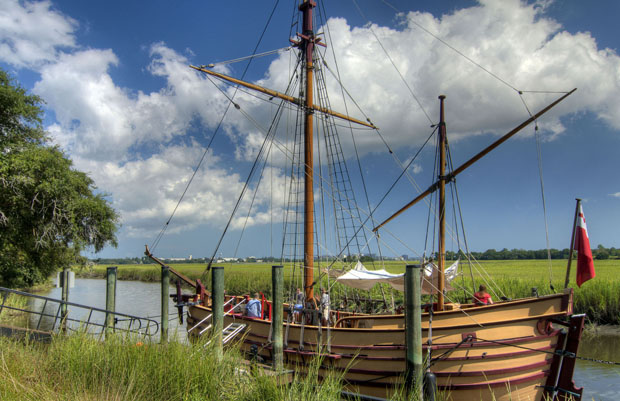 Summer in Charleston brings bright, beautiful days when being out in the sun is an absolute must – days of blue skies and bathwater-warm coastal waters. It also brings a few days when our humid subtropical climate tips a wee bit too far. And, yep, it brings the occasional afternoon thunderstorm.
Luckily, whether it's the kind of day when being on the beach or out on a boat is the calling, or a day better spent in air-conditioned comfort, Charleston always has the perfect activity to suit the forecast.
Here are some of our favorite...
...things to do when we want to be outside:
Battery Park and White Point Gardens tops our list of what do when the sun is shining and there's maybe just a bit of a breeze blowing in off the water. For a postcard-perfect picture of our city, the view here can't be beat. Southern mansions on one side, Charleston Harbor on the other, with a cozy gazebo shaded by live oaks in-between: this is where we want to start or end our day – maybe both!
A trip out to Fort Sumter National Monument is another sunny day favorite because we get to enjoy both the boat ride to the island and the historic fort itself. Tours leave from the Fort Sumter Visitor Education Center at Liberty Square and from Patriots Point in Mount Pleasant.
When it's time to play, we either make our way to nearby Folly Beach (nicknamed "The Edge of America"), where there's soft sand, sparkling waves, and good places to eat galore or James Island County Park, featuring a 50-foot climbing wall, Splash Zone water park, bicycle rentals, and much more.
Taking a stroll or a bicycle ride across the Arthur Ravenel Jr. Bridge is our favorite way to combine exercise with a fantastic view of the city. A short drive up to Sullivan's Island offers both a beautiful beach and Fort Moultrie National Monument, a trip back in time that will put a smile on the face of any military history buff.
When we're feeling adventurous, we pack sunscreen, water, insect repellant, and drive up the road to meet Coastal Expeditions in Awendaw for a ferry to Bulls Island – its Boneyard Beach of sun-bleached oaks is a visual delight.
Another delightful drive is along historic Highway 61 west of the Ashley River. Surrounded by lush greenery, it leads the way to three of Charleston's most treasured attractions: Drayton Hall, Magnolia Plantation and Gardens, and Middleton Plantation.
Charles Towne Landing is the place we go to see where it all began: the first permanent English settlement in Carolina was right here. There's a natural habitat zoo, a replica tall ship, and archeological exhibits aplenty.
If it's early Saturday morning, we're sure to be enjoying our fill of local goodies galore at the Charleston Farmers Market in Marion Square. And Sunday brunch at Hominy Grill is always a delight.
Should we find ourselves worn out after all that running around in the summer sun, we can always relax in the shade of a live oak and enjoy a brand new Lowcountry summer read such as All the Single Ladies by Dorothea Benton Frank or The Summer's End by Mary Alice Monroe.
…things to do when we want to be inside:
Overcast, dreary day? Or maybe the sun is shining way too bright and we've had our fill? That's when it's time to head indoors and dig into the fascinating history of Charleston with a tour of the Old Exchange & Provost, Nathaniel Russell House, Heyward-Washington House, Edmondston Alston House, Aiken-Rhett House, or the Charleston Museum. The Gibbes Museum of Art is the place to go for art lovers and the Children's Museum of the Lowcountry is perfectly suited for families with tots in tow: the interactive exhibits there include a pirate ship, castle, and an art room.
Kids of all ages will also love the South Carolina Aquarium and with good reason: it's kind of like getting a little taste of the entire state in one afternoon. Examples of wild things that swim and splash in the ocean, along the coast, up in the Piedmont, and much more can be found here in this state-of-the-art facility.
And when it comes to shopping, the Historic Charleston City Market can't be beat. The Greek Revival-style hall at the heart of the city always puts a smile on our faces. Then we continue along to King Street for antiques, art, and fashion.
…things to do when the sun goes down:
No matter whether the sun has been shining or shy all day long, it eventually slips low in the sky. That's when we get to enjoy all the great evening entertainment Charleston has to offer. Our restaurants are among the best in the nation and there is enough music, dance, and live theater going on at any given time to satisfy any taste.
Everyone loves an evening at the ballpark and Joseph P. Riley, Jr. Park, home of The Charleston RiverDogs, is a great place to wind down at the end of the day.
Charleston Music Hall consistently offers top-notch entertainment and is conveniently located near the heart of Charleston shopping and dining. When we're in the mood to get back out on the water, a Blues & BBQ Cruise with Charleston Harbor Tours delivers great food, great entertainment, and a spectacular view of the city from the water.
Sometimes it's fun to just sit back and watch, and sometimes it's fun to mix in with the fun and farce. Either way, a comic whodunit such as Heist, Heist Baby or The Church Street Daughters of the Late Unpleasantness Garden, Gun & Gin Club at The Black Fedora Comedy Mystery Theatre is the perfect ticket.
If we're up for one more treat before bedtime, The Rooftop at The Vendue offers a spectacular view of the city by night. It's one of our favorite scenic spots for drinks, light fare, and great conversation.