Keeping Us Young
24 Jul 2015
Personal trainer Lila Bennett offers tailored workout routines that will improve your fitness and energy level
By BRIAN SHERMAN
Photos by ASHLEY WALKER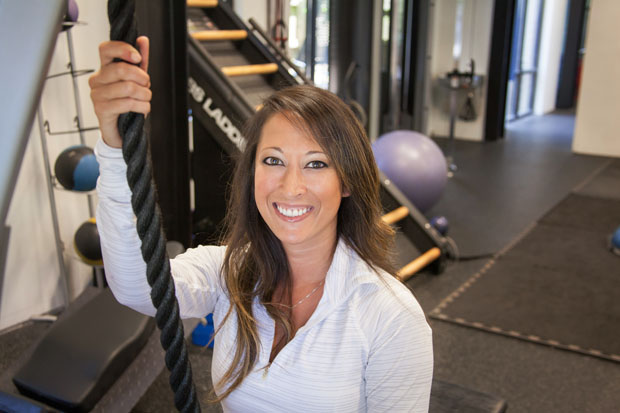 ONE CLIENT AT A TIME, Lila Bennett is changing the way people treat their bodies and guiding them down a path that leads to better nutrition, increased muscle mass and enhanced balance and coordination. In other words, she is doing her best to help them slow the aging process to a crawl.
"You need to give your body a chance," said Bennett, a personal trainer who moved to the Charleston area in early March. "I teach my clients everything I know about exercise and nutrition. This is a lifestyle change, not just a temporary fix."
A native Californian, Bennett started helping people stay healthy at the age of 16, working the front desk in an all women's gym. She was a part-time trainer while earning her business degree at California State University-Northridge, and spent a few years in risk management with Hilton Hotels. When she relocated to North Carolina, she saw the opportunity to be a full-time personal trainer, and that's been her profession, and her passion, ever since.
"I really love what I do," said Bennett, now 33. "My clients end up being a big part of my life. Every one of them is also a friend."
Bennett's typical client in her Mount Pleasant-based business, Transformation Training, is older than 40 and, in many cases, recovering from some type of shoulder, knee or back injury.
"I focus on keeping people moving," said Bennett, who works out of Synergy Fitness on Whipple Road. "When people suffer injuries, they might think they are done with exercise. They might be thinking, 'I'm getting older and I can't do this.' My response is, you've got this injury, now lets work around it. You haven't exercised in years, so let's start. If you feel like you are in a rut and don't know what is best for your body, let me show you."
Injuries aren't the only reason people don't exercise regularly. In many cases, they aren't motivated to get moving because they work all day and participate in their kids' activities at night. Or they use the excuse that they simply don't have the energy to exercise, an alibi Bennett simply isn't buying.
"We've got to commit to taking care of ourselves," she said, suggesting that everyone should exercise for a half hour to an hour, at least five times a week. "Exercising will give you the energy and stamina you think you've lost."
Bennett said strength training should be an important part of any exercise routine, both for men and women, pointing out that after the age of 30, people typically lose 6.6 pounds of muscle every decade. She was quick to add, however, that just because it's typical doesn't mean everyone has to look forward to muscle being replaced by fat.
"We can stop that from happening," she insisted.
Exercise is a key ingredient in slowing down the aging process, but nutrition also plays an important role. Bennett spends a lot of time teaching her clients about what they should be eating, and she pointed out that home-cooked meals are always better for you than what you get at most restaurants.
"We have to spend time cooking meals so we know what's in them," she said. "We can exercise all we want, but if we continue to eat fast food and we don't do something about our sugar addiction, we're slowly killing ourselves. We've got to be aware of what we're putting in our bodies."
Bennett is not suggesting that people stop eating all the food they enjoy, and she doesn't like to use the word "diet" because "it's too severe and not maintainable."
"I'm not saying you can't ever have pizza again," she explained. "You don't have to live on kale and oatmeal. You just need to exercise more and eat more nutrient-dense foods. Because of all the conveniences life now offers us, we need to move and exercise much more and be extremely cautious of what we eat, sticking to natural foods that aren't processed. Following this lifestyle, we can eventually do away with all those pills and visits to the doctor."
When she was in North Carolina, Bennett worked with clients ranging in age from 7 to 70, and she remembers with pride a conversation she had with a client who had been with her for five years. At the age of 66, he was no longer taking medication, was eating well and as healthy as a man 11 years younger, according to his physician.
Bennett hopes to develop similar relationships with her clients in the Lowcountry, in part by making fitness fun.
"I always do my best to keep my clients interested in their workouts. I mix modes of exercise to keep them guessing and having fun in their sessions, always giving them exercises that are new and different," she said.
"In the end, as long as I am improving their overall health, I know I'm making a positive difference in their lives," she concluded. 843-830-0331, transformationtrainingfitness.com