Veterans find strength and support, one wave at a time
By Shelby Simon
Photos by Scott Dave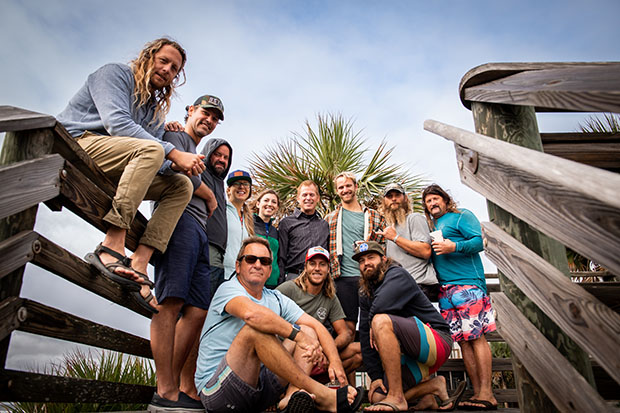 "It's a powerful moment every time we leave the beach and hit the ocean," says Andy Manzi, co-founder of Warrior Surf Foundation, on the community of veterans that have found a sense of healing in the waves of the Atlantic Ocean. "You can see it—their eyes are full of life, fully aware of now, and most of the time, they have a smile from ear to ear."
After his second deployment to Iraq and his Marine Corps service ended, Manzi packed up his car and came to Folly Beach with no plan.
The Charleston area quickly became home for him, and he found that surfing offered him an escape that helped to reduce his own symptoms of PTSD.
Manzi began giving surf lessons to other veterans, and in 2015, he co-founded the Warrior Surf Foundation, which has provided free surf therapy and wellness programs to veterans and their family members on Folly Beach ever since. To date, the organization has served more than 400 veterans and counting.
Once veterans are discharged from the military, they receive government assistance for health care, education, housing benefits and more, but Manzi knows that only goes so far.
He said it's what the government cannot provide that is critical to successful reintegration: opportunities for veterans to reconnect with themselves outside of who they are in the military, and connecting them with veteran-based communities to promote healing, transition and engagement with other human beings, including their spouses and children.
"Organizations like Warrior Surf and others we align with are providing a service that can only be supported and thrive in local communities," says Manzi. "Without the support of the greater Charleston community, hundreds of veterans wouldn't have had the opportunity to come through our program and receive the chance to grow a little more."
Over the last five years, the team at Warrior Surf Foundation has seen that a combination of surfing, wellness coaching and yoga are a powerful and complimentary combination for enhancing mental and physical health. Veterans who participate in the free 12-week program do all three activities each week, and all parts of the curriculum reinforce positive psychology, resilience and mindfulness.
The wellness program, overseen by Jordan Watkins, a licensed master social worker, focuses on helping veterans understand the areas of importance in their lives and acting on those areas to feel fulfilled.
Sarah Jones, a registered yoga teacher with more than 200 hours of training, provides lessons on how to be present in the moment, become acutely aware of the body, strengthen muscles and enhance mobility. The surf program is overseen by Aaron Grandle, a combat veteran who learned to surf on Folly Beach.
Outside of biweekly semi-private surf lessons, veterans have the opportunity to check out surfboards on their own when they want to practice. Weekly open surf sessions are open to current participants, family members and past participants. Warrior Surf Foundation also holds 46 community surf sessions per year, which provides the chance to build community.

Stephanie Dasher, Director of Operations, believes that anyone can learn to surf if they are willing to be patient and roll with the challenges.
"You're going to fall down a lot, and it takes courage to get back up and keep going. When surfing, you have to be fully present in the moment. If you're not, you'll get worked by the waves. Instead, you have to allow yourself to take on the rhythm of the ocean."
Some days the ocean will be easy surfing, and some days the waves beat down hard and toss surfers around. The program teaches the veterans to be okay with that and work with what they're given — lessons they can apply on and off the water.

Most of the staff are veterans themselves, married to veterans or have completed the program before. The organization encourages community and mentorship, and they see many past participants return to volunteer.
"All you have to do is show up, and we're going to show up for you," says Dasher. "Our staff shows up for our veterans, but the most rewarding thing is to see our veterans showing up for one another. We might have helped lay the framework, but it's the community of veterans networking and building each other up that makes what we do possible."

Chris Dixon, a Board Member who has been with Warrior Surf Foundation since its beginning, echoes Dasher's sentiments. When everyone is working together out of love, focused on helping others, the rewards are abundant.
When COVID-19 closed access to local beaches and forced surf lessons to a halt, the staff's skills in running a responsive operations is how they were able to pivot and start a donation drive of Personal Protective Equipment for healthcare workers in need.
"Our mission is to serve," says Dixon. "Working on behalf of medical personnel and first responders during the pandemic simply seemed an obvious way for us to shift our mission and continue to serve."
Warrior Surf Foundation is also hosting public wellness and yoga sessions online until people can gather again.
It is this same community that has led Dixon to believe that Folly Beach is one of the best places in the country to be a surfer.
"We don't have the best waves. But we do have the best people — and that counts for a lot."