Best of the Best 2020 Awards
04 Jul 2020
Charleston Living Reader's Choice
Best of the Best 2020 Awards
From the city to the beaches…
For another year, you voted and we listened when it comes to your favorite places around the Charleston region. Whether a Holy City native or new to the area, use this guide to help you shop, dine or locate a specific service. From wedding planners to vet clinics to personal trainers, we've got recommendations about where to go and what experts to call!
By Teri Errico Griffis and Jenna-Ley Jamison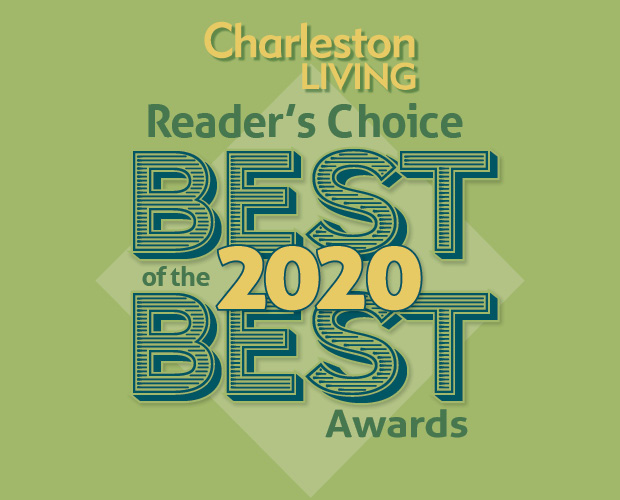 DINING
Appetizers
Rutledge Cab Co.
843-720-1440, rutledgecabco.com
Feast on fantastically-cooked finger-foods inside this 1950s-themed hub for laid-back and filling fare. The starter menu of this unique hangout, a former gas station and convenience store designed to look and feel like the inside of a taxi cab, is packed with flavorful bites—from classic chicken fingers and spicy wings to seafood snacks like crawfish tails and gator bites—to kick start your taste buds.
Authentic American
Page's Okra Grill
pagesokragrill.com
Stop by one of two locations, Mt. Pleasant or Summerville's Nexton community, to treat a friend group or family to cuisine everyone will like. The menu features Southern, comfort eats like a mac 'n cheese skillet and country-fried steak to healthy dishes like greens topped with blackened Mahi or a salad featuring house-made chicken salad. But before picking up the tab, don't forget to fork up some heavenly-tasting banana pudding or staple pecan pie to satisfy the post-meal sweet tooth.
Authentic Asian
Bon Bahn Mi
bonbanhmi.com
Customers here can find "straightforward and fresh" eats with authentic Southeast Asian flavors. Born from a simple concept and the owners' craving for a niche quality menu lacking locally, Bon Bahn Mi now boasts two locations—Mt. Pleasant and Charleston—and menus offering salads, tacos and bahn mis (a Vietnamese sandwich with a 9-inch baguette) with protein ranging from five ground spice pork, and red curry beef to tofu, shrimp and ginger lemongrass chicken. Wash each bite down with a craft beer or wine on special or take a Vietnamese iced-coffee or Thai tea to go.
Authentic Italian
Pane E Vino
panevinocharleston.com
Hailed for its traditional menu and upscale environment, this downtown Charleston trattoria is named for two, simple Italian mealtime favorites—bread and wine. If you're in the mood for elegant vibes and beautifully-plated meals, crafted to make you feel right at home in Italy, then reserve your next dinner date here; and dive delightfully into a number of Mediterranean-inspired dishes whether you prefer vegetarian, pasta, seafood, chicken, soup or salad. The kitchen also serves brunch.
Authentic Mexican
Mex 1 Coastal Cantina
mex1coastalcantina.com
Each of this eatery's locations, Charleston and Sullivan's Island, are about mirroring the authentic vibes and flavors indicative of West Coast cantinas. The flavors here pack a punch and will leave you hankering for more. Pair a meal with one of 14 signature margaritas and cocktails, or sip from a countless array of the bar's Tequila creations. Munch on calamari, scoop up chip-fuls of jalapeno-topped queso to start; then consider a meal of staple tacos, quesadillas, or a unique baja bowl creation.
Bakery
Saffron Café & Bakery
eatatsaffron.com
In the mood for luxurious baked goods—among the Lowcountry's most popular—or foreign fare inspired by Middle Eastern culture? Treat yourself to this busy locale where the kitchen hands work around-the-clock to pump out fresh eats to satisfy that sweet tooth. But be forewarned—it might be difficult deciding your order while drooling over the display case. So come on down to East Bay Street and bite into a plump bagel, a warm loaf of bread or take a cheesecake to go.
Barbeque
Melvin's Barbecue
melvinsbbq.com
Consider filling up on mustard-based barbecue from a kitchen celebrated as the Holy City's original barbecue joint, with flavorful family recipes and locations in Mt. Pleasant and James Island. In fact, legend has it that the menu's golden sauce recipe remains a secret to this day—shared only by word-of-mouth. Loosen up the belt and prepare to delve hands-first into a plate of St. Louis-style pork ribs, chicken or "Boston butts"; or order up the barbecue chicken wings for some finger-licking fun at your next outdoor tailgate party. Save room for dessert—peach cobbler and milkshakes available.
Breakfast Spot
Toast
toastofcharleston.com
Start the day right with a morning meal that will wake up your taste buds. With multiple locations around the Charleston area, there will be no excuse not to plan a weekend friend gathering or romantic breakfast date featuring this eatery's beloved, bottomless mimosas. After all, who can resist fruit-stuffed French toast or fresh buttermilk biscuits? But if sleeping in is your mantra, snooze as long as you'd like because the menu offers breakfast at all hours.
Burgers
Sesame Burgers & Beer
sesameburgersandbeer.com
The menu here doesn't discriminate. Whatever diet you demand—vegan, vegetarian or straight-up carnivorous—there's a juicy, gourmet burger with your name on it. From a traditional beef one or one crafted from chicken, turkey or black beans, the patties here are pleasing and ready for topping with any array of veggies, cheese and condiments you crave—even banana and peanut butter if you dare. Pop in between 3 and 5 p.m. weekdays at one of three locations—Mt. Pleasant, West Ashley or North Charleston—and dine on a discounted dish during "Happy Burger Hour."
Caterer
Harvest
Harvestcateringcharleston.com
This elegant catering service is ready to wow the guests at your next celebratory event. Whether a wedding, birthday, anniversary or other milestone moment, choose Harvest to organize, decorate and serve your guests a memorable time. Their menu offers everything from beautifully-plated dinner eats like chicken piccata and pork verde enchiladas to lavish breakfast cuisine—frittatas and French toast casserole. Don't forget cocktails and sweet heavenly treats like Southern pecan praline and triple chocolate brownies.
Coffeehouse
Vintage Coffee Café
vintagecoffeecafe.com
Step foot inside this Mt. Pleasant cottage and feel instantly energized by the caffeinated vibes brewing. Where else but inside a former house can you truly unwind with a handcrafted espresso and baked sugary treat in hand? The avocado toast is not to be missed. Send the kids out back to play in the shop's backyard and sip your hot chai latte or peach blossom tea in silence. Or maybe it's a mimosa your mood demands. This menu has it all!
Crab Cakes
Hyman's Seafood
hymanseafood.com
This popular seafood spot in downtown Charleston is never a stranger to hungry locals and tourists, eager to sink their teeth into the kitchen's staple, hearty crab cakes. The busy Lowcountry restaurant is home to dishes featuring crab meat. Try the crab cake appetizer with the kitchen's tasty remoulade sauce or a refreshing crab cake sandwich for a memorable lunch.
Desserts
Carmella's
carmellasdessertbar.com
Sip your favorite wine or cocktail as you indulge on a gourmet treat or two—ones made fresh daily inside this East Bay Street locale. Take a break from a busy afternoon of Charleston retail therapy to cooldown your palate with gelato or fruity sorbet; or order a slice of tiramisu cake or handful of cannoli to share with your better half on a sweet date night at home.
Family Restaurant
Burton's Grill
burtonsgrill.com
Have a hunger for an upscale dining space with memorable eats? Make a reservation for the family at this Mt. Pleasant locale, where you and the kiddos can spend time together over good eats—either in the main dining room or outdoor patio; breathe in fresh air and enjoy the relaxing temperatures and longer evenings of Daylight Savings time. Or if quarantine is still part of your daily routine, order a dinner kit for four to-go.
Fine Dining
Peninsula Grill
Loved by locals and fans from around the world, guests enter the romantic and warm dining room hidden amidst a lush courtyard garden, illuminated by flickering lanterns. Refined fare at this downtown restaurant includes baked oysters Rockerfeller style, a pistachio-crusted lamb rack, signature desserts and an award-winning wine list. Peninsula Grill is the only restaurant in South Carolina to earn a spot on OpenTable's 2020 List of the 100 Most Romantic Restaurants in America.
Health Fare
Kid Cashew
kidcashewcharleston.com
It's possible to watch the waistline while simultaneously splurging on good eats. Don't feel that post-mealtime guilt when you dine here. Choose to devour healthy dishes from the wood-fired grill or weekend brunch fare. One thing is for sure: no matter what you order, you can be confident it's fresh. The eatery prides itself on not using freezers, fryers or heat lamps to chill or cook food. So come relax with family, friends or dine solo in the main dining room, at the bar or on the newish outdoor covered patio.
Ice Cream
Ye Old Fashioned
yeolefashioned.com
There's no shortage of this customer favorite across the Lowcountry. With six area locations, there's no excuse not to stop by this neighborhood nook on a hot, summer day and satisfy your craving for American's favorite cold treat. Sip on a handspun milkshake, share spoonfuls of a decadent banana split, or pack a cup or cone with as many scoops of the 30-plus ice cream flavors that your heart desires. From staple chocolate and vanilla to the colorful rainbow sherbet and mint chocolate chip, the options are endless!
Lunch Spot
Zia's
ziataco.com
Come on over to Mt. Pleasant's Maybank Highway to a relaxing lunch spot that won't break the bank. Dine in with the office staff during the work week or the close-knit cronies on the weekend, and discover an authentic taqueria offering simple but tasty meals and drinks. Cool down with a refreshing frozen screwdriver (offered Sundays & Mondays) or feast on an order of carne asada or chorizo-stuffed tacos. Don't forget to start off with some fresh-mashed guacamole or chili con queso.
New Restaurant
Kwei Fei
kweifei.com
A restaurant concept inspired by one of history's most ancient Chinese love affairs, this Maybank Highway food hub is known for cooking up cuisine reminiscent of Western China and its Sichuan province, where food is colorful, picturesque and filled with bold, spicy flavors. Menu eats include lamb dumplings, eggplant, Sichuan beef and tofu, among others. Also, sip a "Good Fortune" cocktail or bourbon mule with your order. Wine, beer, hot tea and array of other beverages are offered.
Organic Food
The Gathering Café
gatheringwestashley.com
Tucked away within a strip mall in the West Ashley community, this dining spot is the perfect destination for the healthy diet and lovers of fare inspired by Mediterranean and Southeast Asian dishes. Whether you characterize yourself as a meat-lover, vegetarian, vegan or pescatarian, or simply require eats that are gluten-free, The Gathering Café will satisfy your mealtime craving. The menu includes wraps, "greens and grains" options, salads, "bowls" you can pack with protein like tofu, salmon, shrimp or steak, and even pizzas that won't add enhance your waistline.
Outdoor Dining
Blu
blufollybeach.com
Dine just yards away from the Folly Beach pier at this beachfront bar and grill, located inside the Tides Hotel. As you soak in the spectacular view of sky and waves, and breathe in the salt air and sounds of sea life, grab a drink and chill against a cozy, outdoor lounge chair or sofa and await a mouth-watering and locally-sourced grilled salmon dish or Baja fish tacos. Clink glasses with a friend or stranger on half-off wine night (starting 5 p.m. Tuesdays) and cheers to an unforgettable outdoor dining experience.
Pizza
Paisano's Pizza Grill
paisanospizza.com
When your appetite calls for the beloved, staple finger food—PIZZA—it's time to stop by one of Paisano's three locations—West Ashley, Johns Island or Mt. Pleasant—and find out why it's a customer favorite. The menu offers 20 gourmet specialty pizzas—including the "Dinosaur BBQ," "Flyin Hawaiin," "Ranchzilla," and "Chicken Parm"—and a limitless number of build-your-own menu options with toppings like artichoke hearts, meatballs and even fried chicken. There's also gluten-free dough available for 10-inch pies.
Raw Bar
Rappahannock
rroysters.com
If you're stomach's growling for a plate of fresh Chesapeake Bay oysters, stop by this East Bay Street raw bar to be impressed and satisfied. Formerly the site of the area's historic Cigar Factory—with roots dating back the 1800s—the site is now a popular hub along the Cooper River for serving up raw bar favorites to locals and tourists alike. And if you're eager to cook up your own similar entrees at home, stop by the eatery's "pantry" area to find for sale all the Charleston kitchen's array of seafood, sauces, dry-rub blends and wines.
Romantic Atmosphere
Bistro Toulouse
bistrotoulouse.com
You may not be on European terrain, but this Parisian-style bistro will surely have you daydreaming about the Eiffel Tower and whispering "je t'aime" in your lover's ear all evening. The Mt. Pleasant kitchen cooks up cuisine reminiscent of its French Motherland and serves locally-brewed beer and handcrafted cocktails to satisfy and impress guests looking to spark a new flame or reignite an old one. Indulge on escargot and steak tartar and share spoonfuls of dark chocolate soufflé or pistachio cake to round out your romantic date.
Salads
Five Loaves Café
fiveloavescafe.com
With multiple locations across the Charleston area, Five Loaves is always ready to serve you a leafy-green dish, if watching your diet is your goal. With an array of proteins, veggies and cheeses to top your meal, salads here are never dull in appearance or taste and are perfectly portioned to fill you up for any meal your diet demands. Fork up bites of arugula and spinach with the options of chilled smoked salmon, eggplant fritters, cheese-filled tortellini or marinated mushrooms, to name a few toppings. Also, opt for a smaller salad portion paired with half a sandwich or cup of soup.
Seafood
Red's Ice House
redsicehouse.com
This outdoor eatery offers a relaxing, waterfront view, ice cold drinks and some of the Lowcountry's best seafood dishes. Feast on fresh, snow crab clusters, peel 'n eat steamed shrimp, or a basket of fried scallops and oysters while watching boats sail in and out against a scenic Shem Creek sunset. Put on your shades, tap your foot to live music and lounge on the outdoor patio soaking in the sights and sounds of the coastal life.
Service
82 Queen
82queen.com
Feast on Southern staples or fresh seafood in this quaint setting in historic, downtown Charleston. Find service that will refresh you and cater to your every need as you treat your taste buds to an elegant evening or indulgent weekend brunch. Cozy up in the main dining room or next to a lush magnolia tree in the outdoor courtyard. By providing unforgettable entrees, bar favorites and a hospitable atmosphere, 82 Queen keeps its customers happy, turning new guests into repeat ones.
Steakhouse
Halls Chophouse
hallschophouse.com
Whether in Summerville or downtown Charleston, you can find a Halls Chophouse steak with your name on it. This Lowcountry institution is known for its succulent USDA prime steaks from Allen Brothers of Chicago, hand-selected, aged with meticulous processes, and hand-cut to exact portion specifications. Staff go above and beyond to ensure the highest level of service—even mailing letters to diners congratulating them on special occasions that brought them to the dining room.
Sunday Brunch
High Cotton
highcottoncharleston.com
Looking for an elegant atmosphere to dine on brunch fare crafted from fresh, local ingredients? High Cotton is high class without a pretentious vibe. This eatery's brunch menu, available Saturday and Sunday, includes mouth-watering chicken 'n waffles and buttermilk-fried oysters, along with indulgent dishes like the vanilla-glazed cinnamon roll and sugar-dusted beignets. Brunch even comes with an added treat—live music!
Sushi
Locals
localssushi.com
You've haven't done sushi night right until you've feasted on this favorite, award-wining Lowcountry menu. For each order, kitchen staff "roll hard" to hand-craft the perfect nigiri or sashimi sushi upon customer request. Whichever seafood you crave can be created into a fresh roll. Choose salmon, yellowtail, mahi mahi and octopus, among other numerous fish options. Another top menu item is the ninja roll, packed with snow crab, tempura shrimp and avocado. And if you're low on funds, don't stress; the eatery's "Munday Funday" offers half priced night.
Vegetarian
Dellz Uptown
facebook.com/dellzuptown
Have a meatless diet? Dellz has the proper fare for you to feast on—even pizza! How about starting the meal with a shareable plate of "snobby nachos," complete with mango salsa, banana sauce, brown rice and black beans, among other toppings. Or maybe it's an acorn squash bowl or gluten-free wrap calling your name. There's even the delectable spicy garden tacos and "steamin' beemin'" plate featuring vegan-style shrimp. But carnivores ought not to shy away from this Rutledge Avenue destination; the menu also includes meat-friendly options.
Waterview Dining
Saltwater Cowboys
saltwater-cowboys.com
Situated among the Shem Creek dining operations that pull in daily crowds, Saltwater Cowboys is one of the newest eateries to anchor along the waterway and is unique for its smoked barbecue, unhindered sunset view and upper deck hangout. Whether it's the evening cloud colors, boats, dolphin sightings or Charleston skyline you hope to capture live, you won't be disappointed sipping a happy hour longneck or margarita here.
Wine List
Avondale Wine & Cheese
facebook.com/AvondaleWineCheese
Whether it's a sparkling, Rose, white or red label you crave, this niche spot in Charleston's West Ashley community has a bottle of vino for you. Not sure what you or your dinner party guests want to sip? Stop by for a $5 wine—and fondue—tasting on Monday evenings. You'll likely be tempted to add some gourmet cheeses and other tantalizing items to your list. Tapas like housemade hummus and chocolate truffles for dessert will be sure to catch your taste buds by surprise.
BARS/NIGHTLIFE
Bar
Saltwater Cowboys
saltwater-cowboys.com
Forget the crowded upscale, noisy bar scene and choose to chill with some alcoholic drinks atop the upper deck at this coastal hangout, anchored along the Shem Creek waterway. Complete with an unhindered sunset view and backdrop of the distant Charleston skyline, this place offers a fresh respite from the busy day as you sip a classic margarita, longneck or bloody Mary paired with a fresh seafood or bbq dish.
Club
Recovery Room
recoveryroomtavern.com
This friendly, neighborhood dive bar on King Street is where the popular nightlife scene includes games, staple finger-food pub fare, live music and even a DJ party on the final Friday of each month. Let loose, cut a rug, belt out lyrics to your favorite local bands and enjoy a Pabst Blue Ribbon—Recovery Room is the No. 1 Seller of PBR in the World. Relish in the Recovery Room's no-judgement vibes and find a place everyone is welcome to unwind and have fun.
Cocktail
Vintage Lounge
vintagechs.com
This Charleston wine bar situated within an historic building along King Street is the perfect getaway for relaxing, sipping and pausing from your everyday grind. In addition to offering an extensive variety of wine labels and local beers, Vintage Lounge crafts specialty wine cocktails that not only help you forget your frustrations but also pair well with a beautifully-plated charcuterie order.
Craft Brewer
Low Tide Brewing
lowtidebrewing.com
Well-known for being the first brewing company to setup shop on Johns Island—circa 2016—Low Tide beers are unlike any other beer beverage being brewed in the Lowcountry. Ingredients stem from local sources—malt from neighboring North Carolina and even sea beans from Charleston's coastal marsh. Staff here even works with local bars and eateries to collaborate on custom beers—how about the "Carolina Creamsicle" sour or the pineapple wheat "Aloha Beaches."
Happy Hour
Pearlz
pearlzoysterbar.com
If you're craving a post-work, liquid pick-me-up, then pop by Pearlz in downtown Charleston or West Ashley. Loosen the tie and order a round of spicy oyster shooters for the work crew or your best mate. Items are discounted between 4 and 7 p.m. for happy hour. So, if the fresh smell of seafood gets your stomach growling, indulge in some raw bar staples, appetizers or more adult beverages—because your wallet won't cry over these special prices.
Late Night Menu
Genes Haufbrau
genes.beer
If you need to unwind into the wee hours of the night or squelch a fourth-meal craving, stop by this watering hole—one of the Holy City's oldest bars—to discover mouth-watering burgers and other finger foods. The kitchen is open daily until 1 a.m. but feel free to munch on your favorites and sip a couple cold ones—from an extensive list of beer available—with the gang until 2 a.m.
Pub/Tavern
Tavern & Table
tavernandtable.com
Looking for a rustic venue that offers respite from the bustle of everyday life? Look no further than Shem Creek, where Tavern and Table—open daily at 11 a.m.—provides relaxing outdoor patio seating for family and friends to gather or the lone customer to sit back, sip a beer and survey passing boats, birds and sea life. This Mt. Pleasant hotspot's menu includes sandwiches, burgers, soups, salads and seafood, along with Sunday brunch and 4-7 p.m. Weekday happy hour, featuring discounted drinks and eats.
HEALTH/WELLNESS
Allergist
Charleston Allergy & Asthma
charlestonallergy.com
From hay fever to food allergies, sinusitis to immune deficiencies, there's not much this professional allergist doesn't treat. Whether they have mild or severe allergies, locals not only prefer, but trust, treatment from these specialists. Don't waste another day settling for mediocre health; relief is but a call or click away with three convenient locations in West Ashley, Mt. Pleasant and Summerville; or request an appointment online or utilize their convenience telehealth services.
Audiologist
Advanced Hearing Care
advhearing.com
It's time to revel in the world's soundtrack again. Don't let complete or partial hearing loss impair your life. Visit the local experts at Advanced Hearing Care because your hearing is their top priority. Staff here is well-trained and certified in audiology and hearing aids and skilled at fitting and programming hearing aids based on the results of your hearing tests. But patient care extends beyond initial fittings; schedule ongoing follow-ups to ensure you hear life to the fullest!
Chiropractor
Dr. Matthew Murrin, Chiropractic USA
chiropracticusasc.com
Discover pain relief and a full-body approach to health at this Mt. Pleasant chiropractor, celebrated for his wealth of knowledge, experience and professionalism in his niche healing field. His career is a calling, which he pursued after childhood experience with physical ailments similar to his patients. Whether an adult or child in need of a back adjustment or other chiropractic care—even a sports injury like turf toe or planter fasciitis—Dr. Murrin can restore you to back to good health and total wellness.
Dentist Adult
Pleasant Family Dentistry
pleasantfamilydentistry.com
Nervous about the dentist? Pleasant Family Dentistry gives you plenty to smile about! Their top priority is the safety and health of the community and their 30 years of service ensures knowledge and compassion, as well as a soothing and relaxed experience. They offer comprehensive dental exams, including cavity detection, restorations, Invisalign and veneers and bleaching, just to name a few.
Dentist Pediatric
Charleston Smiles
charleston-smiles.com
Getting kids to brush their teeth might be the most arduous fight a parent battles daily. At Charleston Smiles, the team provides a one-of-a-kind experience that makes children actually excited to visit the dentist. In addition to offering overall care, they delight in educating children on proper brushing, flossing and the importance of a good diet.
Dermatology
Dermatology & Laser Center
dermandlaser.com
As the largest organ, your skin deserves the best care. DLCC combines medical, cosmetic and research dermatology to provide the best skin treatment options for you and your family in their state-of-the-art center. Find warmth and compassion while you undergo medical and cosmetic procedures from acne to derma fillers and everything in between.
Eye Care/Vision Center
Eye Care Center of Mt. Pleasant
mtpleasanteyecare.com
It doesn't take 20/20 vision to see Eye Care Center of Mt. Pleasant's commitment to its patients. They provide comprehensive vision and quality eye care products with a number of superior services: family eye care, contact lenses and fittings, comprehensive eye exams, eye disease treatment and more. Call to schedule your appointment today.
Hospital
MUSC Medical Center
musc.edu/medical_center
Healthcare workers have had a heroic year, and locals love MUSC Medical Center and all that its facilities and staff have to offer. Schedule virtual visits, find information on COVID-19, obtain medical records, access billing and so much more online. You can even find an alphabetical list of medical services in order to best navigate your needs!
Ophthalmologist
The Vision Center at Seaside Farms
seasidevision.com
So much of the world is enjoyed through our eyes. That's why it's important to find a vision center that delivers the highest quality eye care—for you and your family. Dr. Bodkin and his friendly team provide high-tech and environmentally friendly services, including eye exams, contact lenses, eye and sunglasses, and treatment for injuries and diseases.
Orthopedics
Lowcountry Orthopedics
lowcountryortho.com
Specializing in orthopedic surgery and pain management, Lowcountry Orthopedics offers award-winning services for spine, hip and knee, foot and ankle, hand and sports medicine. Their team of highly-trained and experienced physicians have been diagnosing and treating patients since 1975. Meet the staff online or make an appointment at one of their five locations.
Pediatrician
Coastal Pediatrics
cpakids.com
With nearly 35 providers and five convenient locations—including weekends and late-night appointments—it couldn't be easier to get an appointment for a sick child, or to make a routine wellness visit. While parents love the amazing communication the staff and doctors offer (including quickly returned calls!), the little ones enjoy the comfortable and friendly environment.
BEAUTY/FITNESS
Barre
Studio Barre
jamesisland.studiobarre.com
Eager to strengthen your core and balance, shed some pounds, and enhance your confidence and mental health? Join this James Island exercise studio and find solutions to all these things and more. Find a high-intensity but low-impact way to burn calories and develop friendships with fellow barre-mates. Barre workouts—which incorporate ballet, yoga and Pilates moves—are the new, hottest trend to gain the attention of all types—from the athletic guru to the anti-cardio or uncoordinated individual. With a variety of classes offered during the week, you're in charge of your sweat schedule and can workout at your own convenience.
Day Spa
Charleston Medical Spa
charlestonmedicalspa.com
Everyone deserves to feel beautiful and Charleston's award-winning medical spa enhances your beauty by providing a personalized approach to aesthetic medicine. Transform your skin with treatments that help you look and feel your best. Customer favorites include BOTOX, fillers, halo laser, laser hair removal and HydraFacials. Consultations are complimentary!
Golf Course
Links at Stono Ferry
stonoferrygolf.com
Most of us cheered with more than a quiet golf clap when the PGA returned this spring. And when locals plan to hit the links on their own, they prefer Stono Ferry. The premier golf course combines the historic traditions of Charleston with exciting golf along the Intracoastal waters. The facility is complete with target and putting greens and practice chipping.
Gym
Dance Lab
dancelabcharleston.com
Fall in love with movement and feel your best at Dance Lab Charleston. Adults and youth of all ages and skill levels are welcome at the studio where happy humans love to dance in all types of styles. Stay in shape with virtual classes from home, livestream or stay-tuned to their site for limited in-studio sessions.
Pilates
Club Pilates
clubpilates.com
We've all been pretty innovative with our workouts this year, but nothing beats the live classes at Club Pilates. With various levels that fit everybody's skills, start out with Level 1's foundation or opt for the most advanced, Level 2.5, for masters. Classes challenge the body and mind so book a free intro today!
Plastic Surgeon
Dr. Sonny O Plastic Surgery
drsonnyo.com
Feeling your best often goes hand-in-hand with looking your best and who better to help you rejuvenate your body than Mount Pleasant's very own nationally-trusted plastic surgeon in facial artistry. For the last 18 years, Dr. Sonny O has provided patients with expert plastic surgery like facelifts, tummy tucks, breast augmentation and hair removal.
Salon Women
Vanity Salon & Blowout Bar
vanitysalonsc.com
Never take your hair or salon for granted again. For fabulous cuts, colors, blowouts, spray tans, extensions and waxing services, the team at Vanity Salon & Blowout Bar offers a one-stop beauty shop. Create a style to fit your lifestyle—and your budget—so that you can feel your very best.
Salon Men
Barelli Barber
barrellibarber.com
While women can sometimes postpone that much-needed trim for a few more weeks, it's invaluable to men to find someone reliable and available for their oft-needed grooming. That's why readers love Barrelli Barber and its awesome space in the Cigar Factory downtown and Park Circle in North Charleston. Their skills are tailored to proper grooming for gentleman, including cuts, shaves, hot towels, grooming products and waxing.
SERVICES
Apartment complex
Atlantic at Grand Oaks Apartments
Atlanticatgrandoaks.com
Featuring well-appointed one, two, and three-bedroom apartments, Atlantic at Grand Oaks puts you right where you want to be—with easy access to the lively Avondale nightlife in West Ashley and downtown Charleston. The pet-friendly open-concept floorplans have high-design features like granite countertops and stainless steel appliances along with resort-like amenities like a pool, community fire pit, poolside grilling pavilion, clubroom with a gaming table and a 24-hour fitness center.
Appliance Store
Signature Appliance Center
signatureappliances.net
With a stock of more than 100 appliances of all types for sale, there's no need to shop anywhere else to furnish your home. Make life easier by checking out this beloved and trusted retailer to buy quality appliances, whether it's to replace a broken one or to update your home's equipment. Need a fridge, washer, dryer, dishwasher, or oven? Shop from the Lowcountry's widest selection of top brands like Sharp, Samsung, and Whirlpool and discover wholesale prices that fit your family's budget.
Architect
Herlong Architects
herlongarchitects.com
Since 1986, this Charleston-based business has served as a full-service and architectural design studio committed to making every customer's design dreams come true. Considering each client's personal vision for the unique form, function and style of his or her home is a passion for Herlong team members. They are committed to constructing the coastal home or vacation house with character you've always strived to own. But no need to wait until a face-to-face appointment; go online now to download a complimentary guide and kick start the planning process.
Assisted Living Center
Bishop Gadsden
bishopgadsden.com
Choose to spend your golden years of life in a luxurious space on the water. Or if it's time to downsize your aging parents' home and relocate them to living facility where you can be confident they'll be cared for and make fellow "young at heart" friends, look no further than this James Island living space for ages 62 and up. Residents can enjoy a number of amenities—chapel, sunrooms, art loft, billiards and more. Also, with at least 40 different activities available to participate in daily—think mani/pedis, trivia and sing-a-long events—residents are never lonely or bored.
Bank
South State Bank
southstatebank.com
Whatever financial goals or monetary journey you're on, South State Bank wants to assist you, at your convenience. Bank tellers and customer service representatives can provide guidance on everything from personal to business banking, mortgages, retirement savings, estate settlement and more. There are hundreds of locations and ATMs throughout the Carolinas, Georgia and Virginia, so whether you're Saturday shopping in Summerville or traveling out of town, they're never too far away.
Blinds/Shutters Window Treatments
Advanced Window Fashions
advancedwindowfashions.com
Dress the windows in your home or business with only the best and highest quality brands of blinds, shutters, drapes, valences and more. Find the perfect way to balance the light throughout individual rooms or offices and set the right mood to study, sleep, read and relax—or simply smile at your canine and kiddos playing in the backyard.
Boat
Longshore Boats
longshoreboats.com
Explore your coastal surroundings in a new or pre-owned vessel that will have the family begging for the next trip and fellow boaters jealous of your waterway ride. Longshore Boats has been a thriving boat retailer for more than a quarter of a century—now offering Malibu boats to help you escape life on land. Whether you demand a special high-powered motor, a center or dual console vessel, or a bowrider boat roomie enough to pile in the boys for an early-morning fishing trip, pick out or custom build the watercraft you want and fulfill all your marine dreams here.
Car Dealership
Baker Motor Company of Charleston
baker.mercedesdealer.com
In the market for a new ride? Whether it's a Mercedes sedan, SUV or hard-working sprinter van, come on down to Savannah Highway to talk to an automotive service professional about your wants and needs. Too busy or unsure about hanging out in public during the pandemic? Don't stress. Baker offers personalized video tours of any vehicle on the lot upon request. You can also have a car delivered to your home to take for a spin before purchasing.
Countertops
Palmetto Surfacing
palmettosurfacing.com
Looking to renovate your office or remodel your home's outdated kitchen? Look no further than this North Charleston business, boasting more than three decades of servicing customers in the market for stone fabrication countertops. Checkout their selection of granite, quartz, marble, and solid surfaces for commercial or residential use. Their showroom boasts more than 250 varieties, and whichever countertop you choose, you can guarantee quick and quality installation.
Credit Union
SC Federal Credit Union
scfederal.org
Though all their financial centers may not be open following the COVD-19 pandemic, the Holy City's oldest bank is still here for your urgent needs. For everything else, find convenience with mobile banking, dozens of ATMS and expanded drive-thru services. Money can't buy peace of mind, but having a bank like SC Federal Credit Union on your side can.
Daycare
Trident Kids Academy
tridentkidsacademy.com
Trusting someone else to take care of your child is huge decision for a parent. Trident Kids Academy—a sister school to Coastal Kids—offers a safe space with developmentally-appropriate activities: songs, crafts, sensory play, language, literary skills and more. The daycare welcome ages 6 weeks to 2 years and offers an engaging preschool curriculum for ages 3-5.
Financial Advisor
Saos Capital
saoscapital.com
Health, wealth and happiness are an adult's primary goals, and in today's economy maintaining healthy finances couldn't be more essential. For experienced, proven advice on financial planning, portfolio management, brokerage and financial investment strategies, locals pick SAOS Capital. The money-management partner's primary interest is stabilizing and improving your financial future with a hands-on, personalized approach.
Flooring Company
Barefoot Floors
Barefootfloorsllc.com
Glenn von Rosenberg and his dedicated craftsmen at Barefoot Floors will install, sand and finish your floors, buff or coat them, or repair existing flooring. From the smallest job to the largest, serving builders and direct clients, Barefoot Flooring handles every project with honesty, integrity and quality, resulting in happy customers…with very happy feet.
Funeral Home
J. Henry Stuhr
jhenrystuhr.com
Haruki Murakami once said that death is not the opposite of life, but a part of it. Since 1865, J. Henry Stuhr Funeral Home has been dedicated to our community in its time of need, especially in these times of uncertainty. They're here to guide and support with burials, funeral planning and current CDC recommendations for services.
Heating / Air
C&C Myers
ccmyersservice.com
Summers should be spent outdoors, but in the South, God bless air-conditioning. Whether it's for tune-ups or in times of troubles, locals turn to C&C Myers as their No. 1 source for heating and air needs. Don't believe us? Read the hundreds of 5-star reviews this locally owned and family-operated company has earned in their 40 years.
Home Audio
Aspire Audio Visual Solutions
aspireavs.com
If you're looking to bring top-notch AV installation to your living space, Aspire AVS provides tailored technology solutions for every moment: indoor living, outdoor, home theaters and media rooms. They educate their clients and value building relationships with 24/7 support coverage. You'll also get remote repairs, discounted service call rates and app control.
Home Builder
Pulte
pulte.com
Having spent so much time at home in 2020, it really shines a light on what you want, and need, in a house. Happy homebuyers pick Pulte, one of the nation's largest homebuilders, for its consistent customer satisfaction and its 'Pulte Difference': Life-tested homes with personalization, quality and ease. Schedule a video or in-person private tour today!
Home Cleaning Service
Molly Maid
mollymaid.com/greater-charleston
With kids, partners and pets, your space is bound to get messy—and stay that way. Whether its regular maintenance with surface cleans or desperately-needed deep scours, Molly Maids is at your service. Affordable and trustworthy, their team of trained, insured cleaners arrive on time and with their own products to re-energize your space.
Home Security
QEI
qeisecurity.com
Your home should always make you feel safe—especially if it's equipped by QEI, the area's top-rated, locally-owned security provider. Get home security and automation systems with 24/7 monitoring from experts in safe, smart homes. Think touchscreen control panels, apps, garage door control, keyless locks, motion detectors and more. Call for a free consultation!
Insurance Provider
State Farm
statefarm.com
Jake and his khaki-wearing associates at State Farm really are like friendly neighbors you know and trust. Associates here in South Carolina strive to protect what matters most to you with home and car insurance, checking and savings accounts—even loans. Get a hassle-free insurance quote or find an agent near you right from their homepage.
Interior Design
Margaret Donaldson
margaretdonaldsoninteriors.com
Making your home look pretty is simple, but making it functional and practical takes experience, good communication and inspired creativity. Whether it's a new home design or historic renovation, traditional and elegant or modern and eclectic, Margaret Donaldson brings life and design together. She has more than 25 years of experience and clients love her heart and hustle.
Kitchen/Bath Remodel
Classic Remodeling
classicremodeling.com
If your kitchen has hints of avocado, mustard and pumpkin hues, it's definitely time for an upgrade. (Or are those colors back in style again?) Either way, with Classic Remodeling, rest assured that their experts' wealth of experience and knowledge of today's trends and designs will seamlessly manage every part of your renovation. Color yourself happy!
Landscape
Grandscapes
grandscapes.com
The go-to for landscaping services, GrandScapes specializes in landscape design, installation and maintenance. Services include residential and commercial properties, hardscapes, lawn irrigation, exterior lighting and artificial lawns. They come highly recommended by customers who laud their one-of-a-kind attention to detail and stellar services—whether you're looking for a whole yard redesign or simple monthly maintenance.
Mortgage Company
Wells Fargo
wellsfargo.com
Home is more than a place to hang your hat; it's a shelter to keep your family safe. And Wells Fargo is here to help you maintain your sanctuary with competitive mortgages and a variety of loans. They'll guide you through the process with fantastic customer support and branches throughout the area.
Pest Control
Ledford's Termite & Pest Control
Ledfordspestcontrol.com
Locals welcome Ledford's into their home because they're the best at getting rid of unwanted guests. No, not your in-laws! But the creepy crawlers, termites and mosquitos that make life unbearable. This family-run business has served South Carolina since 1975 and offers professional and reliable extermination services in three locations.
Pet Groomer
Barks N Bubbles
If you want a groomer who'll love your pet as much as you do, head to Barks N Bubbles. The crew greets your pet by name as soon as it trots in the door and somehow always remember the exact services your furry friends need. Great prices and even greater service make this groomer a standout.
Plumbing
J. Stephens Plumbing
jstephensplumbing.com
Plumbers are like doctors—you don't want to ever need them, but when you do, you sure hope they're the best! J. Stephens Plumbing is a favorite full-service company in the Mount Pleasant and greater Charleston area that completes projects on schedule, to code and forms lasting relationships with clients by going above and beyond every time.
Pool Company
Aqua Blue
aquabluepools.net
Bringing a pool to your backyard may be easier than you think! Established in 1991, Aqua Blue Pools is the area's only Master Pool Builder. Whether you desire a luxury, infinity, ground, or commercial pool, a spa or water features, they'll craft your dream for you. Visit their site for wow-worthy photos and raving reviews from very satisfied customers!
Private School
Palmetto Christian Academy
palmettochristianacademy.com
PCA provides a Christ-centered education emphasizing godly character and academic excellence within a nurturing environment. They offer three programs: preschool (18 months through age 4), Lower School for grades 3-5 and Upper School for grades 6-12. Students thrive with PCA's technology programs, academic guidance, arts, athletics and ever-growing campus life.
Real Estate
Carolina One
carolinaonerealestate.com
Even as life felt on hold for so much of 2020, Carolina One was still closing on houses across the Lowcountry. Trusted by homeowners and hopeful homebuyers for more than 50 years, Carolina One provides families with a full range of real estate services. Search their site for homes or call a friendly agent the next time you spot a familiar blue and yellow sign.
Tax Prep
McKay Kiddy
mccaykiddy.com
Taxes are inevitable—and this year, we luckily have extra time to file. Locals would be lost without McKay Kiddy, not only at tax time but year-round. The forward-thinking accounting firm, owned by husband and wife duo Justin and Melissa Kiddy, now have three locations and offer tax prep and consulting, audits, business valuations and more.
Veterinarian
Advanced Animal Care of Mount Pleasant
advancedanimalcaremp.com
Your pets are people, too. Well…you know what we mean! As adored members of your family, they deserve a caring vet, and that's why pet owners prefer Advanced Animal Care of Mt. Pleasant. The practice focuses on preventative and wellness care, and services include behavioral medicine, dental care, weight management and vaccinations.
Wedding Planner
Kala Williams, Mod Events
modeventscharleston.com
Owner Kala has an eye for detail and design that helps her create beautiful and seamless events, and her hospitality experience brings close connections with caterers, event staff and various vendors who'll fit your style and budget. The reviews rave that she and her lead coordinator, Kara, are worth their weight in gold!
SHOPPING
Bike Shop
The Bicycle Shoppe
thebicycleshoppe.com
Thinking of taking up a new two-wheeling hobby? Whether you choose to cycle competitively or at your own leisure—and just for fun with the family—find all your cycling resources at this family-owned store, not only celebrated as Charleston's leading bike shop since the mid-1980s but also hailed among the country's top 100 bicycle stores, with top customer service and a large selection of products. Pop by locations in West Ashley, downtown or Mt. Pleasant for tips, new gadgets, and top customer service; be sure to check out the online Biker Portal for the best local trails and recreational spots.
Bridal Boutique
Maddison Row South
Offering classic silhouettes, timeless elegance and contemporary touches, Maddison Row South offers premier gowns and international labels from the industry's leading designers. Each appointment is a party, encouraging brides to relax, sip some bubbly, and enjoy the experience. The stunning location features floor-to-ceiling hand-blown English panes framed by quintessential Charleston shutters and heart pine floors. Stroll through the private courtyard and consider your dream dress from the dual porches and private piazza overlooking the garden.
Bridal Registry
Vieuxtemps
vieuxtemps.net
Looking to fill your home together as a newly-married couple with appliances and home décor more unique and tailored to your tastes than anything from a chain store? Create a wedding gift list for guests that exudes elegance and quality. Hand-select among top designers in the field and find the Lowcountry's largest selection of China, silver and crystal; register for luxurious linens, fine furniture and glorious garden and outdoor buys, among other categories.
Clothing (kids)
Southern Belles
southern-belles-609373.shoplightspeed.com
For nearly a decade-and-a-half, this premier boutique-style destination for fashionable, name-brand clothing and accessories for all sizes of children—from preemie to size 16—has been a top local shopping hub for parents looking to style their "minis" with traditional but modern styles. And don't forget to add that cute, Southern final touch—a monogram or two—to that brightly-colored summer dress, pair of christening socks or toddler bikini for free. Complimentary gift wrapping is also available.
Clothing (men)
M. Dumas & Sons
Impress the coworkers at the office or a special wedding date with a professional and upscale look from this preferred men's clothing retailer, a Lowcountry staple located along downtown's main retail strip—King Street. With celebrated designer brands like Cole Haan, Duck Head and Tommy Bahama, among dozens of others, you'll be sure to shop in class and revamp your wardrobe with high-end, quality pieces. Find everything from basic trousers and dress shirts to must-have accessories like belts, shoes, and even cologne.
Clothing (women)
Gwynn's of Mount Pleasant
gwynns.com
Treat yourself and your closest girlfriends to an afternoon of luxurious and relaxing retail therapy at this independently- and locally-owned Mt. Pleasant shop—one-of-a-kind in the region since 1967. Splurge on top designer accessories, heels, makeup and more. Gwynn's is a one-stop shop for all the shopping items on your list—even home décor, books, fragrances and other unique items perfect for giving as a gift.
Consignment Furniture
Next to New
nexttonewsc.com
Not a fan of inflated department store prices but still in the market for quality goods to brighten up your home or give a space a new ambience? Discover bargains that will surprise you and keep you returning here to shop for one-of-a-kind finds. Fool others into thinking you furnished that room with brand-new pieces. And with 5,000-square-feet of inventory that's always changing it's likely you'll find multiple steals worthy of bragging rights.
Dive Shop
Charleston SCUBA
charlestonscuba.com
Scuba diving introduces you to new adventures and a whole world beneath the waves. If you've always wanted to learn, Charleston SCUBA is the place to start! This one-stop dive shop offers gear, classes and certifications and all the expertise needed for safe diving
Fabric Store
Aiden Fabrics
aidenfabrics.com
This family-owned business has roots in both automotive textile and decorative fabric. Named for their son Aiden, the Mount Pleasant shop specializes in indoor and outdoor fabrics, and offers custom furniture, accessories, custom fabrication, window hardware, blinds and shutters, rugs and outdoor swings. They also make face masks with Velcro or elastic bands!
Fishing Tackle
Haddrell's Point Tackle
haddrellspoint.com
If you're looking to reel in high-end fishing products at great prices, head to Haddrell's Point. This tackle and supply shop offers it all: gear, expert staff who happily share their endless knowledge of fishing tips—and even events to get you started! Visit the store or head online for video tutorials and a virtual shop.
Florist
Charleston Flower Market
charlestonflowermarket.com
This eclectic boutique flower shop offers award-winning handcrafted arrangements, a unique selection of garden flowers, and one-of-a-kind gifts, including home accessories, candles, jewelry, and apparel. Local delivery options include their trademark brown box, a hand-written card and creatively packaged arrangements. Shop in person or online, or visit their blog for floral tips and tricks!
Frame Shop
Havens Fine Framing
Havensfineframing.com
Now more than ever, capturing those special moments in photos is meaningful and important. For your custom framing needs, as well as fine art and art restoration, Havens Fine Framing has been serving the community for 50 years. They're experts in handling your valuable, sentimental and over-sized work