Laura Alberts
Tasteful Options
07 Jul 2016
By WENDY SWAT SNYDER » Photos by JAMES STEFIUK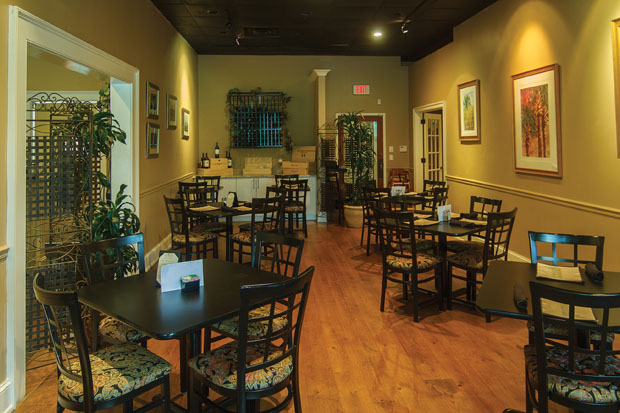 It was a Wednesday evening in late spring when we headed out to Daniel Island for dinner. There was a cool breeze off the water and the air still felt light―it was early June and the heat of the Lowcountry summer hadn't yet descended on us. Wednesdays are the only night dinner is offered at this family-owned restaurant. According to owner Karen Elsey, its business revolves primarily around the lunch crowd. Judging from the scene inside, where there was standing room only, dinner is a winner as well. The place was packed and folks were waiting expectantly for a table at Laura Alberts Tasteful Options.
We found an upbeat, happy-hour vibe as we made our way through an entryway surrounded by rack upon rack of small producer wines. A nearby growler station (one of the first in Charleston) featured many local craft brews. Two lively dining rooms bustled with a mix of couples and larger groups of friends—many of whom seemed to be well-acquainted with Elsey.
A native Charlestonian, Elsey maintains that, for her, the hospitality business is all about relationships and treating customers properly. That, and a love of cooking good food were the catalysts for the opening of Laura Alberts by Elsey and her mother Laura Leppert in 2002.
"My parents had always thought they would open a little cafe in Charleston when they retired," explains Elsey. But when Albert Leppert passed away too soon, Elsey partnered with her mother and together they made plans to pursue that dream on Daniel Island. She says that they were "totally green" about the restaurant business, but knew enough to buy and not rent. The new island neighborhood was open to development, and they easily found property they were able to purchase and build on.
"It was a perfect time to open a business," recalls Elsey. "And we loved the location and being a part of the community. Kids on bikes would stop and come in. We knew their parents—it was like Mayberry!"
In fact, Laura Alberts' reputation is known to customers in many of the neighboring 'burbs and as far away as Summerville. Crave-worthy food, a solid wine list and a location that boasts both easy access and great parking attract diners seeking a top quality experience, without the challenges of downtown Charleston.
Elsey points to exacting standards in the kitchen for the success the family's boutique eatery has enjoyed.
"I'm crazy about consistency," says Elsey. "There are plenty of opportunities for our cooks to put a spin on a special or wine dinner menu, but our core menu must look like Matt (executive chef Matt Brigham) made it."
That core menu revolves around recipes inspired by Leppert's Southern-style home-cooking approach to dishes—Lowcountry classics such as shrimp and grits; shrimp creole; a dip trio of crab, shrimp paste, and jalapeno pimento cheese; meat loaf; and chicken salad—most of which have withstood the test of time and can still be ordered today.
"The chefs who have worked with us over the years have respected Mom's recipes," notes Elsey, "while bringing a whole new element of their own to Laura Alberts."
"I love farm-to-table," says Brigham, a Johnson and Wales graduate. "There's so much fresh local seafood and produce here—we make every effort to base our dinner menu and lunch specials around those ingredients."
Laura Alberts supports Pinckney's Produce, a community supported agriculture (CSA) program that delivers boxes of local goods every week—fun for the chef, Elsey says with a laugh, because it's different every time.
Local waters are the kitchen's source for fish such as flounder, mahi mahi, soft shell crabs, and shrimp when available. Scallops and salmon are both Atlantic coast.
Both Elsey and Brigham credit the restaurant's former executive chef, the late Rose Nguyen Durden, for its place on the culinary map.
"We were searching to fill the chef position and Mom said let's call Rose" recalls Elsey of the much-respected chef from Vietnam. "She had left Carolina's restaurant and told us she'd fill in until we found somebody. She really brought a whole dimension to our menu."
A mentor to many of Charleston's young chefs who affectionately called her Mama Rose, Durden was known for her fusion of Asian and Lowcountry cuisines. Elsey says she "loved" Laura Alberts and eventually agreed to stay until her retirement.
"I had never worked with a Vietnamese chef before," notes Brigham, who had first worked with Durden at Carolina's as a sous chef, and later took over at Laura Alberts when she retired. "She was awesome—probably a frontrunner of Asian fusion in this area."
Blackened fish and chicken dishes remain popular menu mainstays Brighman and Durden had collaborated on. My blackened scallop appetizer was hot and spicy with a crusty sear and tender center. The hearty Daniel Island salad combined salty sweet candied walnuts with lively mixed greens, caramelized apples, blue cheese and a raspberry vinaigrette. The local flounder was very fresh and perfectly seared with no more than a pinch of salt and pepper. The farro and pea risotto struck the right accompanying note—al dente, creamy textured, lightly seasoned with parmesan.
Elsey and Brigham enjoy the freedom the limited dinner schedule affords them. The once-weekly service gives them both more valued family time, plus the flexibility to hold monthly wine dinners on a Friday or Saturday night which, notes Elsey, no other restaurant in Charleston is able to do.
Laura Alberts "dinners-to-go" enable customers to enjoy the restaurant's trademark entrees at home with a quick reheat before serving. Another convenience is a second floor venue Elsey reclaimed and dubbed the Island Park Room—ideal for private in-house occasions such as office parties and wedding receptions.
Elsey hinted at future projects on the Laura Alberts drawing board, including the marketing of their housemade fruit chutneys and tomato jams—created by Durden and Brigham—so stay tuned.
"It's been a fun entrepreneurial adventure—and a lot of hard work," admits Elsey. "We've been very fortunate to have great people around us supporting us. And we love giving that back to the community."
Laura Alberts Tasteful Options
891 Island Park Drive, Charleston
843-881-4711
lauraalberts.com