The 'A' List 2023
04 Mar 2023
Men+Women in Business
Profile photos by Priscilla Thomas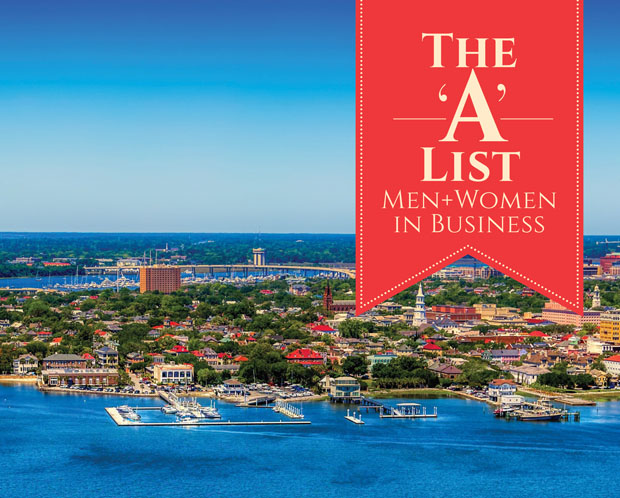 Aside from the historic architecture, gorgeous beaches and storied history, our local businesses are what make Charleston such an amazing place to live, work and play.
This year's Men + Women in Business profiles highlight the exceptional businesses that offer unique products, help us celebrate special moments and create a healthier, happier community.
Read on to learn about how these owners got started, what motivates them in their career and what they like best about doing business in the Holy City.
Booze Pops
Woody Norris, Founder
What are some favorite events you do each year? Any event helping Veterans, children and the communities, the Steeple Chase, the Cooper River Bridge Run, Charleston Pride, Combat Veterans Motorcycle Association, weddings and birthday parties, to name a few. There are so many and always a hit when we are there.
What do you like best about doing business in Charleston? The Community makes Charleston amazing. Born and raised in South Carolina, Charleston is where we started with a push cart and grew into Veterans-running franchises across the state.
What inspired you to open Booze Pops? Making people happy every day. No one is ever mad eating a popsicle.
You'd never guess that…I have been sober for over eight years. My Booze Pop order is our non-alcohol ice cream menu.
I'm excited about…Growing the business nationally and eventually passing the Business down to my 4 Daughters marking sure they understand helping people is what this is all about.
Flowertown Garden Center
410 E 5th N. St., Summerville
Charlene and Paul Moore, owners
What inspired you to open a garden center? Paul grew up farming and growing. He was working with his brother and his tree farm in Reedsville, SC and decided he was ready to venture out on his own. That idea grew into the incredible business we enjoy today.
What makes you stand out? Not only do we offer an amazing amount of plant material, we carry fountains, pottery, statues and other landscaping items. We have 11 gift shops chock-full of garden art for outdoor living spaces.
What expertise do you offer? Paul is a wealth of knowledge regarding plant material. His expertise on the subject is never ending.
How varied are the plants? Our plant material comes from a variety of quality sources. We bring in plants and trees in from South Carolina, North Carolina, Texas, Oklahoma, Alabama, Georgia, and even Oregon. All of our plants are suitable to thrive in our zone.
M. Dumas & Sons
294 King St., Charleston
@mdumasandsons
Taylor Eubanks, Store Manager; Clark Hickerson, Buyer; Lachlan Medley, Buyer; George Miller, Sales Associate
What do you like best about the business? Lachlan: One of the most rewarding aspects is the relationships. We are lucky to have a diverse client base, from families that have been in Charleston for generations to transplants who just moved across the country to celebrities who are visiting for the weekend. We get to be involved in their most special days and memories and that is something we are very proud of.
What makes you stand out? Taylor: Our range. We can dress a guy in the fields quail hunting, to running in the Bridge Run, and then to a black tie gala in a handmade Italian tuxedo. We work hard to find items for guys of all interests and backgrounds.
What do you like best about doing business in Charleston? George: We are blessed to live and work in one of the most beautiful and stylish cities in the world. There is never a shortage of people just as passionate about clothing as we are!
The Boutique Charleston
302 King Street
@theboutiquecharleston
Lois MacRitchie, owner
How did you get started? The Boutique was established in the mid-1950s and had been passed down through family and friends. I started working part-time more than 12 years ago and I'm now in my ninth year of ownership.
What do you like best about this business? I love helping inspire people to make their homes places which capture their unique styles and make their family and friends feel warm and welcome. It is so rewarding to have such a loyal clientele who trust me with their most important spaces, and we doubled our bridal registry business.
What expertise do you offer that is unique to the industry? Custom-made bed and bath linens. The staff and I go out of our way for personal service which is fast becoming a lost art in the online world of retail.
You'd never guess that…I'm a proud wife, mother and daughter of United States Air Force Airmen. My father was a pilot, my husband served for 38 years and my son is currently serving.
Wildflower & Whiskey
1440 Ben Sawyer Blvd Unit 1104, Mt. Pleasant
@wildflowerandwhiskeysc
Paula Moland, Owner
What inspired you to open a clothing boutique? My first clothing boutique opened on Front Street in Georgetown. I moved to the Charleston area in 2020 and in April 2021 opened Wildflower & Whiskey women's and men's clothing and recently opened a second location in Mount Pleasant.
What makes you stand out? We buy from markets in Texas in Colorado for our hint towards the Southwestern/boho vibe and also shop markets in Paris, Prague, London, Spain, Australia, Germany and more. We are always in search of unique accessories and work with local artisans to create one-of-a-kind pieces.
You'd never guess that… Our men's line would become so popular. We started out carrying a small line for men, but it became so popular that we opened a men's store called Open Road in Georgetown. We have a large selection for men in our Wildflower & Whiskey store in Mt. Pleasant.
Blume Designs of Daniel Island
250 Seven Farms Drive Suite C, Daniel Island
Suzy J. Cubbler-Tyner, Owner and Director of Floral Design
What inspired you to open a floral shop? I have always had a passion for flowers since I was a little girl drawing pictures of gardens and delivered flowers on a bike. I'd do florals for friends' weddings and create bouquets on the side. After a career in the financial industry, I decided to take the leap to start Blume in 2021. My inspiration is to create a luxury brand and unique floral studio with exceptional customer experiences.
What makes you stand out? We offer monthly delivery subscriptions in addition to floral deliveries, wedding and special events design services and in-person workshops. We are proud of our non-profit the Yellow Butterfly Project, where we donate leftover flowers from special events to senior living homes and women shelters.
What are some unique events/occasions you have been asked to design blooms for? We have designed for A-list celebrities and have crafted flowers into animal shapes for displays.
Charleston Medical Spa
1950 Maybank Hwy. (Terrace Plaza) Suite A, Charleston
Lisa Query, co-owner and spa director
What inspired the opening of Charleston Medical Spa? Charleston Medical Spa opened in 2005 in partnership with a doctor and his wife; my first role was to help open and manage operations. As my passion for the business soared, I assumed their ownership portion. Dr. Melanie King, our Medical Director, and I operate and manage the Charleston Medical Spa together.
What do you like best about the business? Making people look and feel beautiful, giving them back their self-confidence and helping people look and feel their best at any age. We are now seeing more male clients.
What treatments make people say "wow!" the most? Morpheus8 to tighten skin, stimulate collagen, melt chin fat and can be used on the body for stretchmarks and sagging knees or arms. Another popular treatment is our Broad Band Light and Halo combo which treats sun damage and redness, improves fine lines, wrinkles, sagging skin and overall tone.
Dermatology & Laser Center of Charleston
2180 Henry Tecklenburg Dr.
1364 Ashley River Road.
208 Brighton Park Blvd, Summerville
Callie Powell, Family nurse practitioner specializing in dermatology
Why did you choose to work at Dermatology and Laser Center of Charleston? Having worked here prior to attending MUSC's Doctor of Nursing Practice program, I was familiar with the high level of care offered to patients.
What expertise do you offer that is unique to the industry? While family nurse practitioners are not as common in dermatology as physician's assistants, my years as a nurse uniquely prepared me for being a compassionate provider capable of treating a diverse group of patients.
What treatments make people say "wow!" the most? A solid skin care regimen. Given 6-12 weeks, one can see a pretty dramatic turnaround if they are fitted with a routine that fits them as an individual.
You'd never guess that… I can crab and fish with the best of them. Learning how to tow, back, and navigate a boat at an early age, I grew up loving the water.
Holey City Bagels
43 Cannon St., Charleston
Greg Odachowski and Bridget Byrne, Owners
What inspired you to open a bagel shop? We grew up on great bagels in New Jersey and felt there was a need for an authentic and traditional bagel shop in the area.
What makes you stand out? Many bagel shops these days cut corners by using bagel rolling machines and steam ovens, but we hand-roll our bagels and boil them in water with malt syrup before they're baked. This produces a flavorful crust with a slight crunch and a moist, chewy interior
We are very excited about… Teaching our son to roll bagels in a couple of years!
House of Sage
51B George St, Charleston & 186 Seven Farms Drive, STE E, Daniel Island
Erin + Chris Abagnale, owners
What inspired you to open a clothing boutique? We moved here from the West Coast 14 years ago and struggled to find shopping that fit our vibe. Erin had been in retail for 20 years working in both corporate merchandising and boutique management, so carving out our own niche in the Charleston shopping landscape made sense.
What makes you stand out? Our vibe. It's important that every customer feels that we are truly there to help them feel and look their best.
What types of clients will find great looks at House of Sage? Erin: Honestly, anyone! Our two locations serve the same girl. She's fun, a little funky, craves comfort and style and doesn't want to go over her budget. While our downtown store next to the College of Charleston does trend a bit younger, we also have young professionals and mamas coming in daily. Our Daniel Island location has everyone from my mother-in-law to Bishop England High School students shopping with us!
Lavender Hill Designs
10 Resolute Ln Suite 101, Mt .Pleasant
Tracey Wonnacott, owner; Sofia Castronovo; Cindy Donovan; Carol Heckrotte
What do you like best about the business? I love the traveling to Europe to go to market. We shop for our merchandise at shows in Paris and London. The show in Paris is the biggest in Europe, with over 3,000 vendors. It's great fun to shop for the store and our customers always love on our choices.
You'd never guess that…many of our products have interesting stories behind them, such as our scroll vases that have actual love letters printed on them written by the artist's Grandfather to her Grandmother while he was in the British RAF during WWII.
I'm very excited about...our new line of artisan candles designed just for Lavender Hill based on beautiful places in France.
What do you like best about doing business in Charleston? What's not to love about Charleston? We just want to bring a little bit of European chic to go with the Southern style!
Maggie Rose Boutique
103 S. Main St. Ste. E, Summerville
www.facebook.com/maggieroseboutiquesc
Debbie Maccario, owner
What inspired you to open your own boutique? I always wanted to own my own business since I was a young girl. I love to help others and help them feel great about themselves and how they look. I opened Maggie Rose boutique on May1 2007
What makes you stand out? Great price points coupled with great quality.
What expertise do you offer that is unique to the industry? My years of working in sales for the apparel industry and building a good team spirit.
Where did the name Maggie Rose come from? It came from my mother Margaret, nicknamed Maggie and Rose was my husband's mother's name.
What types of clients will find great looks at Maggie Rose? Clients range from all ages. We carry a wide range of dresses, tops, casual wear, clothing for working women or special occasions and even leans athletic brands, perfect for golfing, tennis or pickleball.
Michael's Barkery
864 Island Park Drive, Suite 103, Daniel Island
843-471-1199
www.michaelsbarkery.com
Karen Patrohay, owner
What inspired you to open a dog treats and pet store? Our son Michael, who has a cognitive disability, was the inspiration for Michael's Barkery. He loves dogs, especially his dog Sunshine, so his career project in high school was to make and sell dog treats. They were a great success.
What makes you stand out? Our mission to support the special needs community with training and employment opportunities. We have 11 extraordinary teammates who bring absolute joy and perfection to our store.
You'd never guess that…We can make custom cakes and cookies and special shapes and logos to fit any fundraiser, apartment complex, office, restaurant and do wedding favors. Every order keeps our teammates productive and happy!
What types of furry clients do you have? We have had the smallest miniature Schnauzer to the largest Irish Wolfhound, and of course, oodles of doodles.
Reinvented Upscale Resale
847 Savannah Hwy., Charleston
Beth Cook, Owner
What inspired you to open a clothing boutique? I love clothes and felt there needed to be a place to shop for timeless style that does not cost a fortune. Sometimes you need a little something special that you can wear and feel good about yourself.
What expertise do you offer that is unique to the industry? I love everything second hand. Unlike the typical store, we don't have every size of a dozen styles; we have one size of dozens and dozens of styles! It's the thrill of the hunt that brings customers back time after time.
What types of clients will find great looks at Reinvented? We entertain all walks of life, from the stay-at-home mom to the working professional to the fashion socialite. We like designer, but we also like timeless, quality staples that will enhance your wardrobe and make a statement at the office or the dinner party.
The Bridge Chiropractic
2409 Mall Drive Suite C, North Charleston
@bridgechiroec
Dr. Brantley Meier, owner, Doctor of Chiropractic

What got you into the chiropractic industry? As a former professional athlete, I was exposed every healthcare field designed to increase human performance and decrease wear-and-tear on the body. The results I experienced on the field inspired me to give to others that same opportunity to always be at the best and maximize their performance.
What expertise do you offer that is unique to the industry? The personal experience and mastery of human performance.
What makes you stand apart? We utilize every resource and every avenue to get each patient healthy and keep them healthy.
What is something people might not know about chiropractic services? Chiropractic treats with every single piece of the kinetic chain. Shoulders, elbows, knees—every single part of the body is directly and indirectly related to the spine. We value a comprehensive and thorough approach that analyzes, evaluates and effectively treats each and every structure involved with the patient's condition.
The Junction Kitchen
4438 Spruill Ave, North Charleston
Kimana Littleflower, owner & operator
What inspired you to open The Junction Kitchen? I had been living in Park Circle and working in the Food & Beverage industry downtown. Working late almost always meant waking up around noon and wanting to have a late breakfast before returning to the grind. I just had knew that I could bring something that Park Circle residents needed/wanted and that we would get their support in that location - and we did.
What makes you stand out? We offer menu items that are familiar but often with a surprising twist. We are bacon and pork heavy but also have over 30 percent of the menu offered vegetarian, vegan and gluten free! I always say that your grandmother, your hipster teen and foodie aunt will all find something appealing on the menu!What do you order when you eat at the restaurant? Without a doubt the Mexican Hash.
Tweedle Beedle
204 Front St., Summerville
Stephanie Button, owner
What inspired you to open a children and baby store? I was inspired to open a baby store because I felt like it was hard to find good quality adorable clothes for my children that wouldn't get worn out. I wanted to bring modern but stylish style to the Lowcountry that wasn't only smocked outfits.
How did you get started? I started in my living room when my son was just a baby. I started an online shop and made some of my own clothes for the boutique. I would sew items right at my kitchen table. I opened the Summerville store in 2020.
I'm very excited about…We are opening a second location at Mount Pleasant Towne Centre! We will be able to bring a larger selection of sizes to this new store, carrying baby, children and tween up to size 14 with the great brands we currently have now.