Men + Women in Business.
Photos by Aleece Sophia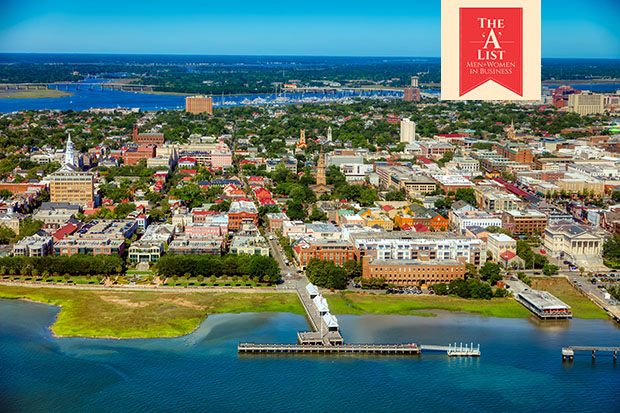 Shopping and supporting local businesses has never been more important. This year's Men + Women in Business feature highlights the exceptional businesses that have made Charleston the amazing place we all know and love. Read on to learn about how these owners got started, what motivates them in their job and why they chose to be here.

Bluebird Vintage
1440 Ben Sawyer Blvd., Unit 1104, Mt. Pleasant, 854-222-3690
925 Front Street Georgetown, 843-936-3697
BluebirdVintageSC.com
Wildflower & Whiskey
914 Front St., Georgetown, 843-833-8130
WildflowerandWhiskeySC.com
Urban Farmhouse and Urban Brew
927 Front St., Georgetown, 843-520-9651
UrbanFarmhouseSC.com
Open Road Clothing Co.
917 Front St., Georgetown, 843-833-8931
OpenRoadSC.com
Paula Moland, owner
Describe your businesses. Bluebird Vintage is consigned furniture, antiques and home accessories, Wildflower & Whiskey is a ladies clothing store, Urban Farmhouse and Urban Brew is a lifestyle shop featuring new home furnishings and a coffee bar. Open Road Clothing Co. is a men's clothing company. My retail clothing stores are new this year and everyone is ready to get out of their sweatpants!
Where/when did you start out? My best friend suggested I consider opening a consignment shop, since I loved collecting treasures. I began my retail businesses in 2017 with my first consignment furniture shop called the Red Dresser in Mount Pleasant.
What do you enjoy the most about what you do? The friendships created with the people I work with and our customers.
What is the best advice you have received? My mom gave me a plaque when I graduated high school that said, "A journey of a thousand miles begins with a single step." It is so true, so often people have a dream and don't know where to start. Just start. Google "How to start a ..." or buy a book on the topic and go from there. There is no set path. Just a lot of wrong turns until you get it right.
Booze Pops
424 King St., Charleston
584 King St., Charleston
246 Meeting St., Charleston
6 Anson St., Charleston
110 East Artic, (Thursday-Sunday) Folly Beach
843-200-8422 @Boozepop, www.boozepop.com
Nina Norris, director of operations
Briefly describe your business. Our business is a family-based business. We sell alcohol-infused popsicles, kids ice cream and Delta 8 disposable pens on ice cream trucks
Where/when did you start out? My dad, Woody Norris, originally started in 2016 located in Charleston and now we are franchised in Columbia, SC as well.
Why did you chose Charleston for your business? There are a lot of families, tourists and college students that are either living here or visiting who have never seen this type of business before. We just wanted to bring something new to our wonderful Chucktown.
What is the best advice you have received? - If you just keep pushing, you will succeed. Just keep going.
What do you enjoy the most about what you do? My favorite part is either meeting new people or seeing our regulars come by, it's awesome getting to make someone's day by being the "Booze Pop girl!"
Carmella's Cafe and Dessert Bar
198 East Bay St., Charleston
843-722-5893
@carmellascharleston, carmellasdessertbar.com
Brian R. Solari, owner
What is the inspiration behind your business? Carmella's is a traditional Italian Cafe. We offer coffee and espresso drinks along with pastries, cakes by the slice, gelato and sorbetto. We also offer gourmet pizza and sandwiches. One of the things that separates Italian cafes with American coffee houses is that we also have a full bar and make fun cocktails that incorporate our desserts and coffees.
Why did you decided to locate in Charleston? I moved to Charleston in 1995 and I fell in love with the architecture and charm of the city. I knew that this would be a great place to bring a European influenced cafe and dessert bar.
What do you enjoy most about you job? The camaraderie with the employees and customers. In the beginning, I was too busy trying to keep the ship righted to make time for just talking and enjoying the space. But now when I go in, I can talk to people and my staff as a regular customer and enjoy the ideas and new products that we all come up with.
Dermatology and Laser Center of Charleston
208 Brighton Park Boulevard, Summerville
2180 Henry Tecklenburg Drive, Charleston
1364 Ashley River Road, Charleston
843-556-8886
Regina Day, Physician Assistant
Briefly describe your day-to-day position. As a dermatology PA, I evaluate and treat patients with a variety of skin conditions. My role helps support the team-based approach to care by working with my collaborating physicians.
How did you start out? I have always been drawn to the field of dermatology, especially the art of evaluating different skin conditions. Prior to PA school, my interests in dermatology led me to work with the Dermatology and Laser Center of Charleston team as a clinical and cosmetic assistant. I appreciate the practice's dedication to exceptional patient care and commitment to cutting edge dermatology practices through their involvement in research.
You'd never guess…I have done disciplined ballet training since the age of two.
What do you enjoy the most about what you do? Seeing improvement in a patient's condition as well as hearing about the relief the patient is experiencing from treatment. Dermatology is a unique field in that a patient's improvement is often visual. Helping a patient release distress or anxiety from their skin condition is very rewarding.
What is the best advice you have received? The importance of treating everyone with the same level of respect, whether its patients, colleagues or anyone else you interact with day to day.
Flowertown Garden Center
410 East 5th North St., Summerville
843-725-9383
www.flowertowngardencenterllc.com
Paul Moore & Charlene Sharkey, owners
Describe your business. We are a four-acre retail garden center offering not only a vast selection of plant material and trees, but statues, fountains, pottery and gift items. We currently have nine individually-themed gift shops carrying everything from garden tools to windchimes to garden apparel. We also boast a 300 square-foot greenhouse filled to the brim with indoor plants and supplies. We really do have something for everyone.
What do you enjoy most about your job? Paul's forte is designing and executing plans for all of the buildings and display areas. He is exceptionally good at it, and it shows in every area of the garden center. My favorite part of this job is customer service. Charlene has always loved greeting customers and chatting with them, so much that we have developed a great many lasting friendships over the years with some really wonderful people who walked into the garden center as first-time customers once upon a time.
What is the key to success? The incredible people who work for us.
Fred Holland Realty
LaJuan Kennedy Broker in Charge
106 W Hudson Ave A, Folly Beach
843-588-2325
Describe your business and what it entails. Sales and management of real estate. We sell in the Folly Beach and James Island as our primary area, but can sell all over the state. We manage vacation rentals and long-term accommodations.
When did you start out? I was approached by Fred Holland, who had just opened an office at Folly Beach, to come work for him as a sales agent in March of 1973. In 1976, we went into vacation rentals and I took over management of most of that operation and became broker-in-charge.
Best business advice you've received? Always be honest with your customers.
You'd never guess that…I love working on the beach, but I never go in the water
What do you love about doing business in Charleston? Charleston and the surrounding areas are very unique. We have history, beautiful beaches and great weather.
Free Reign Restaurants
Community Table
148 Civitas Street, Mt. Pleasant
843-910-6111
@communitytablechs
Kiki & Rye
656 G Long Point Road, Mt. Pleasant
843-981-0312
@kikiandrye
Southbound - Opening Spring 2022
72 Cannon Street, Charleston
Kelleanne and Ryan Jones, owners
Describe your restaurants. Community Table serves modern comfort food in the heart of I'ON, Kiki & Rye offers wood-fired coastal cooking in the Belle Hall Shopping Plaza and Southbound will be a quintessential downtown Charleston restaurant with fire cooking and exquisite service.
When did you start out? We've both been in the restaurant business since we were old enough to work. We got married in October 2004 and have owned and operated businesses since then. We have a true passion for keeping food true to what it is, making fresh-squeezed juice cocktails, offering great hospitality and service.
How did your business pivot during COVID? We offered takeout family meals where every day was a new menu. We took orders, shopped, prepped, packaged and sometimes delivered the meals. This gave us the opportunity to meet the neighborhood, who in turn are still our friends and customers. Working hard during the shutdown was the key to our survival.
The Honey Hive
563 King St., Charleston
843-576-4700
@Thehoneyhivechs, www.thehoneyhive.com
Angela Marino, owner
Describe your restaurant. We are a late night deserterie offering savory bites as well. We have a 1920's New York vibe with gorgeous small plates and handmade, craft cocktails.
Why did you chose to open a business in Charleston? Coming to Charleston for 25years, this Southern town always had a big place in my heart. It just made sense to open in a culinary climate such as Charleston.
What do you enjoy the most about what you do? Seeing The Honey Hive come to life and watching people's faces when they see the beauty is always a highlight of my day. Then, after tasting the food, it all comes full circle for me. Together, it just makes people happy.
What is the key to success? Seeing the team we have formed and watching them grow as women warms my heart. They smile as they flow through the space, they make cute little jokes when they have a funny experience and they honor the guests as the truly welcomed.
M. Dumas & Sons
294 King Street, Charleston
843-723-8603
www.mdumasandsons.com
Gary Flynn, president and co-owner
Briefly describe your business. We are a premium men's clothing, shoes and accessories store.
Where/when did it start? M Dumas and Sons started in 1917 on King Street. Mendel Dumas landed on Charleston as a town to live in when they came to America.
Talk about an experience that shaped the way you do your job. I grew up in this industry at Nordstrom. I spent 27 years there doing everything from cleaning bathrooms to running a division and everything in between. The biggest thing I took from that experience is that everything you do has to be about the customer. Every decision, every dollar spent should go through the filter, "What would our customers think of this?"
What do you enjoy the most about what you do? I love the people and the product. My team is very special to me and I believe in supporting my team in all ways I can think of. I love going to market and seeing what's new and trying to find interesting and new things for our customers to discover while in our shop.
What's the key to success? One key to success in business goes back to seeing every decision through your customer's eyes. If you error on the side of the customer, you're 99.9 percent of the time going to be successful.
McPhail Clinic for Regenerative Medicine
Dr. Drew K. McPhail
1709 Old Trolley Rd, Summerville
843-419-5115
www.mcphailclinic.com
Describe your business. Our goal is to help patients defeat chronic degenerative conditions without the use of unnecessary drugs or surgery. Through a multitude of therapies available, we strive to help our patients regain their comfort and mobility.
Why did you choose this career? I initially wanted to become a chiropractor when I started undergraduate studies, but along the way changed majors. After graduating, I suffered a low back injury that I was told would require surgery. I went to a local chiropractor and in two weeks, I was pain-free and have been ever since. That injury changed my life so much, I relocated my family and went back to school for another four years. Now, 20 years later, I have the opportunity to change lives every day!
Why do you love doing business in Charleston? Charleston is one of the greatest cities in the world. It is our community and the beautiful people in it. We are warm, cordial and good people, and that's what makes life and business here in the Lowcountry second to none.
What is your best advice to other business owners? Do not defer to the second half. Get it done now!
MHK Architecture
60 Broad Street, Charleston
843-203-6028
www.mhkcarolinas.com & www.mhkap.com
Kirsten Schoettelkotte, Director
Briefly describe your business. MHK is a full-service architecture and planning studio specializing in luxury custom home design, residential and community planning, and boutique commercial and hospitality architecture with an emphasis on providing premium quality design and a curated experience for the client.
Where did you start out? I began working in the profession 17 years ago. I relocated to South Carolina in 2009 and have been practicing custom residential architecture since then. With stylistic influences and experience ranging from classical and historical to contemporary and mid-century modern, through the years, I have learned that the greatest design potential is achieved when I can adapt to the vernacular architecture of the region and stylistic preferences of my clients.
What do you enjoy the most about what you do? I get to draw every day. I get to take someone's ideas and turn them into reality—exercising both the creative and technical sides of my mind. I find it hard to walk away from work because I love what I do. It's a real privilege to be able to practice art through the design of someone's home.
Michael's Barkery
864 Island Park Drive, Suite 103, Daniel Island
843-471-1199
www.michaelsbarkery.com
Karen Patrohay, owner
Describe your business. Michael's Barkery Pet Spa and Boutique is the premier place for everything pet. We are a full-service grooming salon with a large selection of retail items and we have a state-of-the-art-kitchen where we make homemade specialty pet treats and cakes.
What sets you apart? We have incorporated into our store a mission to provide job training and opportunities that will make a difference in the lives of adults with cognitive disabilities. Having a child with a cognitive disability, there weren't many opportunities for meaningful employment or social interaction. We wanted to not only help support this group of people, but also showcase how truly talented and remarkable they are.
What do you enjoy the most about what you do? I love the relationships that we have been able to build. We strive to be a local neighborhood store where everyone knows your name as well as your dogs name. It has also been very gratifying working with our ten employees who bring energy and joy to the business.
Recitals Hair Salon
1710 Shoremeade Rd. Mt. Pleasant
843-936-6827
William Murphy, master stylist, colorist and proprietor
Describe your business: We are a destination-based luxury full-service hair salon situated in the heart of Mt. Pleasant in the Indigo Square Marketplace on Highway 17 across from Towne Center.
We began operations in February of 2020.
What motivates you in your job? I was introduced to a saying at the beginning of my career over 30 years ago that still resonates with me today that states, "Find something common and do it uncommonly well and (you'll) always find success."
Why did you locate your business in Charleston? I was relocating from South Florida and was looking to stay on the East coast and be near the water and loved all that Charleston had to offer.
What do you enjoy the most about what you do? The most enjoyable part of my job is helping people and being able to help change their look, as well as their mind, mood and attitude all in one visit.
What is the best advice you've ever received? I believe the best advice I have ever received is also the key to our success: You can never truly achieve success without sacrifice. Reliable, dependable and consistent work ethic are the keys to that success.
Tweedle Beedle
Nexton Square, 204 Front St., Summerville
843-900-3550
@tweedlebeedle, www.tweedlebeedle.com
Stephanie Button, Co-Owner
Describe your business. Tweedle Beedle is a baby and children's store that specializes in high-end baby gear, clothes, toys and accessories for babies and children up to six years old. Having children is our store is my favorite part!
What made to start your business? I started this business with my husband, Dan, in March of 2020. There are so many families in Summerville, and before we opened, there was nowhere for them to shop for their children.
What sets your apart? Our style is what makes us stand out. It is a mix of modern and southern. We keep up with growing trends of natural neutral clothing with also keeping the Southern tradition of seersucker and Embroidery, which we do in store.
How did your business pivot during COVID? We quickly learned that social media was so important to reach our customers. We Post daily on our stories on Instagram and Facebook. We let our customers see what is new through our stories. They can come in to shop, or shop online.