King Street's newest eatery The Honey Hive serves sophisticated, playful desserts and small plates
By Sophia Rodriguez
Photos by Jonathan Boncek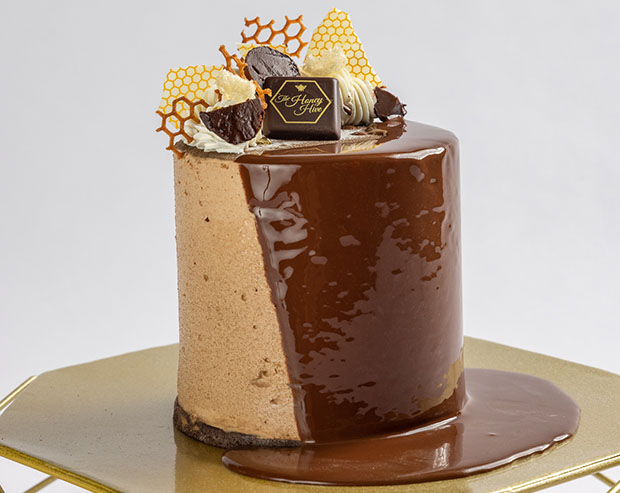 Angela Marino wants perfection. During a visit to her King Street restaurant in downtown Charleston, The Honey Hive, she fiddled with the music's volume more than once. When the signature dessert, a tiered chocolate concoction called the Kinsey Cake, arrived at the table leaning a few degrees askew, she gently asked the waitress to request a straighter version from the chef.
It would be easy to dismiss those things as minor. Most of us are simply grateful for the opportunity to dine in restaurants after nearly two years of the COVID pandemic. And the menu is so delectable, you probably wouldn't notice the volume of the music or mind if a dish didn't sit perfectly on the plate.
But no detail is too insignificant for Marino, and that's evident the instant you set foot inside The Honey Hive, part small bites, part a late-night desserterie and part speakeasy with a playful cocktail menu with drinks named Elizabeth Taylor, Rose Kennedy, Zelda Fitzgerald, and The Madame, topped with a ladyfinger pastry.
This is her first time owning a restaurant and The Honey Hive is her baby. The space was executed by Spartanburg interior designer Sandra Cannon and has a decidedly feminine flair.
Metallic-colored booths, frosted glass lighting fixtures, a script neon sign that reads "Hey, Honey," richly upholstered pink and floral-patterned chairs. The entire space is Instagram-worthy.
The glass-walled Bubble Room has a multicolored plant chandelier that hovers above the table and can be rented out for private events. The atmosphere of the main seating area and the bar in the back both exude luxurious comfort.
Marino's husband constructed the bar himself. The art, specially made for the restaurant by Upstate artist Lucy Boland, unabashedly celebrates the female form.
"What I love about this is that it's beautiful, elegant—it could live anywhere in a big city. But it works here," Marino said.
She has been visiting Charleston for over 20 years. Even though she splits her time between the Lowcountry and Key West, Florida, she felt strongly about building a unique concept here. The Honey Hive is billed as a spot for those with adventurous, sophisticated palates. Chocolate applewood bacon with a habanero maple glaze is on the savory menu.
Other savory items include the deconstructed tomato pie with ingredients piled high on a baked puff pastry, the roasted beets with hazelnut crumble and the ham and cheese croquettes. The savory even spills over onto the dessert menu with a foie gras cannoli. Their Sunday brunch is growing in popularity.
When coming up with the unique concept, Marino didn't want to compete with the surrounding restaurants on midtown King Street.
"I really tried to look around town and ask myself, 'What's missing?'" she said.
Tapping local talent and resources was important to Marino. While a consulting chef from Chicago created a foundation for the menu, sous chef Leah Tone says that the template allows for changing up menu items to have more of a southern and seasonal influence.
Marino decided she needed someone local to be able to execute the menu, and J.J. Kern, a seasoned Charleston-area chef, stepped into the head chef role.
Pastry chef Payton Taylor Williams, an Alabama native, said, "I loved taking the things I grew up with, like hummingbird cake, and wanted to elevate those to be beautiful, refined gems. You'll see many traditionally southern dishes with an elevated twist here."
Other standout dishes include the Key Lime Panna Cotta and the Kinsey Cake, which was named after Marino's niece.
The staff cares deeply about providing a farm-to-table experience. The Honey Hive sources primarily from Grow Foods Carolina and grows its own basil, mint, chives, and other greenery used to garnish dishes.
The restaurant opened its doors in October 2021, and Marino was determined to build a collaborative, open work environment for her staff.
"I didn't want to do 'front of the house' and 'back of the house' like most places," she said. There is no strict hierarchy among the chefs, and there is a table in the kitchen where any staff can sit, eat a meal, or just take a breather.
While she wants The Honey Hive to be a spot where customers feel special, she says respect for her employees is equally important.
"We haven't had any trouble staffing because we were never going to underpay and underdeliver," she said.
Marino has big plans for The Honey Hive's future. She just got a building contract to install outdoor seating. She also wants to start catering desserts for area restaurants soon. Her outlook is bright. "Every week, people hear about us. And every week, we hone our skills and just keep getting better."
The Honey Hive is located at 563 King Street. Follow on social media @thehoneyhivechs