The Kingstide
02 Nov 2021
Daniel Island's New Coastal Dining Destination
By Wendy Swat Snyder
Photos by Jim Stefiuk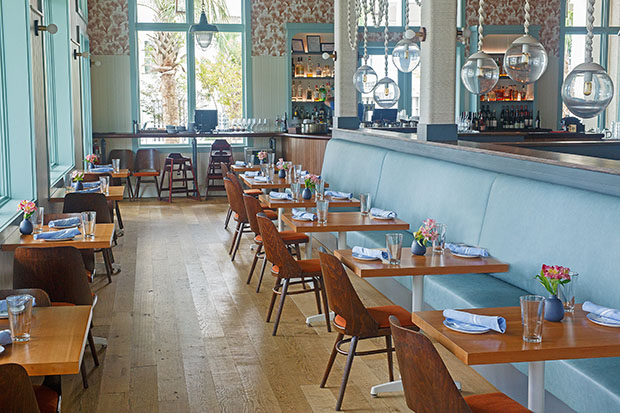 One of Charleston's hottest new restaurants has opened on Daniel Island, and islanders are thrilled to have it.
The Kingstide offers guests one of the city's few true waterfront dining spots, just 15 minutes, give or take, from the historic downtown area—and 30 minutes by ferry. In a stunning setting overlooking the Wando River, diners enjoy a seafood-centric menu surrounded by Southern-style gardens, bubbling fountains and wildlife-filled walking trails. In the short time since opening in March 2021, the eatery has earned a reputation for exceptional service and food, and a fantastic nautical vibe to boot.
A project of Charleston-based Indigo Road Hospitality Group, The Kingstide anchors a luxury mixed-use community, The Waterfront, created by East West Partners, a Colorado-based development firm.
"They came to me three or four years ago," says Steve Palmer, founder of Indigo Road, the powerhouse behind a multitude of successful concepts—locally, O-Ku Sushi, Oak Steakhouse and Indaco—and well as restaurants scattered across a half dozen states and Washington D.C.
"At the time I was a little skeptical about Daniel Island, as I hadn't really done anything on that side of town, but the managing partner of East West really had a vision for what The Waterfront could be, so we collaborated about the food and the development. They've been great partners."
The Daniel Island market proved to be an opportunity for the group's caliber of restaurants.
"From the moment we opened, our instincts told us we'd be busy," says Indigo Road chief restaurant officer Jon Murray. "But we had no idea we'd be as busy as we are. The community has embraced us."
The sprawling property boasts two stories of wide piazzas—a classic element of Charleston's architectural style—for dining al fresco. Aquatic notes running through the restaurant are understated, like the pale blue-green palette that also helps blend the structure with the natural landscape.
Soft whites lighten the exterior and shiplap walls inside. Wide windows and warm hardwoods combine with contemporary furnishings and fixtures, delivering a sleek, light-filled setting. Charleston architect David Thompson and designer Cortney Bishop were the design team on the project.
Understated is also how executive chef Kevin Getzewich describes his approach in The Kingstide kitchen.
"The food we're doing is simple, not pretentious," explains Getzewich. "Our focus is on the freshest ingredients and proper technique—cooking from a place of passion—not an ego-driven menu."
An alum of The Restaurant School at Walnut Hill College in Philadelphia, he reconnected with the Indigo Road Group following past executive chef stints at their King Street properties Indaco and The Macintosh.
"There aren't many waterfront restaurants in Charleston," notes Getzewich. "Steve and Jeremiah Bacon's (executive chef/ partner) vision for The Kingstide was to fill that niche—with something affordable, not special occasion."
The autumn evening my guest and I visited The Kingstide, we opted for window seats in the main floor dining room, with views of the sun setting over the river, an open kitchen fueled by a wood-fired hearth, and a chef's "rail" for an up-close culinary experience.
We dove into the appetizers that arrived via Carlene Keegan, our charming and knowledgeable server. The pickled shrimp was bright and perfectly cooked, with a sprinkling of microgreens and golden papaya, carrot, cucumber, radish, fennel and tangy nuoc cham delivering a lovely contrast in textures.
Among the local and regional purveyors the kitchen showcases are Abundant Seafood, Crosby's Seafood, Clammer Dave, Tarvin Seafood, Lowcountry Shellfish, Lowcountry Oyster, Barrier Island Oyster and CudaCo Seafood House.
The grilled octopus—a bestseller—was fork-tender with a hint of oak wood smoke. The chef uses a simple technique, simmering the octopus in a water bath scented with star anise, tamari and mirin before it hits the hearth.
The lobster agnolotti, another bestselling dish, featured lobster-laden housemade pasta in a sauce enriched with roasted lobster and shrimp shell stock, savory bottarga and a whiskey deglaze.
The richly-flavored pub steak was another winner at the table. The kitchen uses the hangar and flat iron cuts of only hormone-free, humanely treated Certified Angus Beef.
"We do as much as we can to offset the environmental impact of beef," said Getzewich, adding that Jeremiah Bacon is a CAB Brand Ambassador.
Seasoned simply with salt and pepper and grilled over an open flame, the steak was melt-in-your-mouth tender and came plated with a bernaise aioli and perfectly crisp frites.
We couldn't resist sampling a side dish of wood fired carrots featuring ras el hanut and a yogurt sauce—it was outstanding. Ras el hanut is a Morrocan spice blend comprised of at least a dozen freshly ground spices. Its spicy and sweet profile brought the lightly charred baby carrots to life.
Our server insisted we also try one of her favorites, the Brussels sprouts. Another tasty side, the charred sprouts were a contrast in textures and flavors: tangy with pickled shallot and a chili lime glaze; and savory pancetta adding a toothsome bite.
Growing up in the Polish kitchens of his grandmother and Mom, Getzewich said that eating novelties like pickled herring and smokey kielbasa as a kid influenced his cooking style.
For dessert, we boxed up a mini-cheese cake housemade-for-one by sister-restaurant Mercantile and Mash. Executive pastry chef Alex Kowaleski says her kitchen produces the desserts for all Indigo Road's Charleston region properties.
"I try to keep the desserts simple—elevated but humble," says Kowaleski. "My aim is to make people happy."
She explains that the use of egg, fat, heavy cream and lemon produce a lighter cheesecake than the cream cheese-based New York style. Topped with a compote of sweet, seasonal berries, the dish was a refreshing finish to our seafood-rich dinner.
The Kingstide
32 River Landing Dr., Daniel Island
www.thekingstide.com
A breezy stroll along the Wando River brought the evening to a close. Seating by the waterfront beckoned, while a ferry docked at a nearby pier awaited passengers hailing from downtown Charleston. It's no wonder The Kingstide has become a coastal dining destination for Daniel Island, and the Lowcountry.