The Macintosh
04 Sep 2020
Southern farm-to-table fare
By Wendy Swat Snyder
Photos by James Stefiuk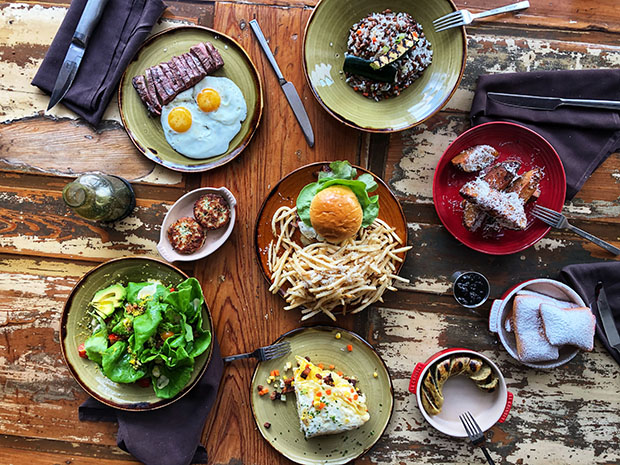 The Mac is back—and it's time to get acquainted with John-Carter Ayanna.
The newly appointed executive chef had come to The Macintosh from sister restaurant Donetto in Atlanta last November—four months before the pandemic shut down most of the country.
Like many Charleston businesses, the popular farm-to-table eatery was forced to pivot from normal operations as were fellow Indigo Road Hospitality Group properties Indaco, O-Ku Sushi and Oak Steakhouse. Today, they're back up in a world of changes—and taking them in stride.
Ayanna was brought on board by The Macintosh founding chef/ partner Jeremiah Bacon, a five-time James Beard semi-finalist, who finds "her awareness and enjoyment of dairy-free and vegetarian preparations very welcoming."
The modern American restaurant has been an advocate for thoughtful sourcing and techniques since it opened in 2011, making the collaboration a natural fit.
When we visited The Macintosh recently for dinner and a chat with Ayanna, she was upbeat and effusive.
In a dining area designed around exposed historic brick and modern industrial elements, a masked staffer took my beverage order and temperature. Ayanna made her way from the open kitchen, and we talked about what drives her culinary approach and positive outlook amid a pandemic.
Ayanna graduated summa cum laude with a bachelor of science in culinary arts management from The Art Institute in Atlanta.
But her interest in cooking started well before that; Chef Ayanna said she knew she wanted to be a chef since she was eight years old.
"I didn't find cooking, it found me. I was put on this Earth to cook," she said. "My mother's father's family is all Southern, they have a restaurant in Baton Rouge, Louisiana called Martha's Bistro. My mother's mom is from the Greenville/ Spartanburg area in South Carolina. I spent a lot of time with her, we cooked a lot together. She always had an open door policy—'we're going to take care of you, make sure you're fed.' That's what my grandma was about."
She says that her dad, from Guyana, South America, is her biggest inspiration in the kitchen.
"He cooks for himself three times a day and feeds everyone," she said.
Her culinary approach is a personal twist on Lowcountry classics and preparing a wide range of dishes to suit a variety of dietary restrictions.
"I'm lactose intolerant and can't eat dairy, so I use coconut milk instead. I want my food to be all inclusive, to bring forth wonderful memories and ensure there's something for everyone," Ayanna said. "I've been working with GrowFoods Carolina a lot and reading about Lowcountry cuisine, so, Hoppin' John has a lot of history here, but I don't eat a lot of meat, so I've taken the protein out of it—I hope no one gets mad at me! We use Carolina Gold rice and Sea Island red peas, and don't put butter in it, so you have this vegan local traditional food."
Another Southern staple on the menu? Okra.
Here it's lemony, spicy—and wonderful.
"Vegetables are my heartstrings. The Bradford family can grow okra that's eight inches long and still super tender. We char it on the cut side so no moisture is introduced, to avoid the sliminess," Ayanna said. "I like to play with peoples' minds by presenting something they think they don't like and turning it into something they do like."
Dishes new to the menu since Ayanna took over include the shrimp papillote—shrimp cooked in paper—that was buttery and tender with preserved lemon that pushed it over the top.
"We work with Tarvin Seafood on Shem Creek, it's literally off the boat in the morning—it's super bright and fresh, great for a small plate. We steam the shrimp wrapped in paper with the butter and garlic," Ayanna said. "We also have a crab cake on the small menu. Crab is my favorite protein. I don't like ones with a bunch of filling and extra flavors. It's literally just crab and just enough breadcrumbs to hold it together, preserved lemon and fines herbs."
The seafood bounty continues on the plate with a one-of-a-kind crab beignet.
"I have a super deep love for pastries and baked goods, they make my heart so happy," Ayanna said. "The dish is savory and sweet—a traditional beignet donut with crab, preserved lemon and chives folded into it. Our spicy house remoulade is on the side. We're in the South with lots of food traditionally rooted in French cuisine. And you just can't go wrong with fried dough!"
Her favorite new dish on the menu is the chicharron porchetta entree.
"That's what I'm most excited about. We use local pork from Keegan Filion Farm, cure it for two days, remove some excess fat, let it dry for 24 hours, roast it in the oven and then baste it in really hot fryer oil for the outside crackling," she said. "It's a super fatty, super crunchy chicharron served with a spicy, cool charred corn salad made with peppadew peppers, pickled red onions, chives, lime crema, spicy ancho aioli."
As restaurants in the Lowcountry and beyond continue to feel the effects of the COVID-19 pandemic, Ayanna said she's finding silver linings, despite the pandemic hitting so soon after she joined The Macintosh as executive chef.
"This year has hit us hard from all angles. For me, it felt like an opportunity to rebuild the Mac in my image," she said. "I knew when we reopened it would be with a whole new menu, a smaller staff and we're building a culture here. That's the silver lining. You have to find the pockets of happiness—they're there."
The Macintosh
479B King Street
Charleston, SC 29403
(843) 789-4299
Happy hour, Wednesday – Friday 5 – 7p.m., ½ price small plates
Sunday brunch 10:30 a.m. – 4 p.m.