The Secret's in the Dough
03 Jan 2017
The Lowcountry has no shortage of Italian-inspired bistros to sip a cold beer or feast on a piping, hot NY-style pizza slice. Most eateries also feature an array of pasta, hoagies and salad options. So going hungry in town shouldn't be a concern; the biggest challenge is where to start your mangia experience first.
By JENNA-LEY JAMISON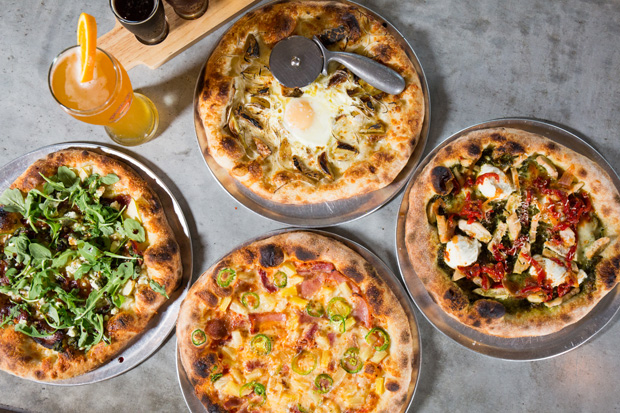 Amalfi's Italian Restaurant & Pizzeria
If you can find it baking in a kitchen in Italy, it's most likely on the menu here. With owners who have family ties to Napoli, keeping tastes classic is key. In addition to your typical pepperoni pizza pie, customers are invited to feast on pasta, subs, Stromboli, spaghetti and other tantalizing titles. Everything is homemade—the sauces, fluffy breads and soft pizza dough. Try a generous portion of hearty Italian sausage, eggplant parmigiana, mussels or baked ziti. Don't forget dessert—sinful tiramisu or decadently sweet cannoli. So stop what you're doing at mealtime and pop in to one of two locations—Mt. Pleasant or James Island—or call to have Amalfi's cater your next big event. Your taste buds will be sure to enjoy culinary heaven. amalfisofmountpleasant.com
Andolini's Pizza
Have a craving for large New York-style pizza? Some pies as large as 19-inches wide! But if your stomach can't handle several slices, order up just one mouth-watering triangle for as little as $2.50. No matter where you go in the tri-county, you're most likely near an Andolini's, a part of communities in North Charleston, Mount Pleasant and most recently—West Ashley. The family-led operation is open every day for customers to dine in or carry out and prides itself on its owners—Michael and Edie Rabin and David Odle—cooking up its main ingredients—crust, cheese and sauce. For the last 20 years, the eatery has boasted a "best local pizza" title. But remember to save room for cheese-topped garlic breadsticks, a small Italian or Greek salad or a build-your-own calzone. andolinis.com
Benny Palmetto's Pizza
It's all about beer and pizza at Benny's, which maintains operations up and down the East Coast—each location with a different name following the "Benny." But here in South Carolina, the Mt. Pleasant location is known for being "home of the Southern slice." Most importantly, your wallet will smile when it sees the menu—especially the daily dollar PBR special. Benny's is also a supporter of local favorites, serving up a number of Holy City Brewery flavors like "washout wheat" and "pluff mud porter." Order pizza by the slice or gather your closest squad to come share a 28-inch pie with you. There's certainly no need to feel uptight here. Relax, laugh, fill your belly, and take a selfie with the giant pink flamingo painted on the inside wall. 843-388-4332, bennysva.com/bennypalmettos
Coastal Crust
A mobile food truck eatery that caters pizza in the most unique style possible―in a restored early 1950's classic truck with a handcrafted wood fired Valoriani pizza oven to bring made-from-scratch, Neapolitan style pizza to you and your guests at any location for private home events, corporate events, rehearsal dinners, weddings and more. Need something to go with your pizza? Try one of their fresh seasonal salads, wood-fired focaccia bread, or choose from a wide variety of other appetizers and entrees like the pulled pork with house slaw and spicy pickles or mushroom and shallot with goat cheese. Wash it down with a choice of four craft beer selections and a portfolio of wines. 843-654-9606, coastalcrust.com
Community Pizza House
Mingled among the shops at North Charleston's Tanger Outlets, Community Pizza House is also operated by Steel City Pizza owners, whose mission is to share their love of their hometown Pittsburgh pizza with the Lowcountry. Try flavorful wings, a calzone, sandwich, salad or "build-your-own" pizza pie. Hand crafted pizzas include the "apple gorgonzola," the "potato and bacon" and the cheesy "parmegeddon," with whipped ricotta and spicy chili flakes. Dine in or out—where there's both a patio with a giant fire pit and also a modern rooftop bar for the casual and carefree hangout. It's likely it won't be hard to find since giant white letters, spelling "pizza," rise from the roof to the sky, making the location visible from every nearby roadway—Interstate 26 included. The eatery offers a variety of share-worthy plates such as the apple and Brussels sprouts drizzled with maple balsamic glaze or the basil pesto mozzarella dip. 843-566-7777, communitypizzahouse.com
Crust Wood Fired Pizza
Pizza is on fire in the Summerville and James Island communities as Crust heats up the kitchen with the staple food, pleasing people's palates with simple, local ingredients and a full-service bar filled with craft beer and macro brews. Specialty drinks range from the classic Moscow mule and Limoncello to "The Remedy"—a frozen blend of coconut, rum, nutmeg, pineapple and orange juices. Before diving into a large, round pie, gnocchi or pasta, perhaps tantalize your appetite with an arancini—a fried, cheese and prosciutto-stuffed risotto ball—a shaved beat salad or an antipasto plate—with meat, cheeses and pickled vegetables. Specials change daily, keeping customers returning, and pizza types categorized on whether or not you're a fan of tomato sauce. Six types have it, and eight varieties pair toppings without it—opting instead for seasonings like garlic, rosemary and basil to carry the bulk of flavor. crustwoodfirepizza.com
Cuoco Pazzo
For the past eight years, Cuoco Pazzo has been a staple for fresh Italian eats just across the Ravenel Bridge. The Mt. Pleasant hangout has a variety of appetizers, salads, drinks and "piatti classici" (classic dishes)—each one a picture perfect presentation. Start your meal with bruschetta or eggplant rollatini, stuffed with fresh cheese and parsley. For an entrée, try the lobster ravioli or a seafood combination—shrimp, clams, calamari and mussels in a garlic pomodoro sauce. Not a seafood fan? There's also the gnocchi (potato dumplings), soaked in a special basil parmesan sauce, and the sautéed veal with capers and artichoke hearts—among other chicken and veal dishes. The wine list is additionally impressive, since it offers customers an extensive variety for meal pairing. 843-971-9034, cuozopazzo.net
D'Allesandros Pizza
"Nestled in the heart of" historic downtown Charleston's Elliotborough neighborhood, according to the eatery's website, two Philly natives started the joint with the goal of offering beer and pizza fans affordable options. The duo stumbled upon the Holy City and found its patronage strong among locals and tourists alike. Order up a pesto or buffalo chicken pie, the vegetarian favorite, the "mushroom madness," or the "the chauncinator" with double pepperoni. Pizzas range in price from an $8 10-inch to a loaded 16-inch supreme for about $22. Pop in for a drink at happy hour. But if you plan to swing by for lunch, expect a possible crowd, since the lunch specials—under $10—are a hit. 843-853-6337, dalspizza.com
DeRoma's Pizza
Home of the square pizza—24 slices to be exact—owner Bob Hoffman is a New York-style pizza connoisseur. He's seasoned in the restaurant business, and before moving to the South, spent time up North cultivating his craft with a family operation. He started out his Lowcountry pizza-making on Pawleys Island in 2000, before opening up a second DeRoma's location six years later right here in town. Located in Mt. Pleasant, the eatery offers wings, hoagies, parmesan sandwiches, salad, pasta creations and dessert—think limoncello cake, Oreo blast pie and chocolate mousse. But of course, the highlight menu items are the seven different specialty pizzas including: "The Dude," ranch based with buffalo chicken and bacon; the "Hawaiian," topped with ham and pineapple; and the classic "white," which swaps tomato sauce for a dusting of olive oil and garlic. 843-972-1780, deromaspizza.com
EVO Pizzeria
North Chuck's hotspot for wood-fired pizza and fresh baked goods, Extra Virgin Oven has humble beginnings—the business commenced as a catering service housed in a trailer. Owned by Matt McIntosh and Ricky Hacker, formerly kitchen staff at Charleston's FIG, the venture eventually gained popularity and expanded to find a permanent home in Park Circle. Pick your meal among a menu of appetizing options including wood-fired olives or pimento and pickles for starters. For your main course, dig into a pistachio pesto pizza, pork trifecta or pizza with spicy calabrese and roasted heirloom pumpkin. EVO is known for its rare blends and recipes, offering customers familiar dishes with an alternative spin. But don't worry—you can still build your own pizza or tear into a classic calzone. For dessert EVO provides the small, nice artisan chocolate menu with finely-crafted candy bars and bon-bons. 843-225-1796, evopizza.com
Grimaldi's Pizzeria
Authentic flavor and crisp crusts is the trademark of Grimaldi's unique coal-fired pizza experience—a century-old tradition offered in 45 different locations through the United States, including Mt. Pleasant. Crafted from a "secret dough" recipe, Grimaldi's crust is one reason customers keep returning. The menu is also not overcrowded with options. It's simply calzones and pizza, which range in price from $9-$18. Try it with or without tomato sauce, garlic or pesto as a base coating. And don't skimp on the toppings. Not a fan of pizza? At least stop in for a trio sampling of cheesecake, cannoli and tiramisu. In addition to good eats, the wine and beer menu at each operation is specific to the area. 843-971-9368, grimaldispizzeria.com
Hideaway Pizza Kitchen
Tucked away on James Island is a pizza place simultaneously known for delectable burgers, pasta and subs. To get your mouth watering for more kitchen options, embark on your food journey with a savory appetizer—a braised pork or meatball slider, fried mozzarella, pimento cheese dip or loaded fries. Next, sink your teeth into a three-patty, ranch-seasoned "Terminator" burger, breaded eggplant parmigiana sub or "the Ringer"—braised pork shoulder meshed with brie and rosemary-peach jam. But if it's pizza you crave, look no further than the beef and jalapeno "taco" pizza or the "Quattro," a four-cheese blend of Mozzarella, Pecorino Romano, smoked provolone and feta. Dough pockets are the eatery's popular version of a calzone—each packed with as many ingredients as you covet. You can even opt to pocket a Philly cheesesteak. 843-762-2003, hideawaypizzakitchen.com
La Pizzeria
Italian comfort food—that's the goal of Mt. Pleasant's La Pizzeria, where the menu features more than just your typical pizza pies. Entrees are all about hearty cuisine and satisfying each customer's palate. Popular eats include lasagna, seafood spaghetti and a variety of gnocchi plates—try the dumplings in Alfredo sauce, garlic, basil and plum tomato sauce, or a simple Bolognese meat sauce. Among the smaller, starter dishes are the golden, fried calamari, parmesan-topped garlic knots, and eggplant rolled with mozzarella, ricotta and other fresh cheeses. In addition to calzone and Stromboli, pasta and salad varieties, there are more than a dozen pizza types for your hunger to pick. Spinach, zucchini, anchovies, broccoli, chicken, mushrooms, shrimp, prosciutto and pineapple are just a handful of the 30-plus toppings you can choose from. 843-375-4607, mtplapizzeria.com
Marco's Pizza
Try a little bite of Italy in every meal you choose at one of Marco's six tri-county locations—one each in Summerville, Ladson, Mt. Pleasant and North Charleston and two in Charleston. The nation's fastest-growing pizza company—established by an Italian-born man who worked in his family's pizzeria as a child—the company also boasts franchises overseas, proving the pizza obsession is a global trend. Cater an office party, order a meal to go or stop in, sit back and see first-hand what the fuss is all about, and it's likely the doors will still be open no matter what time you drive by. Most locations stay open until 12 a.m., Friday and Saturday. Try a thin or thick slice with varieties like bbq chicken, chicken Florentine, chicken fresco, ham, bacon and pineapple, and a slew of other options. marcos.com
MOD Pizza
With two area operations—Charleston and North Charleston—MOD prides itself on feeding people "simple food for complex times." Why make food another one of life's complications? That's the same question the Seattle-based owners asked each other in 2008, and from there, sought to meet that need—providing affordable food with great taste. They have since transformed lovers of pizza and handspun milkshakes into their very own following of "MOD Squaders." If you like what you eat, it's hard to keep secret the 10 special pizza varieties—Gluten-free crust upon request—you can't find anywhere else. Each one's been given a unique name—the spicy "Calexico," the bbq chicken "Caspian" and the white sauce "Dominic," to name a few. There's also a simple cheese pizza named for real-life kiddo Maddy, and the "pizza salad," a crust topped with any of the menu's green leafy mixtures. modpizza.com
Monza
A racing-inspired pizzeria, this King Street kitchen is decorated and named in honor of Italy's historic racing city, Monza. Black-and-white race pics even fill the brick walls. Everything about the vibe and fixtures—both seating and lighting—has a posh energy, while everything about the food is local, fresh or authentically Italian. The sour dough is compiled using imported Italian wheat flour, and a Naples-based mixer concocts the yeast mixture for crusts. After it takes the form of a wheel and sprinkled with topping, each crust cooks inside a 1,000-degree wood-fired stove, whose flames you're likely to spy by a simple glance across the bar. The long, wooden divide separates the kitchen from the dining area and offers a plethora of fine Italian wine and beer. 843-720-8787, monzapizza.com
Orlando's Brick Oven Pizza
Chicken bacon cheddar, chicken pesto, spinach artichoke, meatball parmesan, Hawaiian, BBQ, Greek—with just a quick glance of the names, your mouth can already taste each pie's flavors. It's just as easy to call take out from this Daniel Island dive, as it is to place an order at any other generic pizza joint. So why not choose good fare from a true brick-lined oven that gives hand-tossed crust a crispier, more authentic taste, where kids get their own special menu and the cannoli is too good to turn down—full or not. The eatery also offers baked ziti, spaghetti, meatball parmesan, five different salad options and calzones—the most unique being the "Italian car bomb," a mesh of ham, mozzarella, pepperoni, ricotta, roasted peppers, Italian sausage and caramelized onions. 843-884-6292, orlandospizza.com
Paisano's Pizza Grill
This joint's owners—and best buds—hope you can taste the passion for pizza they possess when you bite into one of their hand-crafted creations. They also have an interest in friendly, classic competition, evidenced by the number of board and arcade-style games that fill their two restaurant locations—James Island and West Ashley. Their specialty pizzas taste as unique as their names, from the popular lasagna-style "Da Dougie" and the pulled pork "Wiggly Piggly," made with hot honey mustard, pickle chips and bbq drizzle, to the "Dinosaur BBQ" and the "Rocky Balboa." And every day of the week, find a different food special, from $6 calzone Tuesdays and free kid meal Thursdays to Hump Day's affordable treat, an $11 one-topping pizza. Turn any pizza into a calzone or order up some wings watching back-to-back football matchups. paisanosji.com
PaPa ZuZu's
This Mt. Pleasant pizzeria takes the classic Mediterranean style and fresh food seriously—so much so, there's a good chance you'll spy succulent, red tomatoes growing right on site. The eatery prides itself on locally-grown items and authenticity—the olives stem straight from Greece. Try a large grilled pizza for a healthier fare or dig into a delicious Greek salad—no matter what you opt for, the meal won't break the bank. But if calories aren't a problem, then order up a piping hot pizza pocket stuffed with melt-in-your-mouth Mozzarella and all your other favorite toppings. With a menu that blends Italian and Greek dishes, also choose among pita and gyro varieties, some filled with lamb, spinach and baba ghanoush. If the weather's nice, take your seat outside, and sip a cold beer or glass of red wine. 843-881-9848, papazuzus.com
Pizzeria Di Giovanni
A casual hangout on Charleston's busy North Market Street, this pizzeria is sure to have something for everyone, with its vast array of healthy and Italian fare, as well as wings, subs, sandwiches, calzones, pasta—and of course, NY-style pizza, ranging in diameter from 18- to 28-inches. One slice might even be large enough to control that pizza craving. But don't stop at one if it's extra meat, cheese and veggies you desire. If you're particularly in a romantic mood, maybe the heart-shaped "pizza di amore" is the perfect way to express your food love or relationship with a significant other. Prices are affordable and the front door is open most days until 10 p.m., so if you're working or shopping late downtown, swing by and grab a snack, dinner or fourth meal. 843-727-6767, pizzeriadigiovanni.com
Sabatino's Authentic NY City Pizza
Close your eyes, take a bite of melted cheese, finger-licking toppings and crispy crust—and you'll forget you're not in one of the Big Apple's four main boroughs. That's because the pizza tossed here, at the corner of downtown's King and Calhoun Street, are just like the ones they prepare up North. A former North Charleston area teacher, The College of Charleston graduate grew up in the Bronx where he cultivated his future trade at a small pizza shop, not yet knowing he'd one day own a similar bistro. The menu features the "Tropic Thunder," chicken, bacon and pineapple pizza with spicy ranch, and the "bacon and chive white," made with seasoned ricotta and mozzarella. But the kitchen's not partial to NY-style slices. The eatery also offers deep-dish Chicago-style pies and other finger foods—pepperoni rolls and jalapeno poppers. 843-577-8861, sabatinosnypizza.com
South of Philly Pizzeria
"Life, liberty and the pursuit of pizza" is this West Ashley dining spot's mission. Family-owned and operated the last decade, this eatery specializes in pizza, pasta and salads. Try the chicken and parm pasta or the Rosa linguini—tomatoes and capacola tossed in gravy and alfredo. In addition to warm, gooey macaroni bites and memorable zepp's—the combinations are endless for these pastry-like bread puffs. They can be drizzled with caramel and cream cheese icing and topped with crushed Oreo, colored candies and powdered sugar. Fries are also dressed up here—try them topped with cheese, bacon, ranch, steak, sautéed onions, gravy or pulled pork. Many of the same toppings can also layer your pizza. Varieties range from the "T-rex," with four different meats and a shot of hot sauce, to the "South Street," with steak, fried onions and Provolone cheese. 843-556-6940, southofphillypizza.com
Steel City Pizza Co.
A sister restaurant to Community Pizza House—both owned by the same Pittsburgh natives— this hangout can be found on both sides of the bridge, in North Charleston and Mt. Pleasant, as a family-friendly locale to unwind and "mangia." Most nights of the week, the large open dining area sees no shortage of hungry patrons. With TVs at every glance, you won't miss your favorite sports event. Order up a few starters for the game's first half—maybe the parmesan bread dippers, meatball bake or buffalo chicken dip. Then roll that pizza cutter through a 12-inch calzone or 16-inch "five-cheese caprese," "fresh veggie," "mega meaty" pie or a simple Neapolitan—meat, cheese, sauce and crust. Here, the wings are just as popular and can be tossed in lemon pepper, spicy honey garlic, teriyaki, Italian or ranch rub, among others. 843-225-6111, steelcitypizza.com
Toffino's South
Mt. Pleasant and Myrtle Beach are home to this Italian trifecta—a pizzeria, deli and bakery. Toffino's aims to top any other food experience you've had, making all items in-house and offering an atmosphere equally inviting, whether it's date night or a friendly lunch hangout. While waiting for the main course, munch on the focaccia or garlic butter breadsticks. Keep it simple with a hot or cold hoagie, or feast on a gourmet meal like the Italian roast pork and grilled chicken tenderloin, smothered in onions, mushrooms, peppers and Provolone. Also satisfy your hunger with one of seven different pizza wheels—from the no-meat "Margherita" and "Bruschetta" to the more complex "Meat lover" and "Mediterranean"—complete with Kalamata olives and pesto drizzle. 843-884-9990, toffinositalian.com
Uncle Maddio's Pizza Joint
It's all about pleasing the customer and meeting individual food fancies. By putting customers in charge of the pizza-making process, and with locations in Mt. Pleasant and North Charleston, it's hard to go wrong. Grab the kiddos and bring them to a place where the whole family can dig in with their hands. The options are endless—six sauce varieties and more than 45 fresh toppings. In addition, the smell of fresh-baked dough permeates the kitchen each day, and each morning the store receives a delivery of fresh veggies. If indecisive is your nature, and you can't pick exactly what you want on your pizza, amid the colorful topping bar, go with a specialty pie like the "Portobello pesto," "Southwest baja"—with black bean corn salsa and cilantro—or one loaded with succulent grilled steak, balsamic glaze, and blue cheese crumbles. unclemaddios.com
Vespa Pizzeria
Traditional Italian plates and wood-fired pizza dominate the menu here, reminding you of how your grandmother might have cooked, if she boasted Mediterranean roots. For an appetizer, graze among finger foods like the roasted chili chicken wings, mozzarella and prosciutto-stuffed risotto balls or mouth-watering mussels. Sip on tomato basil soup or munch a fresh, green salad for a next course. Whether lunchtime or dinnertime, continue onto an entrée that smacks your taste buds with flavor. Choose a sloppy Joe, smoked ham and salami muffuletta or more hearty options—the shrimp rigatoni or four-cheese ravioli, which comes paired with chicken and broccoli alfredo. With whole wheat crust imported straight from the Motherland, pizzas are another entrée option for $11-$14. Sample one with eggplant parmigiana or caramelized red onion Jam and apples. Still hungry? Go for dessert—zeppoles and vanilla sauce, silky-smooth gelato, rich tiramisu or smores.843-881-0101, vespapizzeria.com
Your Pie
It's all about fast, quality food in a family-friendly environment—where the focus is on casual, healthy dining and a meal ticket sure to make you smile. It's all part of Your Pie's newest one-price motto: no pizza more than $7.99, no matter high you stack the toppings. First, choose among three different crusts—white, wheat or Gluten-free (which has a slight up-charge)—then load up! Veggies stem fresh from an on-site organic garden so customers can see exactly where their food originates. All pies—and salad bread bowls—bake inside a hot, brick oven. Wash each slice down with wine or draft beer—14 flavors available, and save room for gelato or sorbet. One of 50 locations across the U.S., Charleston's West Ashley spot remains one of the first Your Pies—only the second one built after the original operation opened in Athens, Georgia. 843-766-4796, yourpie.com