The Transformation
15 Mar 2015
Matt Alexander of Palmetto Medical Initiative is transforming public health care in far away countries
By HELEN MITTERNIGHT » Photos by PAUL KIM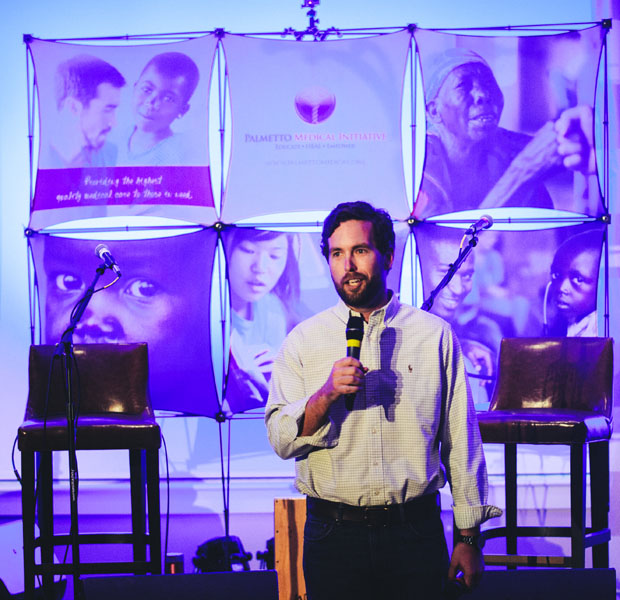 It was almost 11 years ago, but Matt Alexander remembers it clearly. He was at Charleston Southern University when his parents decided to adopt six children from Liberia. Well, actually, they decided to adopt two children, but after six months, they found out that there were still four siblings stuck in Liberia.
"This was right after the cease-fire in Liberia," Alexander recalls. "My dad and I flew out to push the paperwork through the embassy to get the other four kids. What I saw was transformative to me. It was transformative about how I thought of the world, about poverty, about the needs and the solutions to those needs."
Today, as cofounder and executive director of Charleston's Palmetto Medical Initiative (PMI), he logs countless flight miles to continue that transformation.
In fact, as he stops at a Starbucks for a conversation, he's on his way home to pack for an early-morning flight to Nicaragua. He'll combine several days of business – including visiting the country's first and soon-to-open second PMI-built medical centers, as well as look into acquiring land for a third – with an early 10th anniversary celebration with his wife, surfing and fly fishing.
PMI builds medical centers in countries whose public health care "is where people go to die," as Alexander says his colleague, Michael O'Neal, puts it.
PMI's low-cost medical centers are locally operated, and designed to become self-sustaining. Their first center was in Uganda, soon followed by Nicaragua.
Alexander's Liberia experience combined with another transformation when he worked for the Prison Fellowship, a national Christian ministry for inmates and their families, based in Leesburg, VA. Alexander and Prison Fellowship founder Chuck Colson (of Watergate fame) were visiting inmates on death row in South Carolina.
"It had an enormous impact on me, in the same way as seeing people living in terrible conditions in Liberia," Alexander said.
But the other impact was the realization that the kind of change Alexander wanted, happened only slowly within large, unwieldy nonprofits. Alexander found himself impatient, and it taught him that he wasn't cut out for the world of large nonprofits.
In October 2008, Alexander and his friend, Dr. Edward O'Bryan, were surfing on Folly Beach and had stopped for lunch. O'Bryan mentioned that he had done short-term medical missions before, but what he really wanted to do was something longer term.
"He was saying he had done the parachute approach, when you fly in and fly out," Alexander says. "But what would it be like to take all of these resources, all the funding and expertise that goes into these short-term missions, and what if you could focus that on making a lasting impact, getting a better return on your investment?"
Here was the action-based change Alexander was searching for. The two threw together a business plan and, three months later, they were on the ground in Uganda, thanks to a lucky connection with two local businessmen.
As Alexander was starting to talk about this grand plan, the businessmen approached him, saying they were looking for a pilot project for St. Andrew's Church in Mt. Pleasant. They would put up the seed money and offer contacts if PMI did its inaugural clinic in Uganda.
Although PMI now has eight U.S. employees and 80 who work in their own countries, at first it was a shoestring operation.
"It was literally just me, O'Bryan and close friend and photographer Josh Blake," Alexander says.
The three spent a week in Uganda. Seven weeks later, they returned with a team of 25 students and medical professionals, mostly from MUSC.
Uganda proved to be an ideal start: the perfect mix of stability, diversity of partners, and a cycle of preventable suffering and disease.
Shortly after, a member of the Seacoast Church in Mt. Pleasant, which had worked with Nicaragua for years, approached PMI with the funding and contacts to build in that country.
PMI also has been approached by St. Michael's of Charleston and plans to launch a clinic in Burundi with the help of that congregation.
Alexander says PMI is stopping with these three countries and will focus on expanding within the countries rather than moving to new countries. Last year, they launched a 20 by 20 campaign to have 20 medical centers, mostly in Uganda and Nicaragua, by 2020.
The model in each of the three countries is the same: PMI funds a full-service medical clinic and hires and trains locals to run the clinic. PMI provides the basic infrastructure, including setting up a board of directors and bylaws for each country, and each clinic charges affordable fees that get plowed back into the operating expenses of the clinic. PMI also provides "support with accountability" in the long-term, including keeping track of the clinics' financials, marketing strategies, and patient feedback.
The model is designed to make each clinic break even within 18 months.
Uganda exceeded the model. Within six months, the first clinic there was covering 90% of its costs and seeing 900 patients; by the 13th month, it was making a 10%-15% profit and seeing more than 1,000 patients.
To date, more than 90,500 patients have been seen in Uganda, and Nicaragua, which opened its first clinic in January 2014, has seen 12,500 patients.
"We see real results and it is a great experience for our patients," Alexander says.
Alexander says the patients can afford the nominal fees charged by PMI's clinics.
"When people see we have trained professionals, we have the supplies they need, when they leave they will get better, then they prioritize the money for the fees," he says.
Navigating and negotiating with partners in these countries relies on introductions from partners, a refusal to consider bribes no matter the local culture, and getting good legal counsel in each country.
"It can be a large challenge to navigate government," Alexander admits. "Michael O'Neal (director of international projects) is exceptionally gifted at knowing how to navigate. I live in black and white and Michael's blood pressure doesn't rise in the gray areas."
Although delivering health care is PMI's core business, of necessity, it has developed a specialty in creating trips for the volunteers who want to help. So far, about 1,300 volunteers have traveled to PMI's clinics. About 30 volunteers make up a team. Once on location – which is within an hour or two radius of the actual clinic – the volunteers do outreach, and refer back to the clinic. PMI is mindful that it is the locals who should deliver the actual care to their countrymen and the volunteers are there to build capacity.
"A lot of times, some people will stay behind and work in the clinic, but not to deliver care, to train. Our local staff love having access to American-trained, board-certified staff," Alexander says.
Many of the volunteers sign up for more than one stint with PMI, and several Peace Corps volunteers have stayed for two-year stints.
"We get tons of repeat volunteers. It's the quality of the overall experience, that people are able to invest in something that's going to be there when they get back," Alexander says. "They can build relationships."
In addition to the help of volunteers who pay their own way, PMI relies on individual donations and corporate or church gifts.
It is "donor cultivation" that keeps Alexander on the road, including travel with the Charleston-based band, NEEDTOBREATHE, which has adopted PMI as its cause to support. Band members even went on a mission trip to Uganda in December.
On March 23, the Grammy Award-nominated band will host its annual NEEDTOBREATHE Classic featuring musicians, professional athletes and other celebrities at the Daniel Island Club. The band, along with cohost Commonwealth Cares Foundation, will donate proceeds of the event to PMI. Last year's event raised $140,000 and helped fund about half the cost of a planned second clinic in Uganda. This year's Classic will benefit PMI's 20 by 20 Campaign.
"There's something I learned about myself," Alexander says. "I'm inspired and rewarded just by an organization that does something well. It's what I love about PMI. We follow through and do what we do in a way that honors our donors. To me, it's been quite a process to watch us grow, to hear stories from patients all the time. Possibly because I've seen so many nonprofits not doing anything really transformative to people's lives. We're really changing people's lives every day in a way that is thorough and meaningful. I'm hanging my hat on feeling really proud of this organization."