Train-Bound & Horsing Around
05 Jul 2021
Famous Trips Between Charleston and Summerville

By Tim Lowry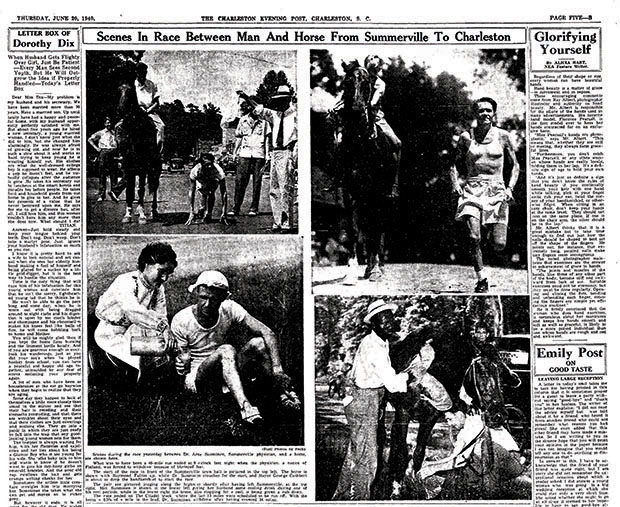 Many generations ago, when Charlestonians found it too hot to sleep during the summer months on their plantations, they would retreat to this high ridge of ground along the Ashley River to catch a cool breeze and enjoy the pine-scented air. This restorative pinewoods retreat came to be known as Summerville.
Of course, in those days we were considerably more than a short drive from Charleston as we did not enjoy the modern convenience of the automobile.
In the late days of spring after the social season had wrapped up, one could observe a long line of ox carts and horse carriages slowly working its way up the River Road. Leaving at dawn, you could arrive in Summerville, ten to fifteen miles distance, by early evening.
The carts and carriages were laden with rocking chairs, cook stoves, China dishes, grass matting, mosquito netting and anything else necessary for a Southerner's comfort during the dog days of summer.
Nowadays, you can find remnants of these items at more than a half dozen local antique shops; but please, do not refer to it as "old junk." We choose to think of these scratched and dented artifacts as "the patina of our past."
Man Vs. Horse
The horses that provided transportation to Summerville were a source of entertainment during the planters' summer sojourns. Informal races gave rise to a local Jockey Club. However, Summerville's most famous horse race took place years later in 1941.
According to historian and author Barbara Hill, a European doctor, Dr. Arne Suominen, aiming to promote health and fitness (he never smoked and rose at 4:30 every morning) proposed a man versus horse race. The showdown took place on June 20, which was reportedly one of the hottest days on record- 110 degrees. The eleven-year-old horse was fondly remembered as Duke.
The race started on Main Street and continued down the old River Road that was traveled by plantation owners years before and ended after several laps around the track at the Citadel Military College in Charleston. Many stops were taken by both man and horse along the way.
According to Time Magazine, Duke—ridden by a no-lb. jockey the first 14 miles, a lighter boy the next 14 and finally a little girl — was trotted for eight minutes, walked for four and rubbed down every ten miles at the request of the Society for the Prevention of Cruelty to Animals.
"Round & round the cindered track they plodded, before $65 worth of paying spectators, the doctor coming within a fifth of a mile of closing the gap," the magazine states.
Despite exhaustive training, sadly, the doctor had to withdraw, reports to News & Courier from June 20, 1941.
"What was to have been a 40-miles run ended at 9 o'clock last night when the physician, a native of Finland, was forced to withdraw because of blistered feet," states the News & Courier with a spread of photos of the event. "Dr. Suominen withdrew after having covered 34 miles."
Today, these man vs. horse races are still done across the country, and the world.
Best Friend of Charleston train
The speed with which one could travel to and from Summerville was vastly improved with the invention of the steam engine. In fact, the first passenger train in North America traveled on a line from Charleston to Summerville. This original "iron horse" was known as the "Best Friend of Charleston." The inaugural run took place on Christmas Day of 1830. It ran along six miles of wood and metal rails terminating near the junction of State and Dorchester Roads. The Charleston News & Courier reported that passengers "flew on the wings of wind . . . annihilating time and space…leaving all the world behind." My goodness, the train was only capable of twenty-five miles per hour at top speed. Imagine how they would've described cars hurtling down today's Interstate 26!
However, the early railroad technology was very much misunderstood. Kind of like today's internet. We all use it, but don't have a clue as to how the thing actually works.
One fateful day, somebody stopped up the emergency relief valve. The boiler built up too much pressure and exploded, killing a railroad worker. After that, people were afraid to ride the train. Consequently, the railroad company began to advertise that a car carrying bales of cotton would be hitched behind the engine and a car carrying a multi-piece orchestra would be hitched behind that. The musicians would provide musical entertainment while you traveled on the line to Summerville. Should an explosion occur, the cotton would absorb the shock and the musicians would take the heat of the fire.
The railroad flourished until the advent of the motor car. Now we have air bags to absorb the shock and listen to music on our bluetooth devices when we take a quick road trip to Summerville.
Today, we hardly give a thought to the idea of hopping into the car and taking a drive to visit historic sites, beautiful gardens, and scenic beaches. Summerville is a short ride to Rainbow Row, the Edge of America and gardens galore.
Of course, that's assuming you have planned extra time to get through the five points intersection at the southern edge of our historic district. Town Council has proposed a traffic circle to speed things up, but I'm against it. I have a great nostalgia for that intersection. It's where the confusing traffic pattern and consequent driver frustration prompted my Daddy to teach me how to cuss.
Nevertheless, we are conveniently located to everywhere. And that's how it's always been.
Storyteller Tim Lowry is a Southern raconteur from Summerville.
Learn more at www.storytellertimlowry.com