Life By Design
05 Jul 2021
Textile designer Rebecca Atwood finds new creative home in Charleston
By Chelsea Greenwood
Photos by Tory Williams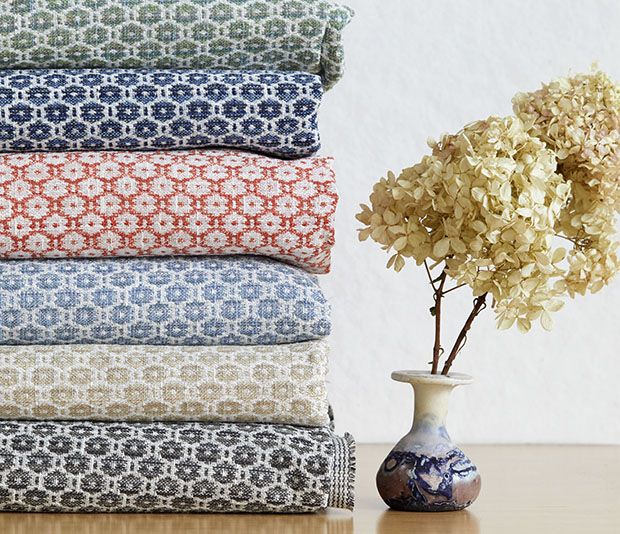 When Rebecca Atwood tells you that 167 Raw has the best lobster roll in town, you should probably take her word for it. After all, the textile designer grew up on Cape Cod, where her parents owned a restaurant for 40 years, so she knows her rolls.
The raw bar is just one local business — in addition to Hampden boutique and restaurant Chez Nous — that Atwood looks forward to revisiting when she moves her family and business from New York to Charleston this August.
Her relocation is part of a slow but steady family migration to the city: Her parents, then her older sister and, finally, Atwood and her husband, Steve, succumbed to the charm of Charleston after vacationing there over the years. She visited for the first time six years ago for her mother's 60th birthday.
The designer, whose second collection with Pottery Barn launched nationwide this spring, chose Charleston as her new home for several reasons, but a huge part of the city's allure is its duality.
"I like that it has this small-town feeling to it but also does have that city feeling," she said.
Although her showroom on Manhattan's Mott Street will remain open, Atwood plans to open a new studio in Charleston's Refinery building on Meeting Street that's three times the size of her New York one, allowing her creativity to truly run wild.
"The fact that Charleston has this creative community is really enticing to me," she said. "And it felt like we could have a really nice, creative, small business community there. And it's just a short flight from New York, which will always be really important."
At the new studio, she will continue to design her lines of wallpapers, fabrics, and pillows, all sporting her signature hand-painted patterns, meant to be mixed and matched.
Half of the space will be dedicated to a true artist's studio where she plans to explore new media, possibly the loom or printing press. Murals are another concept she finds intriguing. The other space will be to meet with clients on design projects.
Of course, the area's natural beauty isn't lost on Atwood, either.
"I think the warm weather, the beaches, and just more space to think and breathe is what I'm most excited about," she says. Charleston is also more ideal for raising her 2-year-old daughter and spending time with family.
"I also love going to the beach on Sullivan's Island or Isle of Palms or Folly — I think those are all really nice spots," she says. "We're really excited to live near Hampton Park. I'm thrilled that we can walk there. That's going to be very nice. I'm all about getting more nature in my life right now."
After getting her BFA in painting from Rhode Island School of Design and then living and working in the Big Apple for 12 years, it won't be easy to say goodbye. "I love New York," she says. "I think it's bittersweet to leave. It's been such a great place, and there's such great creative energy here. We've had a really good chunk of time here, but I feel ready for that next chapter. I will be sad to leave but I'm ready for it."
Don't count Atwood as one of those naysayers claiming New York is dead thanks to the pandemic.
"I don't buy into that," she says. "New York is New York — it's not dead. We were talking about moving before COVID, too. It's just more about where we're at with our lives, and wanting to have more space as we start to think about these other things we might want to do — just having more space to develop and for all that creativity will be really great."
Atwood recalls feeling very welcomed by Charlestonians when she was in town looking to shoot photography for her first book, 2016's "Living With Pattern."
"There's so much legwork to find the right spaces that are going to tell the story, and everybody introduced me to people, and they're like, 'Oh, I know the perfect spot, and the perfect home — I'll introduce you.' And then they actually did that, which, in New York, is not necessarily how things always go."
Plus, it doesn't hurt that Atwood already has eager clients in Charleston, who fully embrace the coastal chic design style that echoes her Cape Cod upbringing often found in her work.
"We have a lot of clients in the area," she says. "There are so many people doing really beautiful interiors and decorating in this beautiful way."
Check out her work at rebeccaatwood.com and follow on social media @ rebecca_atwood