By JOHN TORSIELLO » Photos by LEA AUSTEN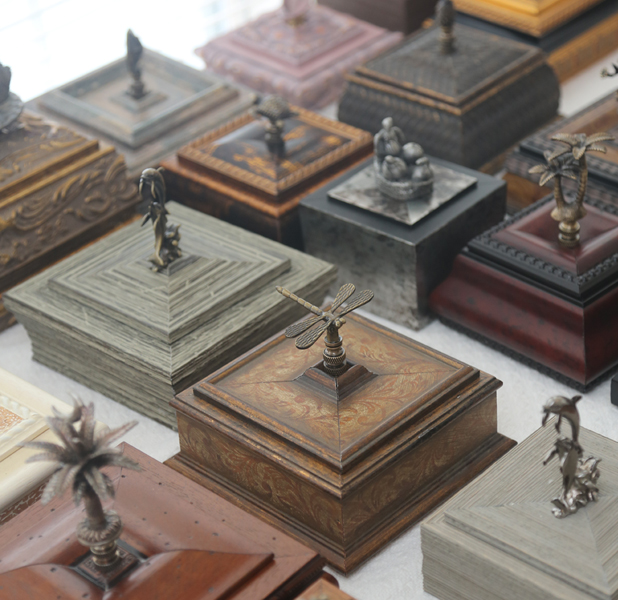 It is no wonder given the hardiness and self-reliance Goat Island residents display on a daily basis, that Sarah Sanders finds herself with a successful second career in her 70's.
The former school teacher and coach who used to paddle her canoe across the Intracoastal Waterway that separates the small island from Isle of Palms to get to work, is becoming known throughout South Carolina and beyond for her handmade, special occasion Goat Island "treasure boxes." This also just happens to be the name of her company.
Sanders begins her creations by cutting various new and salvaged solid wood materials, many of them picture frames or moulding, and then glues them together to form the box. The bottom of the boxes are made of luan, and she places a piece of suede mat board on both sides. Sanders paints each box by hand, and tops them with finials, all having something to do with the Lowcountry and South Carolina in general. The artist believes that the flaws and imperfections in the wood and finish only add to the beauty of the boxes, as well as their authenticity.
Sanders, who has always had a love of painting and carpentry, came upon her "hobby" rather by chance.
"A friend is a framer and I saw her throwing away pieces of wooden frames," she says, as she sits in her comfortable and somewhat sprawling home on the Intracoastal Waterway. "I thought to myself what could I do with those. So I pulled them out of the dumpster and started tinkering."
That was back in 2003 (she formally launched her business in 2007), and Sanders has progressed her art to such a degree that she makes around 1,500 boxes a year, importing framing and moulding that gets to the island by boat. She still "dumpster dives" to find materials to create what she calls "orphan" boxes made from discarded wood.
There are about 20 different styles of boxes, available in two sizes and they range in price from $69.99 to $99.99. Many of the boxes are signed and dated by the artist.
Sanders has attracted a strong following. Indeed, one of her boxes was commissioned to be used on the set of the television show "Army Wives." Her works of art are for sale at a number of specialty and gift shops across the state.
"One of my most popular boxes locally is the 'Charleston Hospitality box,'" she explains, as she points to a stunning black and ornate gold box adorned with a pineapple, the iconic symbol of welcome, on top. "It's funny, the box isn't all that popular a seller beyond the Charleston area."
The "South Carolina State House" box is made of dark mahogany moulding embellished with gilt trim and topped with a bronze palmetto and moon. The "Edisto" box is copper and brown moulding topped with the state reptile, the endangered sea turtle.
Sanders recently crafted a special Sullivan's Island box, which is made of gray driftwood that has jumping dolphins as its finial. She has custom designed a number of finials, including the palmetto and crescent moon, sea turtles, "Carolina Wren on Jasmine Vine," and waterfowl.
Sanders was the first full-time resident of Goat Island after Henry and Blanche Holloway (who lived on the island with their herd of goats starting in the early 1930's), passed away in 1963. The artist finds inspiration from the solitude and beauty the small piece of Lowcountry offers.
"It is inconvenient (the island is accessible only by boat) but I have a freedom here that is refreshing. I just think this is the neatest place in the world. It's about as close to heaven as one can get on earth."
Although the wild goats that gave the island its name are gone, Sanders does have two of the animals as pets, as well as her constant companion, a frisky golden retriever that goes by the name of Cali.
As for her spreading fame and being at the head of a successful and acclaimed business at a mature age, Sanders says, "Really, I'm very pleased that the boxes have become so popular. I was once doing around 2,000 a year, but I can't do that many anymore. I love what I do, love working with wood and coming up with new designs, and am thrilled that people find them special."
Sanders is assisted by neighbors Diann and Dennis Clark, a husband and wife team that help the artist manage her business, and transport raw materials to the island and finished product to the mainland to go into shops and stores.
For more information or to find out where to purchase Goat Island Treasure Boxes, visit goatislandtreasureboxes.com.