Valentine's Day Dining
05 Jan 2021
A Varity of Options Await
By Elise DeVoe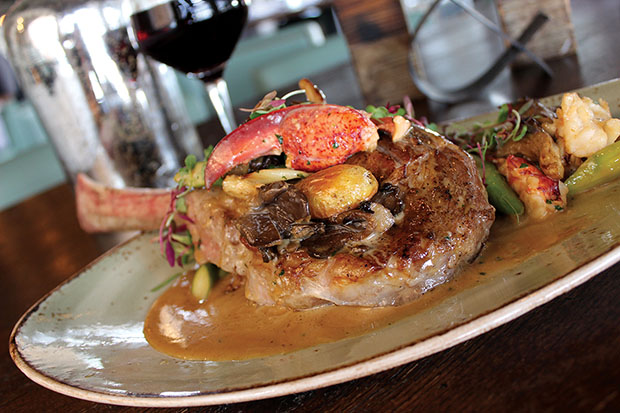 Valentine's Day is a time to treat yourself to the most decadent and indulgent cuisine that Charleston has to offer. A relationship of any kind surviving 2020 is reason enough to enjoy an extravagant meal. Whether you're celebrating with your long-time significant other or grabbing several glasses of wine and dessert with your friends, here are a variety of places to mark the occasion.
Tavern & Table
100 Church St.
Mt. Pleasant
843-352-9510
Cozy up by the water for a romantic evening at Tavern & Table overlooking Shem Creek. Tavern & Table's menu is already made for sharing, so it's the perfect place for Valentine's Day. Diners can expect dishes from both the land and the sea that incorporate local ingredients. In the past, they have offered a prix fixe dining experience where diners can opt to include wine pairings. Since Valentine's Day falls on a Sunday this year, diners looking to celebrate early can enjoy their brunch menu (including a wide variety of brunch cocktails) from 10 a.m. – 2 p.m.
Carmella's Café and Dessert Bar
98 E Bay St. #100
Charleston
For those who feel that on Valentine's Day, chocolate and wine must be on the menu, Carmella's is the one-stop shop to satisfy everyone's sweet tooth and pair it with a glass of wine or a dessert cocktail. Last year, the changing case of sweet treats had an extravagant strawberry chocolate mousse cake for Valentine's Day and they are sure to feature an equally delicious special this year. They have a wide variety of desserts that you can enjoy in store or you can order a custom dessert ahead of time. Save room for all the desserts this Valentine's Day and spend a memorable evening at this downtown spot.
Tempest
32 N. Market St. Suite C
Charleston
This new upscale seafood restaurant from the creators of 5Church is sure to be the perfect seafood feast for your Valentine's Day. Their menu is seasonal and focuses on local, South Atlantic seafood and sustainability. The ambiance of the stained-glass ceiling in the heart of Market Street and warm hospitality is enough to make anyone feel romance in the air. Kick off your meal with fresh local ceviche or grouper and end the meal with a smooth complimentary cognac at the end of the meal. That's right, Tempest makes you feel extra special by finishing off your meal with a complimentary rose, cigars and cognac when they bring the check. Cheers!
Muse
82 Society St.
Charleston
Located in a renovated Charleston single house on Society Street in downtown Charleston, Muse is sure to have a warm and cozy evening in store for you and your Valentine. The decor of their restaurant makes you feel like you're in someone's home, but the flavor of the dishes signifies the work of a professional kitchen. Their rich pasta dishes accompanied by a full-bodied red wine are sure to combine for a fantastic evening. Muse offers a selection of 75 wines by the glass, so there's a perfect match for you and your Valentine. They offer indoor, outdoor and private dining as well as curbside pick-up.
Pink Cactus
100 A Spring St.
Charleston
Turn up the heat with an authentic Oaxacan-style meal at Pink Cactus. Mix up your typical Valentine's Day wine pairing with a sampling of various tequilas and mezcals instead. Kick off the evening with the cheesy delight that is their queso fundido paired with a spicy margarita and pretend you are on a Mexican foodie vacation. If you celebrate Valentine's Day early on Friday or Saturday night, you can take advantage of their taco & tequila hour from 3-6 p.m. which features discounted tacos, snacks and beverages. Enjoy your meal on their spacious patio surrounded by ambient lighting or sit inside for a cozier feel. If you're looking to celebrate at home, they also offer family taco platters to go.
Leeah's Old Village Wine Shop
115 Pitt St.
Mt. Pleasant
If you're taking care of dinner for Valentine's Day, leave the wine pairing to Leeah's Old Village Wine Shop. Leeah's is a boutique wine shop in the Old Village of Mt. Pleasant. If you're celebrating with bubbly, they definitely have you covered because every Sunday is Champagne Sunday at Leeah's. They will be offering champagne baskets, date night champagne tastings and their chef will provide catering options this Valentine's Day. They also have charcuterie boards that you can pre-order to go along with the wines. You can browse their wine selection in store or order online for curbside pickup.
Kiki & Rye
656 G Long Point Rd (Belle Halle Shopping Center)
Mt. Pleasant
Mt. Pleasant newcomer Kiki & Rye is sure to impress this Valentine's Day with their wood-fired coastal cuisine. They are offering a three-course prix fixe menu for $65 per person, not including tax and gratuity. Start off the evening with their wood-fired focaccia with rosemary, roasted dates and caramelized balsamic onions with a garlic chive butter. Next, diners will have a choice between three options for their first, second, and third course. My perfect lineup would be their yellowfin tuna tartare followed by the wood-fired filet mignon and S'mores for dessert. The meal also includes a complimentary glass of prosecco or a rosé to make it extra festive.
Cowboy Brazilian Steakhouse
2411 Mall Dr.
North Charleston
Diners looking for a feast for the ages can head over to North Charleston for an all-you-can-eat meal for $39.95. If you're bringing the family along, children ages 6-12 can enjoy the same feast for just $16.95. This unique dining experience features sixteen cuts of beef, chicken, pork and lamb, all carved tableside. They also have a 30-item salad bar featuring six hot Brazilian dishes. To finish off the meal, check out their selection of fine wines, Brazilian mixed drinks and desserts. They offer their entire menu to-go a la carte so that you can bring the feast home with you.
Renzo
384 Huger St.
Charleston
843-259-2760
Head to Renzo on Friday or Saturday night to celebrate Valentine's Day with discounted bubbly and bold red natural wines. Their wood-fired pizzas are perfect for sharing as well as their specialty pasta dishes from Chef Colin Johnson. The food and the vibes will be pure romance as they will be playing R&B all night long. Their specials change frequently, but you will know when the details of their Valentine's Day specials go live when you see a photo of a celebrity couple on their Instagram (@renzochs). If you're looking to celebrate either inside or on their patio, make sure to have a reservation ahead of time. They also offer delivery and takeout options.
The Ordinary
544 King St.
Charleston
When you walk into The Ordinary, you are transported from the hustle and bustle of King Street to a stunning, romantic dining experience. The Ordinary is known for their extravagant seafood dishes and they embellish them even more on Valentine's Day. They help you appreciate the finer things in life with their signature caviar service and dishes featuring truffle. Their flounder with truffle vinaigrette, kohlrabi and sunchoke topped off with even more white truffle is sure to make for an unforgettable evening. You and your Valentine will feel transported to the tropics with their wide selection of rum cocktails and variety of fresh seafood. This is sure to be a popular spot on Valentine's Day, so definitely make a reservation or order ahead for curbside pickup.