Valentine's Day Gifts
06 Jan 2022
Valentine's Day Gifts for the home and going out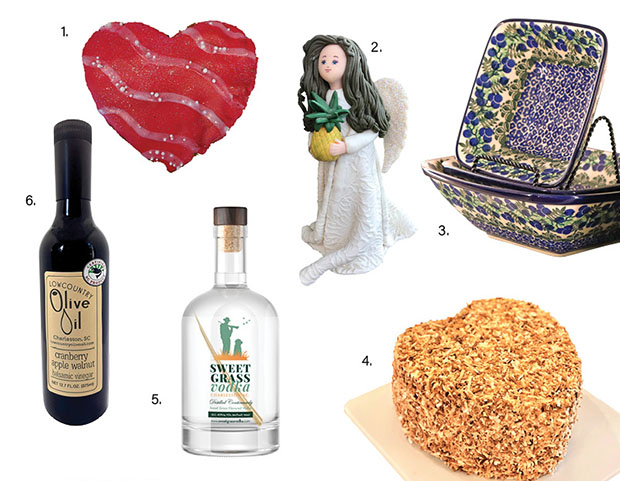 1. Heart Cookie - Show your (or your significant other's) furry friend some puppy love! Large heart dog cookie $5, at Michael's Barkery, 864 Island Park Drive, Daniel Island.
2. Angel A beautifully-detailed clay angel would make a wonderful gift for a loved one. 6" tall. $17.99, at Flowertown Garden Center, 410 E. 5th N. St., Summerville.
3. Blueberry Square Serving Bowls - Beautifully hand-painted blueberry square serving bowls are microwave, dishwasher and oven safe, adding color and festivity to the table. $146.85 for the set; individually starting at $41.95. Polish Pottery Gallery, 180 King St., Charleston.
4. Cupid's Coconut Decadence Cake– Peninsula Grill's renowned Ultimate Coconut Cake® comes in a limited-edition 8" heart-shaped cake on Valentine's Day, layered with traditional coconut filling, raspberry jam and hints of Chambord. Finished with cream cheese icing and toasted coconut, it's the ultimate treat for Valentine's Day. Spoil your loved ones and ship Cupid's Coconut Decadence Cake directly to their doorstep. $99. Pre-orders are required. Pick-up or ship across the United States via overnight Fed-Ex delivery. Peninsula Grill, 843-723-0700.
5. Sweetgrass Vodka –Award-winning vodka for celebratory drinks. Three times global masters winner in 2021: Best Micro-Distillery, Best Organic Vodka, Best Smooth Vodka. $24.99. Find at your local ABC store.
6. Cranberry Apple Walnut Balsamic Vinegar–Cranberry Apple Walnut Balsamic vinegar is hand-blended in Lowcountry Olive Oil's kitchen. Great in salads, drizzled over turkey, ham and even cheesecake. $17. Lowcountry Olive Oil, 272 Meeting St. and online at www.lowcountryoliveoil.com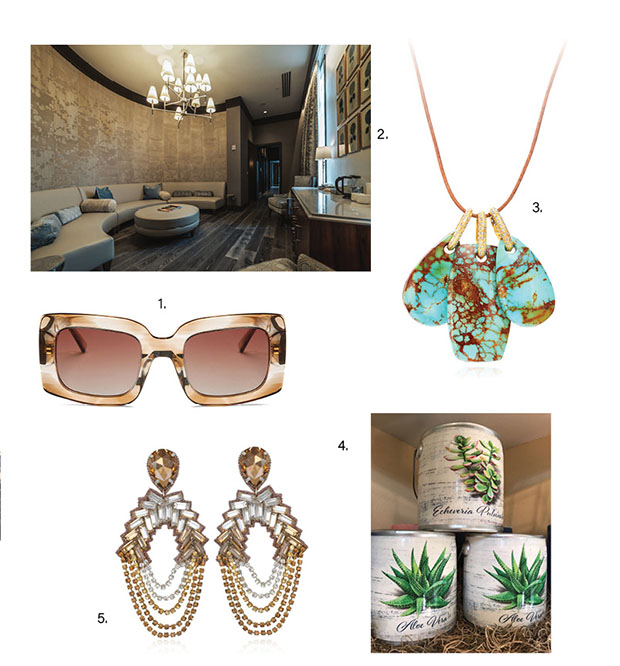 1. Sunglasses - Eleventh Hour "Mink" sunglasses in crystal horn with brown lenses, $85 exclusively at Maris DeHart, 32 Vendue Range, Charleston. @maris_dehart
2. Spa - Get whisked away for an indulgent day, up a private elevator and to a tranquil urban oasis for two 50-minute Camellias Classic massages and additional scalp massages. Complimentary Prosecco and a decadent chocolate truffle dessert will await you after treatment. $400 total for two. Reserve your bliss this Valentine's Day by calling 843-990-5415. Hotel Bennett, 404 King St., Charleston.
3. Turquoise Pendant - Just Jules collection Arizona-mined turquoise pendants with 14k gold and diamond-encrusted bail, $700-$1660, at Wildflower and Whiskey Clothing, 914 Front St., Georgetown.
4. Succulent Candles - The perfect gift for the indoor plant lover. Decorative container with a richly scented candle. $27.99 each, at Flowertown Garden Center, 410 E. 5th N. St., Summerville.
5. Florian Chandelier Earrings - Florian chandelier champagne and crystal hoops by Suzanna Dai are lightweight statement earrings made of baguette stones in a rounded chevron pattern attached to five cascading rhinestone chains. Teardrop pronged stone posts are made of sterling silver and backed in leather. Earrings measure about 3-3/8" long by about 1-5/8" wide. $200, at Rhodes Boutique, 92 Folly Rd Blvd., Charleston.