Vets for Pets in Crisis
21 Sep 2014
A multifaceted veterinary surgery center with rehabilitation facilities is the only one of its kind in Charleston
By COLLEEN TROY » Photos by ASHLEY WALKER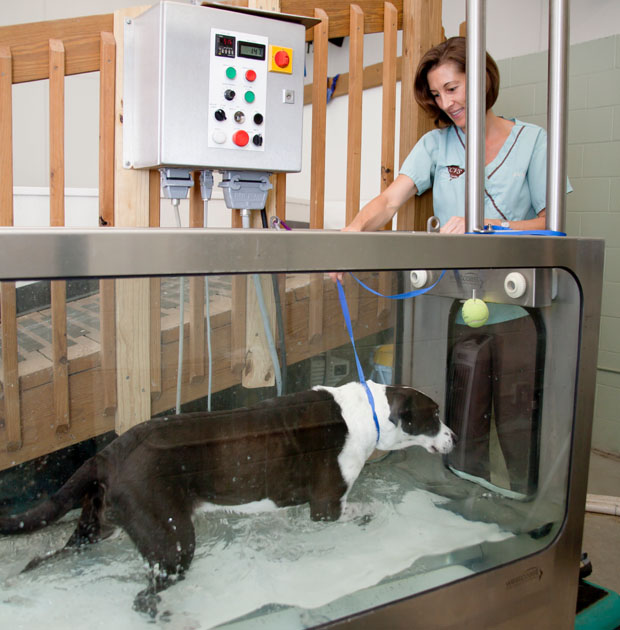 The Rhodesian ridgeback was in rough shape. Hit by an EMS truck, he'd suffered head injuries and who-knew what else. Rushed to Coastal Carolina Veterinary Specialists for surgery, Dr. Robert Pernell met the dog at his office, knowing it was likely to be a long day. A CAT scan revealed a fractured sinus, and numerous other traumas.
Armed with the scan and over 20 years of experience, he and his team set to work rebuilding the dog's sinus cavity. They removed a bone fragment from one spot, reshaped it, and positioned it in place in the sinus.
Once out of recovery, the patient responded well to the interventions, and went home to heal.
Turns out, that case is pretty typical for this North Charleston practice, which offers pets plastic and reconstructive, orthopedic and neurological surgery.
And no – plastic surgery for this population doesn't mean a little "nip and tuck" for the spoiled Shar Pei. In fact, it's one of the skilled interventions that often help a beloved pet return to health, and to the comfort of its human home.
Coastal Carolina Veterinary Specialists is unusual, in that most of its patients are referred. Met originally by their regular vets – or their "general practitioners" – Coastal Carolina Veterinary Specialists patients are a transient, and often very troubled.
"In our practice, vets are the first line of defense," says Pernell, who has been practicing in Charleston since the mid 1990s. "They often are familiar with the pet, and know its behavior. Is it less playful than usual? Is its appetite off? Or is it just clear that something is off?
Many of those questions can be answered with relative ease; the ones that can't end up on Pernell's table. (The practice also treats cats.)
While the Charleston area currently supports three emergency vet practices, Coastal Carolina Veterinary Specialists has one distinct difference: it offers the area's only veterinary rehabilitation practice.
Helmed by Whitney Reinero, a professional whose initial training involved physical therapy for humans, the certified canine therapy provides ongoing care for animals recovering.
Pernell is accustomed to a little bit of skepticism about the practice, and he's ready: "Humans undergoing major surgery go through a period of rehabilitation. It allows them to grow stronger and more mobile. And the same thing is true for dogs and cats. You can't just let an animal recovering from knee surgery loose to run."
Indeed, Coastal Carolina Veterinary Specialists offers its recovering patients an indoor pool for hydrotherapy, pulsed magnetic field therapy, ultrasound and more.
But rehab is for more than just post-surgical treatment. Pernell's team also works with patients suffering from arthritis, spondylosis (spinal bone spurs), obesity…and trauma. Geriatrics, knee surgery patients and others benefit greatly. It brings to mind a trip to any suburban gym, but this one serves a decidedly hairier clientele.
As with that human gym, each patient's goals vary: some may be there to improve flexibility or increase strength, while others might be there to drop a few LBs or improve exercise endurance.
While many patients would benefit from rehab, Pernell's team doesn't force the issue. Rather, when cost is a concern, they'll offer a range of treatment options. They recognize CAT scans, MRIs and other tests can be expensive.
"One thing we're concerned about, in general, is that affordability in veterinarian care can fall by the wayside. So we help where we can. Pet owners have always been concerned about the well being of their pets. We try hard to help them deliver appropriate care that they can afford, so they can get their pets home again."
Paws to Reflect
36.5% of American households own dogs and 30.4% own cats, according to 2012 census figures. Dog owners, on average, spend $227 a year caring for canines; $90 a year caring for a feline family member.
Approximately 7.6 million companion animals enter animal shelters nationwide every year. 3.9 million are dogs, and 3.4 million are cats. More than 35% of cats are acquired as strays. (ASPCA)
South Carolina households are #2 in terms of the lowest cat ownership rates, with 27.8% of households including a feline.
Know When to Go
When is a dog puny, and when does it need a vet? How do you know if your elusive cat is ill?
Experts say vomiting and diarrhea are the most common reasons to bring a pet to the vet ER. So what are the most common causes of acute illness in a pet?
The Humane Society of the U.S. estimates that up to 10,000 cats and dogs die each year from exposure to ethylene glycol (often found in antifreeze). One lick can cause irreversible kidney damage in a dog or cat.
According to the ASPCA, here are the top sources of ER calls related to pet poisoning:
45,816 calls involving prescription and over-the-counter drugs such as painkillers, cold medications, antidepressants and dietary supplements
29,020 calls related to insecticides
17,453 calls pertaining to people food
7,858 calls related to ingestion of common house and garden plants
Treatment costs vary widely by geography and type. The Humane Society has rounded up ranges for various treatments, including:
Vomiting and diarrhea (intestinal obstruction with surgery): $2,000-$4,000
Toxin ingestion (human pain medications): $250-$2,000
Toxin ingestion (human antidepressant medications): $1,500-$2,500
Toxin ingestion (antifreeze): $2,000-$6,000
Toxin ingestion (slug bait): $1,500-$4,000
Toxin ingestion (chocolate): $250-$2,000
Trauma (cat bite abscess): $250-$1,500
Trauma (dog bite wounds): $1,000-$10,000
Uterine infection (pyometra): $2,500-$5,000
Heat stroke: $1,500-$6,000
Stomach 'bloat' (GDV): $3,000-$8,000
The median tuition for American vet school (including books, room and board) is $63,000 a year (New York Times).