Wealth Management 2013
29 Sep 2013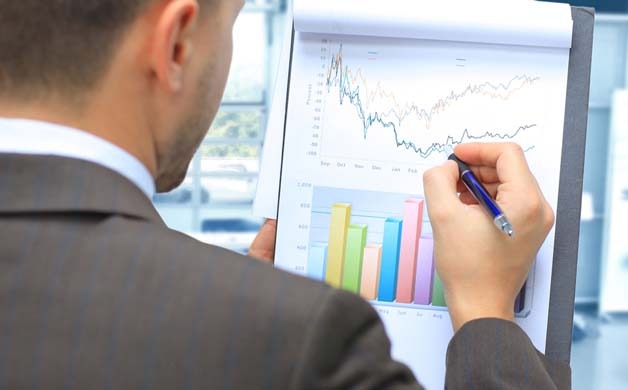 Still skittish on Wall Street and the whole idea of investing?
Our Wealth Management section offers up some financial advice for Charleston's business decision makers, and those just needing a little intel.

Legacy Wealth Management
Founded in 2001, Legacy Wealth Management has achieved great success as an advocate for its clients. "Our firm strives to build a solid foundation of excellent client service and in depth market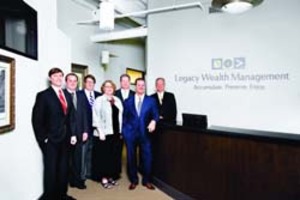 knowledge in anticipation of the needs of our clients. As a fiduciary, we consider the interests of our clients before our own", says the firm's President, R. Bennett "Benny" Firestone.
Since its inception Legacy Wealth Management has evolved into a multi-faceted financial planning firm capable of providing expertise to professionals and executives, families, businesses, institutions, and foundations. With combined experience exceeding 200 years the advisors at Legacy Wealth Management harness the necessary expertise to provide comprehensive solutions to the most complex circumstances.
The firm's advisors take their clients through a step by step process, the property of the firm, designed to best distinguish which service or solution will best serve its client's needs. "Our approach to wealth management is the search for creative strategies always mindful of our clients' individuality. In the end, helping clients to best mitigate the various risks they face in today's marketplace is the most significant challenge and responsibility faced by any advisor", says Firestone.
Apart from its service model and investment oriented philosophy, Legacy Wealth Management differs from its competitors – banks, brokerage firms, and insurance companies – in a fundamental way. The services of the firm make it accountable to its clients versus corporate entities pushing proprietary products.
While Legacy Wealth Management remains an independent firm delivering objective advice, the advisors routinely collaborate in an effort to elevate the firm's knowledge base, problem solving ability, and capacity of service to its clients. As a result the firm has become known in the area for those who wish to affiliate themselves with a progressive forward thinking organization which when combined with its six satellite offices in various cities has the resources to support the desired outcome for its clients.
Legacy Wealth Management and its advisors are strong supporters of various charitable causes both within the community and beyond to include The March of Dimes, The Gavalas Kolanko Foundation, The Lowcountry Children's Center, and Historic Charleston Foundation among others ever mindful that of utmost importance is a single premise - leaving a powerful legacy.
Legacy Wealth Management, 210 Wingo Way, Suite 300, Mount Pleasant, SC 29464. (843) 416-1118, www.legacywm.com.
Securities offered through FSC Securities Corporation, member FINRA/SIPC. Investment advisory services offered through Maryland Financial Group, Inc., a registered investment adviser not affiliated with FSC Securities Corporation. Legacy Wealth Management is not affiliated with FSC Securities Corporation or registered as a broker-dealer or investment adviser. Other entities listed are not affiliated with Legacy Wealth Management or FSC Securities Corporation.
BB&T Wealth and Home Mortgage
High-net worth individuals and families working with BB&T Wealth find more than just a wealth advisor. BB&T Wealth clients have access to a team of highly skilled professionals who expertly handle all aspects of their financial life. With assistance from BB&T Wealth, clients will have the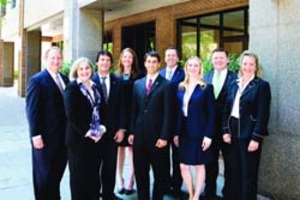 benefit of the big picture – their overall financial picture. The result is a team approach that integrates decisions related to investments, the strategic use of credit, tax considerations, liquidity needs and philanthropic goals to produce optimum results on the client's behalf.
"Our job is to make sure all the dots are connected," said Robert Webb, Coastal Region director, who manages a team of qualified financial professionals with extensive experience in the financial services industry. The Coastal team includes Wealth Advisors Pam Pearce and Hollis Gunn, along with Personal Financial Strategist Kathryn Youngman, CPA; and Personal Trust Specialist Carly Howard, JD, LLM.
"We work to create, implement, and nurture your customized financial plan and serve in a fiduciary role, making only recommendations in your best interest," Webb said. "You can count on us for full transparency, beginning with clear, detailed descriptions of recommended strategies and extending to customized reporting of performance against goals."
A Trusted Single Point of Contact
"For many people – even those with considerable wealth – a trusted, single point of contact with the objectivity, depth of knowledge and breadth of resources to provide effective, reliable oversight through changing times and multiple generations is often the resource that's missing," said Webb, whose Charleston office serves all areas of South Carolina's coast including Myrtle Beach, Pawley's Island, Beaufort, and Hilton Head Island. "With BB&T Wealth, you have access to a dedicated, trusted advisor, supported by specialists representing the full complement of our financial resources – from investment management to risk management to advanced financial instruments for asset preservation, estate planning, business succession and much more."
BB&T Advisors Handle Complex Situations
BB&T Wealth is well equipped to handle a variety of needs, many of which are for clients with large and sometimes complicated portfolios. From basic banking needs, like mortgage, to the complex ones, like leaving a meaningful legacy, the BB&T Wealth advisors help clients choose the banking products that best fit their unique financial plan. One such offering is the Wealth Affinity Program for mortgages. Through this program, advisors can work "outside the box" to structure a client-specific loan, such as a jumbo or interest-only product that will stay in BB&T's loan portfolio.
"Whether clients are buying a new home, handling the special needs of a family member, or passing assets or a business on to the next generation, our expertise and experience can help you manage through all the stages of wealth. We are your trusted source on financial matters from the early years of wealth accumulation to the time when asset preservation takes priority and attention shifts to gifting, sheltering and transitioning," Webb said.
More Than 100 Years of Stability

Aside from a local team approach, clients also benefit from being connected to one of the nation's oldest and largest financial institutions with a record for stability few can match.
"The amount of expertise we bring to the table and our experience is more extensive than what you find with a typical wealth management company, and that has to do with the resources a bank our size can provide," Webb said.
BB&T Corporation (NYSE: BBT) is one of the largest financial services holding companies in the U.S. with $182.7 billion in assets. Established in 1872, the company now operates approximately 1,850 financial centers in 12 states and Washington, D.C. A Fortune 500 company, BB&T is consistently recognized for outstanding client satisfaction by J.D. Power and Associates, the U.S. Small Business Administration, Greenwich Associates and others. BB&T was named among the Top 20 of the World's Strongest Banks by Bloomberg Markets magazine in May 2012 and recently named in Barron's "Top 40 Wealth Managers" list, which ranks U.S. wealth managers by client assets in accounts of $5 million or more.

What Differentiates BB&T Wealth

When asked what differentiates BB&T Wealth, Webb said, "Trust – your trust in us – is the absolute foundation and framework for each client relationship. We are committed to providing you with the most personalized, comprehensive and impartial plan possible. You can count on us for full transparency. Our recommendations are always made in your best interests."
Traditional banking services are provided by Branch Banking and Trust Company, Member FDIC. Only deposit products are FDIC insured. Insurance products are offered through BB&T Insurance Services, Inc., a subsidiary of BB&T Insurance Holdings, Inc.
Investment solutions are provided by Branch Banking and Trust Company and BB&T Investment Services, Inc., a wholly owned registered broker/dealer subsidiary of Branch Banking and Trust Company, Member FINRA and SIPC.
BB&T Wealth, 151 Meeting St., 843-720-5109. bbt.com/wealth
BB&T Home Mortgage, 151 Meeting St., 843-720-5125. bbt.com/steven.ross
Securities insurance and investment products are:
NOT A DEPOSIT • NOT FDIC-INSURED • NOT GUARANTEED BY THE BANK
NOT INSURED BY ANY FEDERAL GOVERNMENT AGENCY • MAY GO DOWN IN VALUE
SCBT Investment Services
When it comes to helping clients manage their money, Stacy Cannon brings more than 20 years of experience to the table.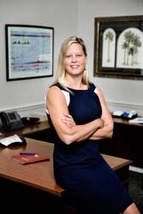 Having worked in markets throughout the Carolinas, Cannon has assisted clients through all their life stages. After graduating from the College of Charleston, Cannon started her career in Charleston with Merrill Lynch. She's worked in Columbia and Hendersonville, N.C., where she dealt with a large client base of retirees. And at the opposite end, she's most recently been with SCBT Investment Services in Greenville working with young professionals.
"My experience is my best tool," she said. "It's so rewarding to help people build a plan and watch them pursue their financial goals."
This summer, Cannon came full circle when she moved back to Charleston as part of South Carolina Bank and Trust's merger with First Federal. "I look forward to merging with existing First Federal advisors here in Charleston," she said.
First Federal has merged with SCBT and will operate as First Federal, a division of SCBT, until conversion is completed in mid-2014. The combined company will be the largest publicly traded bank holding company headquartered in South Carolina.
Through SCBT Investment Services, Cannon is able to work with clients of all types – regardless of the size of their bank accounts. And she can offer access to a wide network of financial planning options and services.
"I can give clients advice, manage investments, everything," she said. "My relationships are more personal. Lots of times what I'm doing may involve family planning and helping them cover all their bases outside the investment world."
Whether her clients are just starting their family or entering retirement, Cannon stresses the importance of a solid financial plan for any life stage.
"What the landscape looks like today is not what it will look like in 10, 20 or 30 years and you need to be prepared for inflation or a recession," Cannon said. "Everyone needs an objective set of eyes to help them set a plan, no matter their financial situation."
*Securities and advisory services offered through LPL Financial, a Registered Investment Advisor. Member FINRA/SIPC. Insurance products offered through LPL Financial or its licensed affiliates. First Financial Holdings, Inc. and SCBT Investment Services are not a registered broker/dealer and are not affiliated with LPL Financial.
Stacy Cannon, SCBT Investment Services, 1032 Johnnie Dodds Blvd., 843-388-6561.
Not FDIC Insured. Not Bank Guaranteed. May Lose Value.
Not Insured by any Federal Government Agency. Not a Bank Deposit.
Gillen Wealth Management LLC
Being a financial planner is about more than managing a person's money, it's about developing a long-term relationship built on trust, confidence and a similar philosophy. Lynn Anne Gillen, owner of Gillen Wealth Management LLC, strives to achieve that with her clients.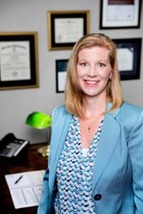 Gillen, a Certified Financial Planner Practitioner and a Certified Investment Management Analyst Professional, takes a holistic approach, talking to clients about what's important to them and what they are trying to achieve before she takes a look at their financial picture. Then, it's about setting goals and implementing a financial plan to achieve them.
"Every time we meet, we look at those goals," Gillen said.
Over time, she and clients cross goals off their list and set new ones. It's part of a personal relationship Gillen develops with her clients, many of whom have been with her since she started in the business more than a decade ago.
Gillen works with many couples in their 50s who are planning for their retirement and she has a large number of female clients, especially women who have gone through a recent life change such as the loss of a spouse, divorce or a move.
As an independent adviser, Gillen doesn't have a large volume of clients so she can offer the personalized service, attention and planning they want. "It's all about the clients and what's best for them," she said. "There's no pressure to invest a certain way."
Gillen provides an objective perspective and keeps clients informed during a recession or stock market fluctuation. Plus, she stays up to date on the many changes to laws and regulations regarding personal investments – all necessary to fulfill those long-term life goals.
"We all work for so many years and work so hard in our chosen career paths and most of us have an end goal in mind," Gillen said. "I think it's important to get a second opinion on whether you're prepared for that end goal. Are you saving enough to retire comfortably? Most people have no idea unless they sit down and talk to somebody."
Lynn Anne Gillen, Gillen Wealth Management, 125-E Wappoo Creek Dr., 843-297-8835. gillenwm.com
Gillen Wealth Management, LLC is an independent firm with securities offered through Summit Brokerage Services, Inc., Member FINRA, SIPC. Advisory services offered through Summit Financial Group, Inc., a Registered Investment Adviser.