When Baby Doesn't Bring Joy
08 May 2018
Her own postpartum symptoms led Elaine DeaKyne to lean on—and now lead—Postpartum Support Charleston
By HELEN MITTERNIGHT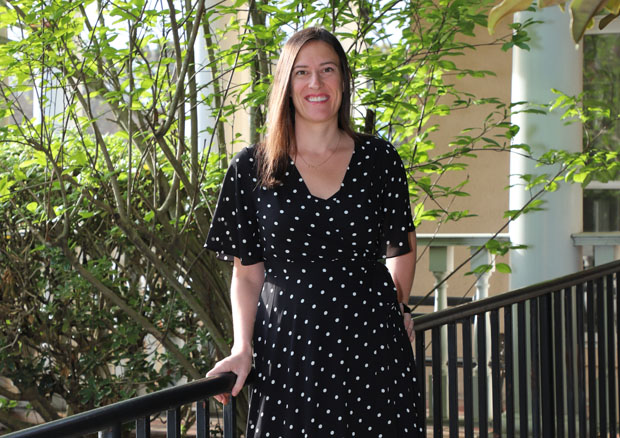 New babies fill us with joy, bringing that powdery new smell and wonder. But sometimes, they also bring anxiety, depression, and even Post Traumatic Stress Disorder.
Mothers who suffer from the latter postpartum symptoms often feel isolated and judged because they can't seem to summon up the happiness they're "supposed" to feel. Even worse, when they try to talk about it, too often they are dismissed as simply having a case of the "baby blues."
The baby blues is too gentle a name, however, for what some mothers feel.
Elaine DeaKyne says she became anxious when she had her first child, a daughter, five-and-a-half years ago. "I couldn't breastfeed, so I switched to formula. It worried me that some kind of contamination would happen, so I obsessively washed all of her bottles. I had a whole section of the sink nobody could touch."
Her fears about her child's safety only grew from there.
"I would see myself pushing the stroller into the street or see myself driving over a bridge and just getting out and jumping off. Because of all those thoughts, it scared me so much that I literally didn't leave home. I would stay home, I wouldn't go on stroller walks, I wouldn't drive the car over a bridge," she says, adding with a little laugh, "That's hard to do in Mt. Pleasant, because you have to go over a bridge to get anywhere!"
The terror forced the new mother to stay home, and the isolation of staying in the house alone with her baby soon led to depression.
Today, DeaKyne's experience has led her to her new role as executive director of Postpartum Support Charleston, a group dedicated to reducing the stigma of postpartum symptoms and getting help for new mothers who experience them.
DeaKyne knows personally how important that support can be. She was at her obstetrician just two months after giving birth and says the doctor was more concerned with talking about ways to prevent too-soon pregnancy. She interrupted to say something was wrong and that she needed help. Fortunately, the doctor referred her to a psychiatrist.
One in five mothers—about 950,000 women a year—suffer symptoms that can include depression, anxiety, Obsessive Compulsive Disorder, Post Traumatic Stress Disorder, and even rage, according to DeaKyne. And, for too many, their concerns are dismissed as the normal jitters of new parents.
"Every mom after birth has common fears of having a new baby and caring for it, but it heightens when you're suffering from postpartum anxiety," DeaKyne explains. "You stare at your baby continually, or check to make sure she's breathing."
And, even when the mother understands that what she's feeling is far from normal, she may be terrified of revealing those feelings.
"When people hear postpartum depression, they think the mom wants to hurt her child," DeaKyne says, recalling the Andrea Yates trial—the Houston mother who drowned her five children in a bathtub in 2001. "She was diagnosed in the media as having postpartum depression, but what she actually had was postpartum psychosis, which is really rare. Only two percent of mothers have this. So, I think one of the most common myths is that women think their child will be taken away and they will be committed."
And the concern can be well founded. "Even providers don't understand, this is something that is so treatable and temporary, not a permanent mental illness," DeaKyne insists.
Postpartum symptoms are believed to arise as a result of the massive hormonal changes women's bodies undergo during pregnancy, which can cause issues themselves, or can trigger underlying emotional concerns.
It was while she was seeking help for her own issues that DeaKyne discovered Postpartum Support Charleston. She joined the organization as a volunteer and contract employee, and was named executive director in 2017. The group seeks to reduce the stigma that leads new mothers to fear getting the help they need. It also aims to educate the new mothers' doctors.
"We find here in South Carolina that the obstetricians and the primary care physicians are not as comfortable handling this illness as we would like them to be," DeaKyne says. "This illness is hard for obstetricians to take ownership of, because it's not really seen as a maternal illness, it's seen as a maternal mental illness. But because it relates to pregnancy, some counselors say it's an obstetric issue." She continues, "Moms often get lost in the shuffle. There is a screening tool that can be done for all moms. It's only required in one state, New Jersey, but we'd like to see OBs screening every mother before and after they deliver."
Postpartum Support Charleston offers support to new mothers and connects them with mental health professionals as well as a community of mothers who are going through—or who have been through—the same thing. Support groups meet in person or via a private Facebook group, and Postpartum Support Charleston also offers phone and email help, as well as grants for mothers seeking therapy with a psychologist or counselor.
For the past 15 years, the organization has held an annual fundraising Moms' Run, in honor of mothers and to encourage awareness of Postpartum Support Charleston This year, the 5K will be held on May 12 and starts at 8 a.m. at MUSC Stadium on Daniel Island. The race is stroller-friendly and will include jump castles, food trucks, and activities for the children.
As for DeaKyne, her baby has grown into a beautiful little girl. Eloise is five years old, and she lives with her mom and her dad, Greg. Since DeaKyne found help for her symptoms, the couple has had a second daughter, Amelia, who is three years old. All are happy and healthy.