Where the Heart is
02 Jul 2019
Custom dream homes await residents at Riverside at Carolina Park
By Jenny Peterson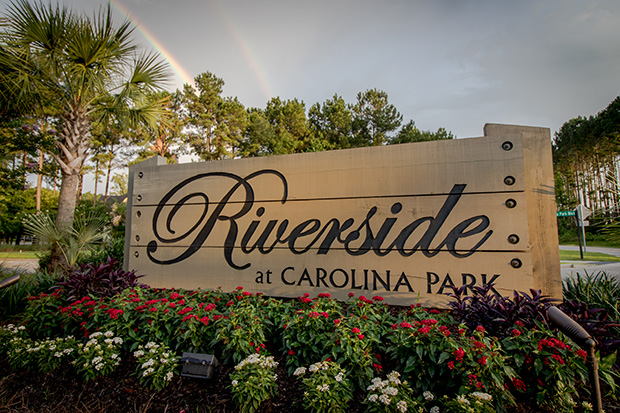 Tucked inside the Carolina Park neighborhood in Mt. Pleasant just 15 minutes from the beach, Riverside delivers stunning, custom homes that fulfill residents' every desire.
Natural views of the Lowcountry, a community area with an undisturbed view of the Wando River and private kayak launch, come standard in this exclusive, upscale neighborhood.
Just over 500 homes will occupy the community's 545 acres, dotted with trails, ponds, and a 20-acre lake. More than 200 homes have already been built in a variety of styles.
"When we purchased the property in 2011, we envisioned pockets of development where we could save big swaths of trees and where the majority of homes would back up to woods or ponds, creating for a real sense of privacy," said Brian Keels, Chief Operating Officer of Carolina Park Development. "We have five different custom builders in Riverside, which adds tremendous diversity to the architecture and landscaping. By offering so many choices, we enable every buyer to completely personalize their new home and make it truly their own.
These special touches have included custom Cypress wood floors, patios with wood-burning fireplaces and outdoor kitchens, copper ceilings and countless finishing touches like smart lighting and one-of-a-kind staircases and railings.
The full-service Riverside team guides residents through the process, assisting in the selection of a home site, connecting them with architects and builders, then following through to every last finishing touch. The team takes great pride in streamlining the process while offering the highest possible level of service to residents.
"With the custom build process in Riverside, people can start completely from scratch. They can pick out every single feature, anything they want," said Haley Cuzzell, Carolina Park Sales Manager. "They can take their own inspiration from houses they've seen in person or on Pinterest or Houzz and bring it to life in their own home. If they can imagine it, our builders can make it happen."
The ideas are endless.
"If they want pocket doors, a sub-zero fridge, a commercial-style cooktop – you name it. We can really mold it to what they need. One couple moved from California and wanted a spacious, customized wine room. You can't just get that anywhere," Cuzzell said. "It's been really fun for me to help people create all these incredible houses over the past seven years because everyone's tastes and choices are so different."
New residents of Riverside, Mike and Lynn Coglan retired recently, and said they worked closely with the team to build their dream home near Bolden Lake. It included a floor plan that was adapted from a friend's beach home.
"The team was phenomenal, right down to the design coordinator. They couldn't have been more patient or more helpful in making this project a great success," Mike Coglan said.
Lynn Coglan said Riverside at Carolina Park allowed them to build their dream home for a fraction of the cost and a fraction of the time it would take to buy an empty lot and custom build from the ground up.
"We love everything about our house. They went far above and beyond my expectations, even after the closing," Lynn said.
Now settled into the community, the Coglans are often found enjoying evening walks with their Burmese Mountain dog, Hobbes, along the trail near their house, or enjoying the natural beauty of the neighborhood from the second porch they added to their custom home.
"Riverside is more than beautiful homes - it's a lifestyle," said Cuzzell. "When people come here for the first time and get a real sense of the place, the beauty, the choices and the possibilities, they fall in love. They know they've found the place they want to call home."
Community oriented
Located within the well-established Carolina Park neighborhood off Highway 17, Riverside is near beaches, downtown Charleston, high-performing public schools, and Charleston County's newest public library.
Neighborhood events are held at the Residents Club pavilion and pool, fishing is encouraged at the stocked lake and ponds, and a popular trail system loops around Bolden Park and its 20-acre centerpiece, Bolden Lake.
New boutique businesses opening within Carolina Park include a local restaurant, a nail salon, veterinarian, specialty medical offices and a pharmacy.
"People are very friendly and everyone wants to meet everyone else," Mike Coglan said.
There is a mix of families, young couples and retirees.
"We are very happy about the whole process," he said. "Everyone walks around through the trails and, because we have very attractive dog, he gets a lot of attention from people in the neighborhood."