The Royal Tern
02 Jul 2019
Taste of the Coast—The Royal Tern lands on Johns Island
By Wendy Swat Snyder
Photos by James Stefiuk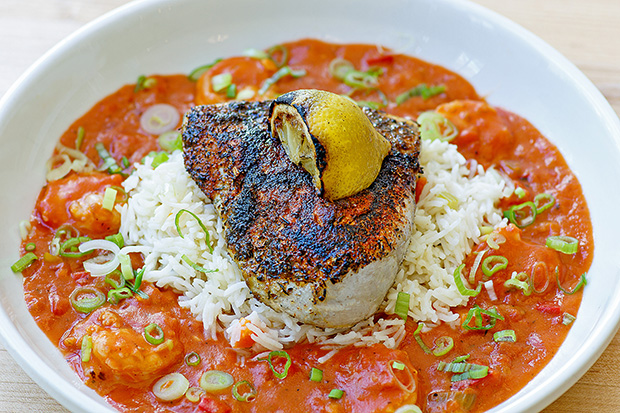 In a spanking new eatery carved out of a patch of lush forest, brothers John and Ben Williams are realizing a longstanding dream to open their own place. Happily for Johns Islanders, they've made its focus upscale seafood—a niche begging to be filled in this rural Lowcountry community. Dubbed The Royal Tern—a savvy fisher of a seabird—it landed on Maybank Highway last December with a splash, bringing new cachet to the well-traveled route connecting Kiawah Island and Charleston, South Carolina.
The pale wood-frame beauty—built on spec for the owners—is a study in contemporary rustic design. Oyster tabby concrete covering the foundation walls pulls in a historic coastal element and a flickering glass lantern lights the entryway. Inside, soaring ceilings and hardwood flooring are paired with walls of white and aquamarine for a casual yet elegant seaside vibe.
The architectural concept was designed by David McArthur's Pro-Draft House Plans based in Augusta, Georgia, and Charleston interior designer Betsy Berry of B. Berry Interiors styled the inside.
"We told the designer we liked greens and wanted a light and airy feel and she came back with a package that really spoke to that," says John Williams, who, like brother Ben, grew up in Winston-Salem, North Carolina working in restaurants since high school days.
Suzanne Allen Studio created an ethereal Matisse-inspired mural in paint lime wash for the dining room and David Boatwright produced one for the bar with a more casual, island-feel.
"Chef Pell, my brother and I laid out the positioning of the kitchen, the booths and the bar,"
"We wanted it to be approachable," notes John of the overall vision. "There's a raw bar and sandwiches on the menu—a po' boy—and a strong focus on the wood fire grill. We wanted it to be fun, with a lively bar—for guests to have an experience. We installed an open kitchen so they could watch the food production."
The Royal Tern executive chef David Pell and the Williams brothers bring to the table a wealth of culinary experience. Credentials include schooling in Paris: Pell attended the culinary program at École Grégoire-Ferrandi and John, Le Cordon Bleu. After graduation, Pell spent two years working through the ranks in restaurants in Paris and Brest.
Culinary opportunities in Charleston attracted all three. Ben left Winston-Salem after school for a stint on Kiawah Island. He went on to work at Il Cortile del Re, and later with renowned chef/ owner Ken Vedrinski at his Trattoria Lucca and Coda del Pesce.
"John and I met in Charleston in 2005," notes Pell. "We were both working at Rue de Jean under executive chef Fred Neuville before he left to open Fat Hen here on Johns Island. He's been very supportive of us."
While the Royal Tern menu has been a team effort, John gives full credit to Pell and chef de cuisine Kyle Kryske for creating a smaller list of technique-driven dishes. He says that instead of trying to do everything, they are strictly focused on seafood and steaks.
"In 15 years of cooking, I've always gravitated to seafood," explains Pell. "Seafood is so much about getting the best quality product and handling it properly. I like the simplicity of it—that's really my approach."
And while the kitchen sends out a variety of dishes showcasing local product such as shrimp from Sea Eagle Market in Beaufort, it eschews some of the ubiquitous Lowcountry favorites such as she-crab soup and shrimp and grits.
On the spring evening of our visit, the soup my guest and I found was a delicate New England seafood chowder loaded with clams, al dente potatoes and smoky bacon lardons in a light cream base. The Instagram-worthy dish was garnished with clams on the half-shell from Hog Island, Virginia.
"We like to keep the menu fresh with little changes to the norm," notes Pell. "We incorporate some classic influences from up North with the Southern, and some Asian as well—it's very eclectic."
Our wood-smoke grilled shrimp were plated with perfectly cooked garlic butter noodles in a light broth with sesame notes and a nice touch of heat.
Alexis Howard, our warm and very knowledgeable server, explained that the next dish out—a deviled crab cake—boasted only lump and claw meat flavored with a hint of Old Bay seasoning. A frisée salad with a tangy vinaigrette was a delicious palate cleanser. The kitchen sources locally as much as possible from farms such as Ambrose, Joseph Fields and Spade and Clover.
Swordfish from Cherry Point, South Carolina was blackened and super-moist. It was anchored in a bed of basmati rice pilaf surrounded by a rich, tangy shrimp creole—unexpected and delicious.
Samplings from the raw bar were equally innovative. A salmon and oyster tartare is an iteration of a dish Pell cooked in Paris.
"The salinity of the oyster liquor seasons the salmon," explains Pell. "We add a little garnish of caviar, ginger and shallot—it has a good umami."
Another flavor-packed shellfish dish featured oysters—cultivated, not farmed—from Toogoodoo Oyster Farm near Edisto Island, combined with bits of tuna dressed with a dash of ponzu. Pell says the saltiness of the oyster, fattiness of the tuna and acidity of the lime in the sauce hit all the the major tastes.
The citrus and sweet notes of a lemon meringue tart were the perfect finish for our seafood feast. Pastry chef Sidney Frey's beautifully presented dish featured a brightly flavored lemon custard, a crisp shortcrust pastry and lightly torched meringue drizzled with raspberry coulis and crème anglaise.
The Royal Tern is a Johns Island gem—very welcoming, with a superior staff, and food that shines. A much-anticipated neighborhood eatery for comfortable gatherings of islanders, and the rest of us.
The Royal Tern
3005 Maybank Highway
Johns Island, SC 29455
(843) 7183434
https://www.theroyaltern.com