Why Today Offers the Best in Children's Health Care
06 Nov 2017
Innovation, teamwork and a new mindset improve children's care
By SYBIL FIX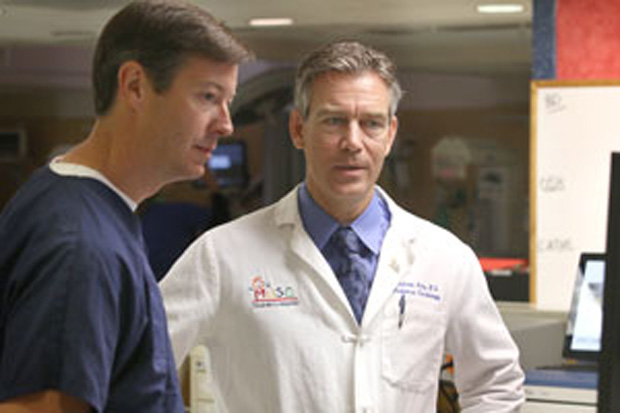 Dr. Alexander Soutter laughs with relief when he considers the possibility of having been a pediatric surgeon 30 years ago. Of course, medical advancements and improvements over the course of the past several decades are too numerous to mention, but suffice it to start with anesthesia and laparoscopic surgery.
"In the old days, almost no one went home the same day... And anesthesia, it's gone from a very dangerous proposition to a reasonably safe one," said Soutter. He trained as a doctor in the late '80s and early '90s, learning the ropes on life-changing surgical procedures that had never been done before. Between his time in medical school at Columbia University and his fellowship at the Children's Hospital of Philadelphia, he estimates having performed between 500 and 1,000 laparoscopic appendectomies—possibly a record at that time.
Yet, Soutter and others in pediatric medicine say that continued refinements in both the philosophy of the practice of pediatrics and the tools afforded its practitioners are making this the safest time ever to have a sick child—though there is never really a good time. Doctors in pediatrics mention increased research and awareness in the peculiarities of children's physiology, improvements in tools and technology to perform procedures on children, and greater teamwork and sharing of knowledge in the treatment of children, in addition to greater access in rural areas and more subspecialists in pediatric care.
"I got started at exactly the right time," said Soutter, one of three new pediatric subspecialists hired recently at Summerville Medical Center in an effort to expand pediatric care. "Everything is much better than it was a generation ago."
Child-Mindedness
It's long been a truism in pediatrics that children are not "little people." In other words, you can't blindly apply to children medical knowledge based off adults. While some of their organs recover more quickly, some of their metabolic pathways are less mature. Plus, their bodies are clean slates; they don't have lifestyle diseases, but they have other forms of illnesses and vulnerabilities.
Yet, said Soutter, "It has been hard to treat them as anything other than adults. Things are tested on everything from grandma to rabbits, but experimenting with children who are very biochemically different is not done."
Slowly, this is changing in practical ways.
Networks of researchers and doctors are spreading across disciplines, making the results of cutting-edge research and clinical trials on children more widely available, said Dr. Andrew Atz, chairman of MUSC's Department of Pediatrics and head of MUSC's Darby Children's Research Institute.
Work that is yielding life-saving results in adults—personalized, genetically driven treatments for certain kinds of cancer, for example—is also leading to higher survival and cure rates in children, though the cancers are different, said Atz.
Overall, premature babies are being kept alive at much greater rates, thanks, at least in part, to the willingness to consider approaches that are different from the ones a doctor would use on an adult body—foregoing surgery in some cases, for example, or feeding the babies breast milk as much as possible. The idea, Atz said, is to recreate as closely as possible the conditions in utero. It sounds simple, but it wasn't always so.
Different interventions are now understood and practiced for juvenile arthritis, for Type 2 diabetes, and pediatric asthma. Driving much of this change, said Dr. Mark Scheurer, Chief Medical Officer of MUSC's Children's Hospital, is an ever-growing awareness that, to capture the future potential of the life of a sick child, every person involved in making the medical decisions for that child must be a full-fledged advocate—because children cannot represent themselves.
"In the care for that child with medical complexities there is an unknown, and there is a dire need to make the most of that [medical] decision," Scheurer said. "And with a child's needs for resources and time, no one person can make that decision alone."
A Team Approach
Indeed, team-mindedness in approaching children's health may be one of the most significant contributions to improvements in children's care, said Scheurer.
In a children's hospital that is part of an academic research hospital where patients have access to care in subspecialties of all kinds, this brings to the child's bedside multiple doctors, nurses, a social worker, and often an educator, simultaneously, for consultation and more organic decision-making, with the benefits of comparative results.
"It takes that team to provide that care, and no single physician should try to do that," Scheurer said.
This team approach is reflected in the design of MUSC Shawn Jenkins Children's Hospital, of which conceptualization was shaped by the insights of various stakeholder committees. Scheduled to open in 2019, the new hospital is designed not only to accommodate families, but also medical teams: there are no single-doctor rooms, and spaces will allow for multiple doctors to collaborate at the same time, Scheurer said.
Team-based medicine yields not only more thorough and better coordinated care, but also novel solutions and approaches to problems, often coming from medical personnel that in recent years has acquired better preparation and more prominence—everyone from pediatric nurse practitioners to neonatal physicians' assistants, and people called child-life specialists, who help children transition into hospitalization.
As a matter of fact, Soutter points out, until recently there were few pediatric subspecialists like himself.
"Not long ago, it was all done by adult [medicine] subspecialists," he said. "A pediatric pulmonologist today is much better at his craft than he was twenty years ago. So, not only is pediatric medicine more team-oriented, but everyone on the team is doing it better. It's no longer the old doctor who heads up the team and says this is the way we have always done it and this is how we are going to do it."
Tools & Drugs
One of the greatest improvements in medicine for children is the availability of tools that are miniaturized for procedures on babies and machines that accommodate the needs of babies' bodies.
Soutter has been in pediatric surgery for more than 25 years now. He routinely performs appendectomies and circumcisions, and operates on everything from hernias to cancers and a torrent of other afflictions in newborns and teenagers. Until recently, he had no tools but the ones used on adults, and, in fact, it was the advent of minimally invasive surgery techniques for adults that brought about an investment in tools for surgeries that left smaller scars and required less downtime.
"Tool manufacturers simply did not make them," he said.
Areas still exist that lag behind, such as, flexible cameras and scopes and instruments for robotic surgeries that are proving to be effective in some fields, Soutter said. Nonetheless, many miniaturized surgical and other medical tools are available now, in addition to pediatric ports for catheters, pediatric X-ray machines that use less radiation, and heart pumps and other machines to accommodate a baby's needs during heart surgery or breathing interventions. Blood tests are efficiently performed on tiny amounts of blood—when not much can be drawn—and there are tiny cuffs and tubes and ampules for drugs, as well as child-sized pads for CPR. MUSC's new children's hospital will be perfectly child-sized, said Atz, and that is an exciting development. In addition, technology, in the form of telemedicine, has made the care of subspecialists available to children in rural areas, which were previously starved of pediatric care.
On the other hand, such progress has not yet touched pharmacology. Drugs are still largely made and approved for use in adults, then simply applied in lower dosages to children, even though some of their pathways and processes are different (for example, livers and kidneys). The margin of error in the administration of a drug to a child may be different and is certainly narrower.
"It requires investment in time, people and a team to make sure that a margin of error is lived well within," Scheurer said.
But, even there, improvements in awareness and education are guiding doctors better, as are the availability and exchange of information between healthcare practitioners, families, and educators. Overall, doctors agree that pediatrics is a new world today.
"Our ability to become aware of the things that influence our children's health is better than it has ever been," said Scheurer, "and the access to knowledge puts us in a position to improve children's health remarkably."