Peruvian Cuisine Comes to the Lowcountry
By Wendy Swat Snyder
Photos by Aleece Sophia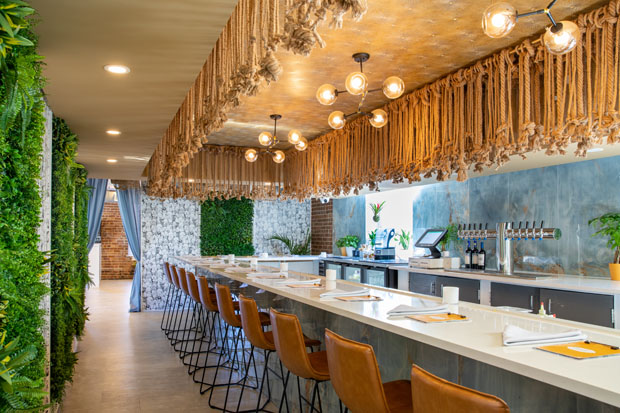 Peru—the people, the history and culture—is what Pisco Mar, a newcomer to the Charleston scene, is all about. It's storytelling at its best, traditions revealed through the prism of a cuisine, one that is as much a national pride as it is intensely personal.
The sleek chef's table concept debuted in November 2022 on the second floor of Port of Call Food + Brew Hall, situated across from the historic Charleston City Market downtown.
Pisco Mar brings to bear the culinary style of executive chef Esteben Diaz, whose passion, born in the familial kitchen, broadened into a unique gastronomic perspective formed over decades of travel throughout his native country.
"I'm very excited to show the people of Charleston the diversity of Peruvian dishes," says Diaz, who formalized his education at Peru's Cenfotur College of Culinary Arts. "My father was an engineer, so we traveled a lot throughout Peru for his work. My mom learned the many versions of South American dishes that were found in the cities we visited—the food we were exposed to was not just confined to the cuisine of our hometown, Chiclayo."
Authentic and diverse, Diaz's take on Peruvian cuisine dovetails well with the food hall concept that debuted in the Holy City in October 2021.
"We wanted to bring an eclectic variety of tastes to Charleston," explains Ryan Kaufmann, who co-owns Port of Call Food + Brew Hall with Thomas Berry. "Big cities around the country have embraced the food hall model but there was nothing like that here. We saw a hole in the market that needed to be filled."
Kauffman's entry into hospitality began with Wild Wing Cafe, where he was part of a start-up team opening restaurants throughout the Southeast. He later opened his own place, The Shelter Kitchen + Bar on Shem Creek, which he sold recently after a ten-year run.
Diaz came into the picture through mutual acquaintance Ron Buckhannon and his Peruvian wife.
"They lived (in Peru) for a while," explains Kaufmann. "Ron kept telling us about how great Peruvian food is and the lack of it in Charleston. When the pandemic shut down Esteban's restaurant in Peru, Ron convinced us to book a flight and meet him—he was willing to move to the U.S. if the opportunity warranted it."
Diaz met the group in Lima and took them on a whirlwind multi-day culinary tour, showcasing both authentic dishes and the more adventurous fusion side of Peruvian food.
"We loved him," says Kaufmann. "We thought he was a great guy and liked his vision of what he wanted to offer Charleston."
Diaz seized the opportunity. A few weeks later, in June 2022, he moved to the States. By November, the team was ready for the grand opening, with a menu that showcased coastal Peruvian cuisine—1,500 miles of coastline inform Peru's sea-centric foodways. Mar is Spanish for sea, Pisco is Peru's national liquor—the inspiration for both the restaurant's name and the cocktail menu.
"The Pisco sour is the national drink of choice," adds Kaufmann. "The liquor is made from grapes but is as potent as vodka or tequila."
What unfolded when my guests and I visited was a story told in eight courses. We were seated in a slender private niche thoughtfully carved out of a space in the food hall's mezzanine.
"Both Ron and I are contractors," says Kaufmann. "We took another tour of Peru so we could loop the local architecture and design back into Pisco Mar."
Inside, clean contemporary lines and a palette of whites contrast with pops of color from green "foliage" wall coverings and a rustic rope "curtain" suspended over the bar. Behind a long, L-shaped bar is where the magic happens—where Diaz and his culinary team compose each of the evening's courses, one plate at a time.
"The structure and atmosphere of the space lend to a chef's table concept," says Kaufmann. "And we want people to really experience a variety of Peruvian cuisine," adds Diaz.
Experience we did. Every dish was a surprise, often composed with ingredients that appeared familiar, yet packed with flavors that were refreshingly unique.
The first-out palta rellena, an avocado salad, bright with a combination of al dente peas, lima beans, hard egg and thick chunks of avocado garnished with razor thin strips of tortillas for a bit of crunch—presented on a bed of a sweet beet puree. The dish was a lovely contrast in textures and paired nicely with a frosty pisco tonic.
Chupe de camarones, a light shrimp bisque topped with a soft egg, is traditional in the south of Peru and one of the most popular of the country's many stews and soups. The team sources produce from Limehouse, and, to maintain a dish's integrity, other ingredients like the shrimp, are sourced from Peru.
Ceviche Peruano, the country's national dish, featured bright citrus-y bites of fish, red onion, cilantro and a bit of crunchy texture from corn nuts and plantain chips. According to the chef: the taste of ceviche is full of love and must have a lot of spice.
A kabob-like dish, the anticuchos de corazon featured heart of beef, marinated and roasted, paired with thick, crunchy yucca fries. Another novel must-try dish.
Tiraditos, another version of ceviche, showcased bites of yellowtail. Added wow factor was supplied by unexpected chunks of sweet potato and a spicy aji amarillo sauce. Diaz says the cevishe sampler is not uncommon in Peruvian restaurants.
Crab came to the table sandwiched between cloud-like layers of finely mashed potato. Called causas cangrejo, this potato tower was served cold with an herbaceous green sauce—we understood why the refined dish is another Peruvian favorite.
Arroz con pate, a dish from the chef's hometown, featured tender slices of roasted duck on an aromatic bed of savory rice, garnished with marinated red onion—a perfect touch of acidity offsetting the richness of the duck.
We were all sighing with joy over dessert. The rich custard, suspiro a la limena—sigh of a woman—came beautifully presented, topped by a port wine spiked meringue and showered with cinnamon. The base, manjar, gets its rich caramel flavor from evaporated milk. A tip from the chef: dig down deep for the touch of pisco in the dish.
From the first course to the last luscious dish, Diaz brought his extensive knowledge and culinary skill to bear—exciting flavors presented with a bit of history, and a big gracias to his mamá—an innovative introduction to Peruvian cuisine in the Holy City.
Pisco Mar
99 S. Market Street
Charleston
Reservations available on Resy