Women in Business 2012
01 May 2012
The spirit of the entrepreneur is alive and well. Meet the female entrepreneurs who have proven they have the skills and business acumen necessary to achieve success in Charleston's competitive market.
By Amy Kehm and Jason A. Zwiker Photographs By Lea Dales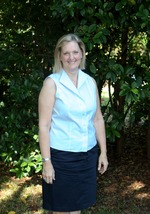 Camille Wish
Terrace Oaks Antiques
Her father's passion was wood. Tables, chairs, or a chest ofdrawers; it made no difference. If it caught his eye and he could fit it in theback of his car, he'd bring it home. Helping him refinish the pieces inspiredCamille Wish's lifelong love of antiques.
Born and raised in Charleston,Camille was one of the original dealers at Terrace Oaks Antiques 24 years agowhen it first opened. Today, she's the owner. She has a special love forsterling silver, flatware, and estate jewelry, but really, her favorite thingabout being in the antique mall is the sheer variety of treasures. "We haveover 90 booths with everything from European and American furniture to vintageclothing and first editions from local authors like Archibald Rutledge."
"There are always trends," sheadds. "A lot of people are looking for retro styles from the '60s and '70snowadays. And the 'shabby chic' stylefor the beach."
Camille understands the joy of collecting,of browsing an antiques store for rare goodies. She still remembers the day,long ago at a weeklong antiques festival in Massachusetts, when she chancedacross two paintings of camellias, immediately recognized the style, andthought, "Wait… that can't be right." But the signature was right there. Shebrought out her loupe, inspected the paintings carefully, and realized thatyes, they were authentic. She asked the dealer if he knew anything about theartist. "No," came the reply, "Just that it's a Southern artist."
She bought the paintings on thespot and then called a friend to share the news. She'd just purchased two circa1958 Anne Worsham Richardson originals.
Camille loves to travel, especiallyif there is an antiques show or fine architecture to be explored. "Once after atrip to Italy, I was looking at my photos and just about everything was of thearchitecture." She is active in her church, where she sings with and conductsthe choir, and she likes to draw in her spare time.
She encourages those who lovecollecting antiques, as she does, to do plenty of research in the beginning.Learn about whatever fascinates you – be it Civil War memorabilia, glassware,or pottery – and be able to tell the real thing from a reproduction. Your new foundknowledge will reward you and your adventures in the realm of antiques shoppingwill be more fun than ever.
Catherine Moorehead & Cindy Clark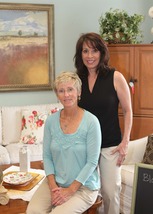 Next to New
Ask Catherine Moorehead what brought her to Charleston and she'll laugh andsay, "Well, it was a long road." Born in Northern Ireland, she grew up inCanada and moved to Michigan for high school and college. She worked in AnnArbor, doing medical research for many years. Then, her husband received a joboffer in the South Carolina Lowcountry.
"We'd been here before and wereally liked the area – the beaches, the ocean, the outdoor recreation – so, ofcourse, we wanted to stay."
Catherine began working infurniture consignments, and when the opportunity arrived for her to becomeco-owner of Next to New with business partner and friend Cindy Clark, she tookit.
"I like the idea of giving new lifeto something by refinishing, painting, or repurposing. A fresh coat of paintcan change the whole look of something, make it stylish again."
Vintage and antique furnishings arethe specialty at Next to New, their consignment furniture store in The Shoppesat Brickyard in Mount Pleasant. Lamps, mirrors, rugs, artwork, drapery panels, andother accessories round out the inventory.
"My advice is to shop often becausewe get new items in on a daily basis. We have hundreds of consigners, bothregulars and people who may do this one time while they are moving, downsizing,or redecorating, so there is always something new to find."
Moving and redecorating are timesof change in people's lives and that's when the interesting stuff happens."There are always great stories," she says.
Both Catherine and Cindy enjoygetting to meet customers and consignors alike, sharing the joy of decorating ahome. They love to hear about the styles and looks customers are interested inand really enjoy being able to help a shopper find the perfect item for his orher home.
And, of course, Catherine and Cindyenjoy one another's company as well, a huge plus for partners in any business."It's a great partnership," Cindy adds. "We're not only partners, we're alsofriends. That makes a big difference."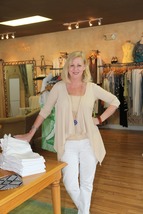 Penny Vaigneur
Copper Penny & Shooz
Perhaps you have picked up a dollar bill with lots of nameson it. Or maybe there are places scribbled on it. You read the names of statesthousands of miles away, or perhaps even different countries. The well-traveleddollar bill has character and experience.
Pennies can have that too. One particularPenny used her character and experience to take a family operated company fromidea to mega-success.
Penny Vaigneur, owner of the localCopper Penny and Copper Penny Shooz stores, proves that using your experiencesand passion can equal grand success. For her first 16 years, Vaigneur waswithout a place to truly call home. She was born in Jacksonville, Florida, butby age 2 ½ she and her family, due to her father's military career, were livingin Guam.
"And that began my travels around,"Vaigneur explained.
From Guam, the family returned tothe United States, to Fort Belvoir, Virginia. Then, it was off to Germany for afew years, which meant visits to places such as Berlin, Austria and Italy. Nextup for the clan was Fort McClellan, Alabama. "One thing that sticks with me is thatevery place I lived, the people seemed to "be" from a specific place, hadrelatives there," Vaigneur recalled.
The family next moved to Mount Pleasant,where an aunt and cousins were also living. Young Penny felt that she wasfinally home. "I was actually going to be from a place," she noted. "I reallyloved that feeling – having roots somewhere."
She became an x-ray technician,then a bank teller. Her high school boyfriend became her husband. Vaigneur stayedhome to raise three sons, yet she always had some sort of part-time job. Shemodeled, served as a personal shopper and worked in various shops along KingStreet.
As a child, she loved everythingthat was girly. As a woman, she felt more and more pulled toward fashion. "Ijust always, always loved everything there was to do with fashion," sheexplained. "I always wanted to have the hottest new thing there was."
Her husband was a commercial fisherman,but the local fishing industry began to suffer. The couple had a choice to searchfor new jobs separately or delve into something all together. With backgroundsin fishing, x-rays and banking, the duo opted for something that might haveseemed unlikely – a clothing store. And thus Copper Penny was born – theupscale local clothing, shoe and accessories boutique known for its uniquestyles.
Copper Penny began in 1987 at MountPleasant's Village Pointe Shopping Center, but after four years the shop movedto the nearby Northcutt Plaza. "To our surprise, it really took off and starteddoing so much better than the other [store] did."
The store moved into a larger spacein the same shopping center, then Vaigneur got the itch for more. In 1999, sheventured downtown to King Street, where after a short time her middle son,Bryan, became the manager.
Vaigneur was far from being finished.In 2003, her youngest son Blake graduated college with a finance degree. Thefamily opened up its first Copper Penny Shooz store on King Street, with Blakeat the helm. At the end of that same year, Copper Penny opened in MountPleasant's Towne Centre, and in 2004, Cooper Penny Shooz opened there as well.
The family had a stint with CopperPenny Bridal from 2004 to 2008, but sold that venture. Instead, they decided toexpand beyond the Lowcountry. In 2007, Copper Penny opened in Savannah to helprevitalize the city's Broughton Street, and because Vaigneur's husband was bornthere. In 2008, an old friend approached about opening in the Myrtle Beach area– in the new Market Common center near Murrell's Inlet.
Besides son Bryan and Blake, thecouple's third son Ty, is also now involved in business operations. "I knowthat having the boys involved in the business gave us the opportunity toexpand," stressed Vaigneur. "They had a lot of great ideas and encouraged us toopen more stores and to grow."
For Vaigneur, the family businessis an example of a simple dream becoming a reality. She has advice for otherwomen: follow your passion.
"I've always felt that this is whatI was meant to do. It's where my passion was," she said. "Whatever it is, ifyou are passionate about your job or your creativeness, you'll usually besuccessful and be happy."
While she travels to big cities such as New Yorkand Atlanta in search of fashion treasures, for Vaigneur, the Lowcountry willalways be where her roots are.
Dr. Virginia Gregory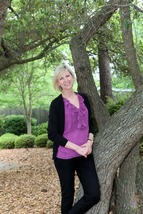 Virginia L. Gregory D.M.D.
Dr. Virginia Gregory's smile is not only pristine, it isgenuine. This is a woman who loves her work and who has devoted her career topreserving and enhancing Lowcountry smiles.
At Dr. Gregory's office along WestColeman Boulevard in Mount Pleasant, warmth welcomes you. Deep melon coloredwalls, comfy furniture and cozy decorations make you feel at home. In fact, youmay not even believe that you're about to see a dentist. This, for Dr. Gregory,sets the tone for the experience patients will receive.
According to Dr. Gregory, patientscan expect "A lovely environment, a quality environment that supportsexcellence. It's a whole package of services you're providing to people, and itstarts with the first impression someone makes of you."
The Hendersonville, North Carolinanative always felt a calling towards dentistry. She studied dental hygiene asan undergraduate student and then received her master's degree in speechpathology. Dr. Gregory moved to the Charleston region and began working as aspeech pathologist in Charleston County public schools.
Yet, Dr. Gregory felt a callingback to dentistry. In 1985 she received her doctorate of medical dentistrydegree from the Medical University of South Carolina. After a year, she openedher own practice in Mount Pleasant.
"It was pretty scary," Dr. Gregoryrecalled. "You just get out there and learn. I started from scratch and builtit up."
As her practice grew, Dr. Gregory becamedrawn to the aesthetic side of dentistry. She enjoyed working with naturallooking materials to enhance smiles. As she pursued continuing education, shewatched as the availability of such materials expanded. It fascinated her.
"Dentistry is so new every day.Every patient is a new challenge."
While Dr. Gregory still practicesgeneral dentistry, her curiosity and passion developed into her own sort-ofspecialty in cosmetic and restorative dentistry.
"The face and your smile [are] thefirst thing people notice about you. It's what you present to the world," said Dr.Gregory. "When that gets restored and a patient feels confident and happy, wethen see transitions in all parts of their lives."
Dr. Gregory completed specializedcoursework at the Las Vegas Institute for Advanced Dental Studies to become anelite LVI preferred dentist. She has transformed patients' appearances throughwhat she calls "smile makeovers." This may include simple fillings, crowns, veneersor inlays and onlays, or it could mean full mouth reconstruction usingporcelain, implants or neuromuscular techniques.
According to Dr. Gregory, she hasseen smile transformations become life transformations. She adores seeing herpatients bloom. Shyness often fades into confidence. Personalities shinethrough.
"Those are the exciting days," Dr. Gregorybeamed. "It is really just a great skill. I am blessed to be able to do thatfor my patients."
After 27 years in practice, Dr. Gregoryhas bonded with her staff and with her patients. One staff member has been withher for 22 years. Others have been there for 10 – expertise is paramount. "Havinggone through a number of those levels (of continuing education courses) we'vegotten to where we feel we can really provide that advanced service to patientswho need it."
Dr. Gregory attributes much of hersuccess to being a woman. Her staff, presently, is comprised of all women. "I think that being a woman in dentistry is a real plus,"she explained. "Thirty-seven years ago, there were very few women in privatepractice, so I was able to establish myself in Mount Pleasant.
"We cangive the compassion we need to give. We don't rush things. The relationshipsare very important to us."
Returningto dental school those many years ago was the best decision for Dr. Gregory.Her career fulfills her in huge ways. "Dentistry is the perfect career for me.I love working with people and I love helping people. And helping peoplerestore their smiles can be a life changing experience for a patient," Dr. Gregorysaid with sincerity. "And it can be very gratifying when you see them become sohappy."
Asidefrom dental expertise, Dr. Gregory enjoys painting, shopping andtraveling. She is married with a college-ageddaughter and lives on the Isle of Palms. The Lowcountry will always be home forher.
"I'm here until I retire. I mean, where would I go?" Dr. Gregory smiled."This is home – who would want to go anywhere else anyway?"
When you meet Sara Colucci, you will meet a true gem. Sheruns Colucci's Jewelers in Summerville, alongside her husband Michael. She mayhave married into the jewelry business, but it is exactly where she wants tobe.
It has been a tangled and sometimespainful path that led her here. Colucci never knew what she truly wanted to do inlife. "I don't know what the color of my parachute isand I don't know if I ever will," she joked.
Colucci had run her own medicalbilling company for years, and in 2005 entered the real estate world. In bothpositions, she credits her determination for her success. "I guess I've alwayshad an entrepreneurial spirit," she noted.
Life was good, but in 2007 when herdaughter Bishop was only three years old, her husband suddenly died. Coluccislipped into a brief "not-wanting-to-get-out-from-under-the-covers" kind ofsadness.
"I was completely devastated whenmy husband passed," said Colucci. "The pain was so intense and so deep." Butshe had a preschool-aged daughter to raise and she made a decision – "I had tosurvive."
She plugged away at real estate fora few more years, when a friend set her up on a blind date. She took one lookat the man, Michael, and knew something big was about to happen.
"Oh my gosh, it's you," she toldhim.
Colucci knew of Michael – she hadseen him around town when she was a teenager, and in fact had once spoke to himacross a fence in her yard. It just seemed right that he blind date was withhim. "It was definitely love at first sight," Colucci remembered. "It couldn'tbe anything but fate."
Michael had a daughter, Milan,nearly the same age as her little girl. He too was an entrepreneur with adiverse professional past. He had, at that point, purchased the Colucci'sbusiness from his father and launched the Summerville store.
The duo began working together andin June 2011, they married. There is a small loft at their store which servesas a play space for their eight-year-old and seven-year-old daughters. Everyaspect of their lives intertwine.
"I love coming to work, being withmy husband and having the flexibility to have my children come here," Colucciexplained. "It is a real blessing."
Colucci's approach at work is ablend of businesswoman and neighbor. She prides herself on excellent customerservice, and strives to act fairly, morally and ethically while treating eachcustomer with kindness.
"She compliments me on a businesslevel and we also share the same morals and values in how we treat ourcustomers," Michael said. "She just has that innate ability to communicate andrelate to customers."
Michael explained that Sara'spresence at the store brings in a unique perspective. "It's almost priceless tohave someone who has such respective business savvy and owning her ownbusiness. And then as a woman, be able to relate to the frustrations that otherwomen encounter on a daily basis," he said.
At Colucci's Jewelers, staff membersdo not just sell jewelry, they also make the pieces. If someone brings inphotos of two rings they like for different reasons, the jeweler will blend thetwo designs together to create a unique, one-of-a-kind piece. In addition,Colucci's offers redesigns of current pieces. A customer can bring in a piecewith an outdated style, and the jeweler will remove the stone and setting tocreate a new piece. It is a 3D custom design process – the same method used bythe famed Tiffany's store.
In late April, Colucci plans tolaunch a new venture in Summerville called TheGold Standard. She describes it as a "comfortable environment" wherecustomers can go to sell their unwanted gold pieces. They will be welcomed withan expert opinion on what their merchandise is truly worth. Colucci will notship out the gold, but instead use the materials to create new treasures.
Through the years, Colucci said shehas put her trust and faith in God. She said that each day, she thanks God forthe life she now lives. "I am at a place of peace – honestly, I am finally at aplace of peace."
Ever since she was a child growing up in Walterboro, Debbie Maccario lovedclothes. "I was always very fashion oriented," she says. "I even used to sewclothes for my school mates. For me, it's always been about figuring out whatlooks good on someone. I have an eye for that."
Debbie's path to Maggie Rose, herladies boutique of simple elegance in the historic downtown district ofSummerville, has carried her to places as near as Georgia and as far away asGermany. Along the way she has worked in clothing sales, ad sales, and travel,but the common theme in all of it has been her connection with people.
When she found herself back in theSouth Carolina Lowcountry, an ad in the newspaper provided just the inspirationshe needed. "When I saw that a store in Summerville was for sale, I thought:this might be a great way to get back home."
She did exactly that. She made thestore her own, naming it Maggie Rose in honor of both her own mother and herhusband's mother. "It also has a nice Southern ring to it, and that's what astore down here should have."
She set to work filling the storewith fine fashions and establishing herself as a merchant with expertise inmatching the customer to the clothing. She also found herself reconnecting withthe people she grew up with long ago.
"I'd been away for 28 years, butpeople would come into the store, we'd talk, and realize, 'Oh, it's you!'That's the best part, learning people's stories, seeing what they've been up toall this time."
And of course, along with thereconnection, there is the added benefit of some savvy fashion advice. "This iswhat I've studied: fashion, makeup, body shapes. And it's what I enjoy. I enjoyhelping my customers select the look that is going to make them look theirbest."
"You want to consider colorscarefully and you want to consider what does or does not accentuate your goodpoints. It's not enough that an outfit looks good – you want to be sure that itlooks good on you."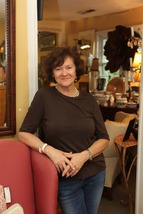 Linda Kammel
Victoria's Furniture and Lowcountry Consignments
Love to shop? Linda Kammel understands.
"I've always been a thriftshopper," she says. "That's what makes this my dream job."
Linda has worked in retail eversince she was a teenager. Her knack for finding the best bargains in clothingand home furnishings helped her guide others to the good stuff as well. Atfirst, her specialty was clothing, but over time, she discovered the joy offurniture.
"It was natural for me because I'vealways felt there was no reason for furniture not to have a second or thirdlife." Now, she has two stores, one for smaller items, and a 'big sister' storefor the larger pieces.
Originally from Ontario, Canada, Lindahas lived in Mount Pleasant for the last 25 years. She not only fell in lovewith the warm Southern climate of the South Carolina Lowcountry, but also withthe friendly, laid-back attitude of the people.
She has seen a renewed interest inconsignment stores in recent years, as more and more people look for bargains.
"After the economic downturn,people who'd never before shopped here started coming in," she says. "Once theysaw the prices and saw the selection, they said, 'Wow, why didn't I do thisbefore?'"
Not only has she seen more peoplebecoming interested in the kind of bargain-hunting that has always thrilledher, but she has seen new technology bring faster and more efficient ways ofshopping for specific items to the table.
"Customers who follow us onFacebook, Twitter, or Pinterest can see new items as they arrive. It's a veryeffective way to see what we have in stock, because the selection is alwayschanging. You can also give us a 'wish list', and when the items on your listcome in, we'll give you a call."
It's a lot of work, keeping bothstores and their online presence hopping, but Linda wouldn't have it any otherway. "This is what I love to do," she says. "My work is my fun."