39 Rue de Jean
01 May 2012
The staff at 39 Rue de Jean have developed a loyal following with their authentic French style cooking and chic brasserie décor.
By STEPHANIE HUNT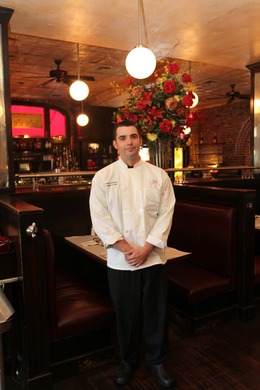 Louis XIV was a man of robust appetites and sublime indulgences – think the opulent Versailles and the Louvres, a royal residence in the 1600s. Three centuries later, those of us in Charleston with robust appetites, say, for decadent pommes frites or sumptuous coq au vin, owe a debt of gratitude to the great Sun King, for it was the very Catholic Louis XIV who revoked the Edict of Nantes in 1685, sending droves of persecuted French protestants fleeing to the colonies. These Huguenots found safe harbor in Charleston, where their contributions included leaving an indelible imprint of high culture and European influence in the Holy City, both in its architecture and general air of tasteful sophistication – an influence celebrated at 39 Rue de Jean.
While not officially in the city's French Quarter, 39 Rue de Jean is the defacto Left Bank of Charleston, the always hopping Parisian hub for all things authentically francaise. Since it first opened in 2001, Rue de Jean has satisfied the cravings of visitors and locals who appreciate the refined high art of braising and the comfy snazz of brasserie style simplicity. "There is so much Southern focus in Charleston, and lots of great contemporary American dining, but we really feel there needs to be great French food in such a culinary city, especially one that has been so influenced by the French. That's what we try to do," says Rue's executive chef Aaron Lemieux.
Lemieux, as his name implies, is solid French stock, but the Connecticut native "didn't grow up eating frissee lettuce," he admits. "My French mother cooked meatloaf, manicotti, just normal fare." He worked at an Italian restaurant in high school, then in college earned extra cash working in a restaurant kitchen, which was where he discovered his culinary passion.
A graduate of the Charleston Culinary Institute, Lemieux has been the roi of "the Rue" since 2007. "I'm a working chef, I'm not just walking around the kitchen with a clipboard," he explains. "I have an athletic approach to what I do, always working to be the best, always striving for more." Which is a good thing, because serving some 300 patrons a night and 200 at lunch requires an athlete's agility and endurance, as well as strong team spirit among the 24-person kitchen crew. "We have great rapport here, which I'm proud of. That's so important for such a busy restaurant," Lemieux adds.
39 Rue de Jean is not a new fangled hotspot on the burgeoning Charleston foodie scene; rather, think of it as an Old Faithful. Its popularity has remained steady over the years, with a loyal local following that knows the mussels will be beyond compare, the bread hot and crusty, and the burgers just the right meaty and juicy antidote for whatever ails you.
The traditional brasserie décor, with vintage mirrors, big plate-glass street windows, a zinc bar and classic bar stools, red leather banquettes and varnished café chairs in the dining room, is warm and inviting – authentic to the tee. The bar atmosphere is especially lively, a place to see and be seen, where patrons can enjoy a wide selection of craft beers and of course, beaucoup de French wine. There's also outside dining under an awning along a quaint alley that completes the restaurant's Où est le Champs-Elysées? feel.
39 Rue de Jean's menu offers a huge variety of satisfying options, from Scallops Saint Jacques with rich cream that would make Julie Child melt, to Braised Rabbit to local flounder. "We're both French and also modern American," says Lemieux. "People love our sushi, our oysters from the raw bar, and our burgers as much as our Coq au Vin. I will incorporate local ingredients, like okra and corn, and use traditional French techniques, but try to lighten up some of the dishes a bit. For example, my Shrimp Basque is a new menu item that I've worked on for months until it's where I want it. It takes a day and a half to prep, but it's all about simple, quality ingredients and classic technique."
Over the years, 39 Rue de Jean's core menu staples, like the succulent fall-off-the-bone short ribs, have remained the same, but the popular Plat du Jours change up frequently, according to Chef Lemieux's seasonal inspirations and ingredients. And if there's one dish that illustrates the attention to classic technique and labor intensive no-cutting-corners approach at 39 Rue de Jean, it's the Coq au Vin.
"It's easily a two day affair," Lemieux explains. "First we brine the chicken for 24 hours, then we let it cool completely in the brine for another 12 hours; it takes one hour to sear it, then another two to cook, then we take all the fat off and reduce the cooking liquid separately." (And there are about three other steps that I was too distracted by hunger pangs to get!) The result is meat that is so flavorful, tender and moist you know it is a work of love and art. Lemieux happily shares his recipes, but who on Earth would endure that ordeal when the good folks at Rue will serve it up for you?
39 Rue de Jean and its next door neighbor, Coast, and Virginia's just around the corner on King Street, are all part of the aptly-named Holy City Hospitality Group. Each spot has its own distinct flavor and appeal, but all three share a commitment to excellent food in a convivial, welcoming atmosphere.
39 Rue de Jean as the flagship restaurant of this group, set the bar high. And fortunately for Charleston's Francophiles, the bar at 39 Rue de Jean remains high, and even better, it's open late. The Huguenots would be proud of their culinary legacy here in the Holy City; persecution never tasted so good.
39 Rue de Jean
39 John Street, Charleston
(843) 722-8881
Mon-Sat 11:30-1am
Sun 10am-3pm
www.39ruedejean.com