A Charleston Icon
01 Jan 2012
Charleston's longest running mayor sits down for a one-on-one about his career, family, and future outlook for our holy city
By DENISE K. JAMES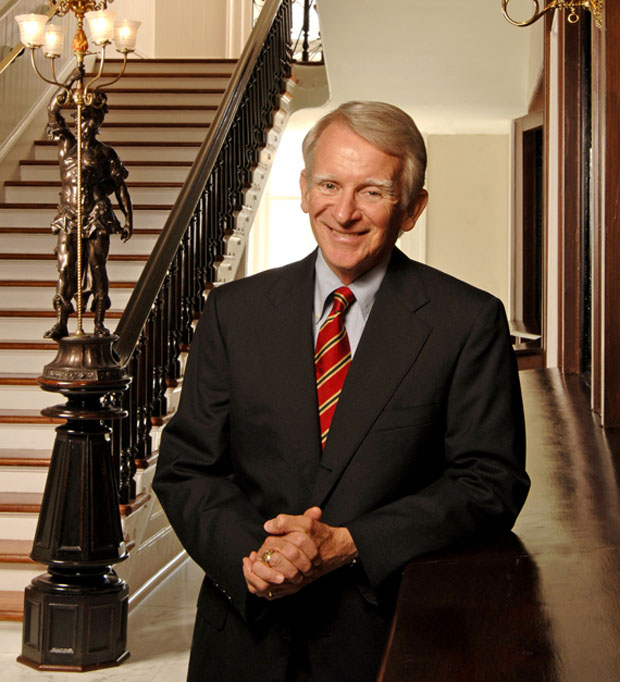 Stuck in slow traffic and worried that I would be late for my interview with Mayor Joe Riley, I finally parked on State Street and sprinted, in my Nine West flats, as fast as possible to City Hall. Visitors on leisurely strolls gazed at me in curiosity and amusement as I huffed past them.
Boy, are you guys lucky to be on vacation, I thought to myself. But then, I'm lucky to live here.
"The secret to a great city," muses Riley later in his office, "is making sure that its citizens are happy and truly enjoy living in it. If the locals are happy, the visitors will naturally follow. Just look at Paris. Everyone wants to visit Paris, and everyone who lives there adores the city."
Mayor Joseph P. Riley has been at the helm of this adored city for over 30 years now. He's seen Charleston's challenges and triumphs and has managed to encourage an attitude of industrial growth and cultural progress. As we begin 2012—and he begins his tenth term—Charleston's horizon looks brighter than ever.
Riley's passion for leadership began when he was just a child, growing up here in Charleston and learning by his father's example.
"I was a happy boy with devoted family and friends, plenty of sports, and boy-scout meetings," he says with a laugh. "I was always interested in current events and politics. In fact, I ended up being the president of my senior class in high school. My father was very active in the community. He was president of the Chamber of Commerce; he led fundraisers. He was important to the city. My mother was quieter, but she was his backbone. They complemented each other perfectly."
When Riley was initially elected to be the mayor in 1975, Charleston was not what it is today—nor was it the bustling city of his childhood.
"When I first came to this office, downtown Charleston was a mere shadow of its former self," he says. "I thought back to how the main streets were once bustling and full of eclectic character and small businesses. It became my goal to revive and restore the city. Of course, the face of Charleston in 2012 is different from in those days. But the most important things, the health and vitality of the area, are restored."
The accomplishments during Riley's reign include a revival of King Street, the growth of Spoleto Festival USA, and Waterfront Park, to name a few. And unless you've been living in a cave, it's apparent that the media has taken note of Charleston's renaissance.
"We've become a national pride and we have all, as a community, worked hard for that," says Riley. "The residents thrive because of our diversity, culture, beauty; qualities which each of us have worked dearly to instill."
Not that Charleston's recent history has been all roses. There have been dark times and challenges, but Riley encourages everyone in the city to remain optimistic.
"One example of something that challenged all of us was Hurricane Hugo back in 1989," he says. "It was inspiring how the community responded to that disaster, in both preparation and then in recovery. I'd even go as far as saying that I now remember the aftermath of the hurricane not as a dark era, but as a wonderful instance of the community taking a setback and turning it into an opportunity."
Riley got another taste of the residents' willpower when the Naval Base closed in 1993. "That base was a mainstay of the region's economy, but with the proper amount of energy from the community we were able to propel ourselves out of a potentially bad situation."
A more recent time was in 2007, when nine of Charleston's fire fighters were lost to the Sofa Superstore tragedy. "The fire was tragic and unexpected, but likewise, the citizens responded in a positive way," Riley says. "The outpouring of love and empathy from the community was extraordinary. In times of despair, the human spirit is an inspiring thing."
Regarding 2012's agenda, Riley has quite the full plate.
"It is a seriously exciting time to be in this city," he says with a smile. "Charleston is continuing to grow and provide. For one, we have the new cruise ship terminal underway. We're also anticipating the completion of Interstate 526 and the renovation of the Gaillard Auditorium."
Culturally speaking, Riley anticipates more development on King Street, and a more biker-friendly city. "We will continue to work with Upper King, and any other areas that need development," he says. "We hope to get funding approved for the changes to the Cross-town, and we're working to achieve an Ashley River bicycle crossing."
"What about James Island?" I ask.
"James Island voters will determine what they would like to do," replies Riley. "A fair amount of the island is already within the city, and we're continuing to annex. We'll see what happens, but we certainly welcome to the City of Charleston those who want to be part of it."
If it sounds like Mayor Riley's life is lacking in downtime, fear not—he manages to fit a good amount of relaxation into his days. "I enjoy reading, particularly history and biographies," he says. "I like to relax with a good book after supper. Right now I'm reading David McCullough's book, The Greater Journey: Americans in Paris. It's wonderful."
As for venturing into the Lowcountry's great outdoors, Riley enjoys a number of activities. "I try to stay active and in shape," he says. "I exercise by either walking or jogging in the mornings. I also like to ride my bicycle. In the warmer months I enjoy playing golf and fishing and work in my yard."
Riley puts family first, spending ample quality time with his children and grandchildren. "Our entire family lives in this area, which is fortunate," he says. "I have two grandchildren whom I love to be around. My granddaughter, Mary Gail, is six years old, and my grandson, Bratton, is three." Their photos are proudly displayed on his crowded desk.
"We love to attend events together as a family. One of our favorites is the annual Christmas Tree lighting in Marion Square," he says.
Probably the most memorable thing about Mayor Riley is his modesty. Throughout our discussion, the successes of his long and ongoing career are immediately transferred to the residents of Charleston, no matter what issue is brought up.
"The people are responsible for their own city," he affirms with a grin. He shakes my hand heartily as I leave his office. "I'm glad that you enjoy living in Charleston," he says. "I hope you'll stay for a while."