Holiday Shopping Lowcountry-Style
01 Nov 2011
Local owners give us the scoop on the hot trends and gadgets for this season
By DENISE K. JAMES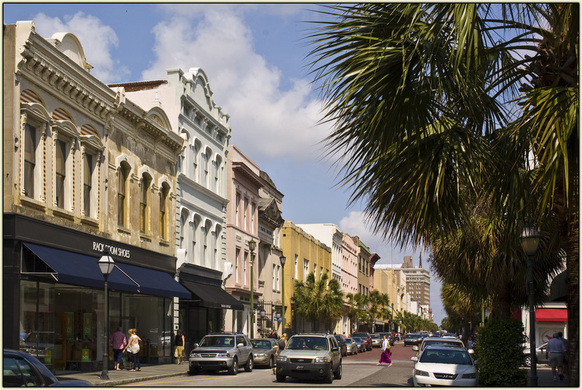 Weekends in Charleston are a true style parade, each person wearing fashionable attitude literally on his or her sleeve. Walk around the busy areas like King Street or the Avondale district and you'll no doubt be inspired. Charleston boasts a community of creative dressers—not to mention lots of cool establishments in which to shop. As the gifting season draws near, it's time to open our eyes to local luxury. Sure, it's easy to end up at Target or Best Buy, but do you really want to repeat the same gift that twenty other people bought in a moment of desperation?
Shop owner Kristen Armstrong, of the new Ensemble Boutique on James Island, is making sure to carry what's "in" this season according to the style circuit. Ensemble is fairly new to the area, open only since May, but the place has gained a cult following by word of mouth. It's a colorful mélange of chic clothing and kitschy accessories like retro hair combs. If you're shopping for a stylish sister, mother or best friend it's probably the perfect stop.
"Layering is huge right now, so I'm keeping a few lightweight items like tanks and short sleeves in the store all year," says Armstrong. "Gift buyers will also love perusing our huge selection of fun handbags and costume jewelry—it's all very affordable."
Ensemble doesn't just carry consignment items. There are local designers featured as well, like Lee Butler, and Krista Beth Huff. "A local marketplace" is what Armstrong envisioned for her boutique, and so far so good.
"If you find something to purchase as a gift, we'll wrap it for you too," she says. "We have tissue, boxes and paper right here in the shop."
Shoppers scouting upscale gifts for men and women will enjoy an array of store choices along King Street, including Berlins, Anne's, Finicky Filly, Grady Ervin, Ben Silver, and M. Dumas, a Charleston institution featuring items like suits and leather goods—but also a healthy dose of the polished, casual look that the city is known for. In fact, it's downright hard for a local shop not to admit that casual is king around these parts.
"This season we're featuring a lot of the brand called Barbour, which is a really outdoorsy look," says Jordan Lash, manager of M. Dumas. "For a preppy style, we have brands like Southern Tide and Vineyard Vines. Charleston is an extraordinarily casual place. Think of areas like Kiawah, the Isle of Palms—people come here to relax."
"We're slowly getting rid of our dressier items and bringing in a lot more street style," says Josh Rattliff of Smolder Boutique in Mt. Pleasant. "We've noticed that Lowcountry women want things that are stylish and edgy, but great for every day."
Find national designers like Betsy Johnson and Jeffrey Campbell at Smolder, as well as local designers like Troubadour. Though Rattliff stresses that the shop is turning towards a more casual trend, there are plenty of dressier items to be had for the holiday season, like fur, sequins and tuxedo-inspired looks, so party-going ladies ought to check it out.
But we all know how tough it is to just walk into a store and buy someone an item of clothing or a personal accessory. Sometimes you have to go another route and get a gift that's funny, charming and eclectic. If that describes you, then Cosmotique in West Ashley is probably the right place to find a clever gift. Personally, I wish someone would get me the pink serving spoons. They're awesome.
"We just got back from New York City, where we hunted for new items," says owner Cindy Sutton. "We branched out and found a lot of homemade items by vendors based in the United States. We're very thrilled with that, since we are committed to carrying more domestic products."
Speaking of domestic, at Cosmotique you can find beauty and bath items made on John's Island by the Deep Steep Company. You'll also discover that they offer hair and skin care in their salon—so go ahead and buy a gift card for the toughie on your list.
For the food-oriented type (and who in Charleston isn't food oriented?), you may have to make a trip to Coastal Cupboard of Mount Pleasant. The place has been open for six years, but continues to engage shoppers with their assortment of "hot" kitchen gifts, gadgets and culinary treats.
"We keep some good stocking stuffer items around," says owner Brad Pitner. "A lot of simple things get grabbed up during the season, like the Palmetto Oyster Knife, and Poach Pots."
One pretty cool gift idea is a set of handmade coasters, featuring pictures of Charleston restaurants. You can get any restaurant, from the more upscale McCrady's and Hominy Grill to neighborhood favorites like Santi's and Rita's.
For the chocolate fanatic in your life, an assortment of gourmet truffles makes a good gift. "We'll have a gigantic truffle case during the holiday season," says Pitner. "But we tend to always have an interesting selection of sweets."
Another cool gadget, the Vinturi Wine Aerator, is just about guaranteed to make your wine tastings a lot better. "It decanters your wine for you as you pour it into the glass," explains Pitner. "And of course, we have lots of wine to go with it!"
Another popular offering from Coastal Cupboard are the cooking classes, with different local chefs each time. "We've had some amazing chefs in the past, and we'll have plenty more," says Pitner. "Coming up soon, we have Shannon Campbell from Mozzo, Sean Park from O-Ku, and Kimberly Brock-Brown, a local pastry chef."
If your family likes to read and play board games, head up to Here Be Books and Games in Summerville. The shop has an assortment of used books, (and a few new) ranging from children's stories to romance and mystery, all at rock-bottom prices. They'll even special order a book for you. But the real draw to the shop is finding designer board games, and owner Tina McDuffie knows which ones are hot this holiday season. If you aren't certain what a "designer" board game is, it's a quality-made game with extraordinary artwork and playing pieces, built to last for generations. It also features the name of the game's designer, much the way a book displays the author.
"We will have a game called Dixit Odyssey this Christmas, which is a fantastic party game," McDuffie says. "It's actually the third in a series and the designer revamped the scoring so now it plays at least 12 people, but probably more."
Another game to check out this season is Telestration, a fun family game that combines the concepts of the childhood classic, "Telephone," with frantic sketching.
"These games emphasize strategy and player interaction more than simple luck," explains McDuffie. "Some of the games involve absolutely no luck. They're great for parties, because they get people to work together towards the goal."
If there is one characteristic that these local shops all share, it is sincere faith in the merchandise. It's hard not to want to shop somewhere, when the owner explains with pride how the items are hand-selected for Lowcountry shoppers. Take advantage of it.