A Life of Tea
07 Jul 2016
American Classic Tea founder proves tea can grow in the Lowcountry
By HOLLY FISHER » Photos by STAN FOXWORTHY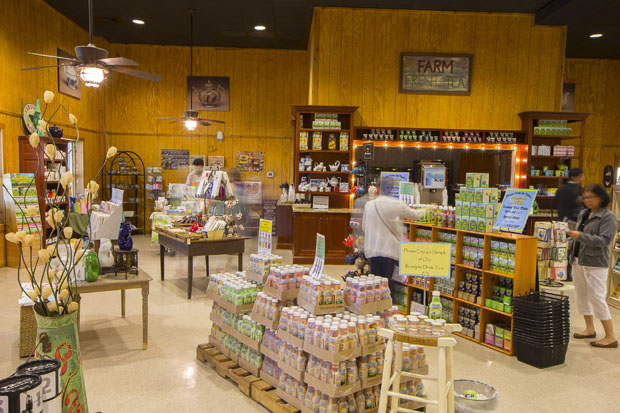 William Barclay Hall knows a thing or two about tea. Hall has been living, breathing and tasting tea for decades. A third-generation tea taster, Hall followed in his father's footsteps training as an apprentice in London – the center of the world tea trade.
For four years, Hall tasted anywhere from 800 to 1,000 cups of tea each day, five days a week. Today, as the man behind the Charleston Tea Plantation, Hall is still tasting dozens of cups of tea each day to ensure the tea coming out of the plantation is of the highest quality and consistent across every cup, glass and mug.
Hall settles in with a plastic cup of iced tea from the tasting station in the gift shop to share some history – both his own and that of the Charleston Tea Planation and the centuries-old tea plants he nurtures on the tea farm.
Hall bought the land in 1987, eager to turn the space into a working tea farm and educational opportunity. In 2003, the Bigelow family – known for its orange peel and sweet spice "Constant Comment" tea – purchased the plantation and formed a partnership with Hall. The Bigelow's brought 65 years of experience in the specialty tea business to the plantation's American Classic Tea brand.
Over the years, the Charleston Tea Plantation has become a tourist attraction, welcoming 75,000 visitors each year to see how tea plants grow and how the tea leaves are harvested and turned into a refreshing glass of iced tea or a warm comforting mug of hot tea.
"I wanted a place to educate people on tea," Hall said.
Visitors can tour the factory, board a trolley to ride through the acres of historic tea plants and learn all about the rich history of tea in the Lowcountry. The tea plant, Camellia Sinensis, traces its American roots to the late 1700s when the plants came to the United States from China and were used as ornamental plants rather than for making tea to drink.
For more than a century there were many attempts to grow tea in South Carolina, but to no avail. Not until Dr. Charles Shepard founded Pinehurst Tea Plantation in Summerville where he grew award-winning teas from 1888 until he passed in 1915.
For almost 50 years the plants grew wild at Pinehurst until they were transplanted to a potato farm on Wadmalaw Island, which Lipton owned and used as a research facility, until Hall bought the property in 1987.
A Life of Tea
It was a likely move for a man whose grandfather and father were tea tasters. Hall's first job in the industry was an entry level position at a Montreal, Canada, warehouse where he lined wooden tea chests with aluminum foil.
At age 17, Hall headed off to his tea apprenticeship in England where he studied with Brooke Bond, then the largest tea company in the world, and Van Rees, a Dutch tea company and one of the largest tea dealers in the world.
Hall was constantly tasting tea and learning the ins and outs of the business. The goal at the end of the apprenticeship was to taste 10 different teas and be able to identify each one's country and region of origin and maybe even the exact tea plant used to make the tea.
After his apprenticeship ended, Hall opened a Van Rees office in Argentina – a country that supplies a great deal of tea to America. After more than four years, Hall partnered with his father to open their own company dealing tea in the United States.
On his way to a tea convention, Hall read an article in a trade publication about the history of tea in America, including Shepard's tea plantation in Summerville. The article pointed out all the reasons it was impossible to grow tea in America, including the high cost of labor and difficult altitudes.
"I didn't believe that was a true description of what tea in the United States could be," Hall said.
Hall flew to Charleston, went to Summerville and headed to the local library where he researched tea history and discovered Lipton owned the property – and original plants – on Wadmalaw Island. Hall called up his connections at Lipton and was able to visit the tea farm.
Thanks to that article and Hall's curiosity, he's since proven that tea can indeed grow in America. He's turned the Charleston Tea Plantation into an agritourism business, a historic attraction and a truly unique experience. The plantation remains America's only tea garden open to the public seven days a week.
The plants are part of the original Summerville crop, meaning each cup of tea is a taste of history.
"When you take a cutting of the plant, that plant is the same age as the mother plant," Hall explained. "It's living history here."
A Taste For the Ages
The making of tea – the second most consumed beverage in the world after water – is a complex process. "There's a lot involved with tea," Hall said. "It's far more complicated than wine or coffee."
Grapes are grown and made into wine once a year so it's either a good year or a bad year, but tea, Hall explained, is harvested every 15 to 18 days. The quality can vary widely depending on the temperature or amount of rain.
Teas from different harvests are blended to create a consistent quality. "If you buy our tea, we want it to taste exactly the same," Hall said.
Few products are purchased based on taste along, Hall said. But the only way to buy tea is to taste it and then put a price on it.
It's why Hall trained as a tea taster and now tastes all teas that carry the Charleston Tea Plantation label. It's why right around mid-March, Hall's tea taste buds are ready for the first harvest of the season in May, known as the "first flush."
"You'll never taste tea like that," he said of the unique flavor of those first new tea leaves that spring forth after laying dormant all winter.
Hall, who lives on the farm, has devoted his life to tea – tasting, buying and selling and now growing tea in an unlikely location. "It's not often you have an opportunity to do something no one else has done," he said.
For the foreseeable future, Hall will continue to tend to the tea plants on the 120-acre farm, sharing tea's history with visitors and tasting cup after cup.
"I'm way past retirement," Hall said. "But I love it out here. What else would I do?" 843-559-0383, charlestonteaplantation.com