People of the Neighborhood
07 Jul 2016
Jack Alterman's photography focuses on the faces of a changing place
By JASON A. ZWIKER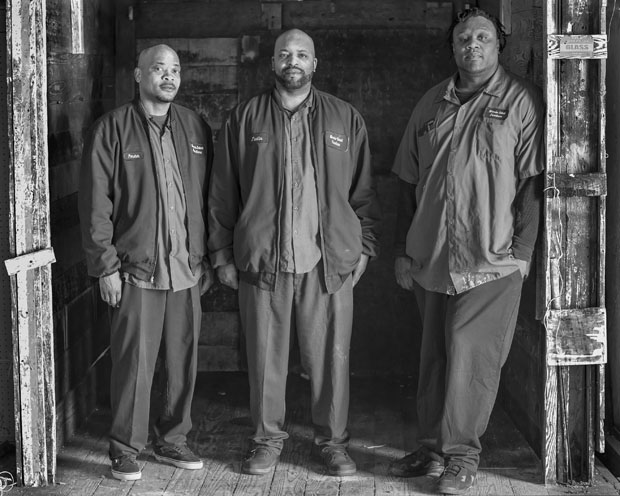 Charleston has long been a place caught between one time and another. That's part of her charm. But even within that juxtaposition of deep roots and forward thinking, there are certain areas that seem particularly balanced on a fine edge.
King Street, from Mary Street to Spring Street, is one of those areas. Photographer Jack Alterman turned his camera lens to it for exactly that reason.
"It really is one of the more interesting blocks, architecturally and also in terms of the families who've done business there for generations," he says. His large format photography exhibition, King Street - Faces of the 500 Block, was displayed along the glass façade of the Morris Sokol building at 510 King Street from May 26 through June 12.
"I placed the portraits outside of the windows not only to avoid glare but also so that it would be a sidewalk gallery," he says. "I wanted to place these portraits in the context of where these people live, where they work, where you see them every day."
It's a tribute to those whose hard work has shaped the area for decades; people such as Joe Sokol, son of founder Morris Sokol; Doris Dixon, owner of Reeves & Brothers since 1978; and Rosemary "Binky" Cohen and Tommy Read of Read Brothers.
These portraits also highlight a new generation working, living, laughing, and loving on this same block, as well as the contributions they make each and every day. Any stroll down this length of street will reveal something interesting: a yoga studio, an advertising agency, a great new place to enjoy food and drink with family and friends, or a custom bicycle shop.
The portraits are beautiful, made with natural light. There's a particular look on the face of each person, and that's by design. "I asked them not to smile but rather to think about somebody who they really care about," Jack explains. "As they think about the loved one, there's an expression that opens up their face, opens their eyes."
"I hope it will bring people together, to look at the portraits, to talk about the 500 block; people who may rarely see each other except to maybe wave when they see each other in the morning."
Alterman, of course, is himself a part of Charleston history. He grew up walking the same streets he walks today, knew the place long before he knew who he would become. His first camera was a Kodak Brownie, placed in his hands by his grandfather on a visit to New York City, but it wasn't until his sophomore year at the University of South Carolina that he began to realize the link between camera and career.
"I was taking a class in photojournalism taught by Jack McGrail," he recalls. "He told me, 'You have the eye. You've found your calling'."
There were a few more stops along the way, including service to his country in the USMC and study at the Brooks Institute of Photography in Santa Barbara, but he found his way back home to Charleston and made his name as a world class photographer.
Decades of experience at performing at the top rung of his ladder and a sincere love of his home have put Alterman in an excellent position to document the time of transition that Charleston finds herself in, early in the twenty-first century. His work has captured the spirit of the place time and again.
His book, My City Charleston, with a foreword written by former Charleston mayor Joseph P. Riley, Jr., has been hailed as a masterwork.
Last year, Alterman created a sidewalk gallery of 40 black and white, large format portraits of East Side neighborhood residents. That project, East Siders Matter, also called attention to the people of a changing place within Charleston and asked that we take a closer look at ourselves and others alike.
He's also been known to ascend high above the streets to gather a crop of beautiful images that make us see our city from an unexpected angle, or to slip out into the waters of the South Carolina Lowcountry when light is just barely beginning to break, camera at the ready, in order to bring back a stirring bit of natural beauty.
That's what the best of Alterman's work has always been about: shifting the perspective, inviting us to look at the familiar in a new way. In those moments, caught between recognition and strangeness, something shifts inside of us as well. altermanstudios.com