A No-Fuss Coastal Feast
30 Jan 2013
Whether you like them roasted, steamed, or fried, oyster roast parties are an all-time favorite tradition in the Lowcountry. We catch up with Jimmy Hagood during one of his many jaunts and learn how it's done old-school style.
By DENISE K. JAMES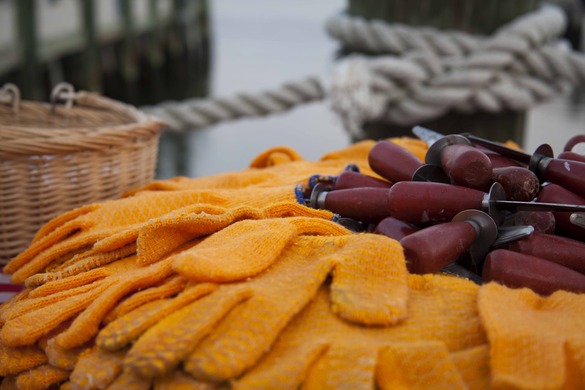 The morning that I met with Jimmy Hagood, owner and founder of Food for the Southern Soul Catering, the Lowcountry was having a post-Thanksgiving warm snap―nothing unusual to any of us. And yet, despite that the concept of an oyster roast party, one of Charleston's most treasured traditions, seemed a bit inappropriate given our short sleeves, the conversation made me hungry.
Hagood is a proud native of the Lowcountry who grew up eating many of the southern staples. He can't remember the first time he enjoyed a roasted oyster; he only knows that it made an impression that lasted.
"In college I learned to cook and eat barbeque, which is another popular item we cater," he explains. "But I can't even remember eating my first oyster. What I can remember is having my first roasting pot made and learning to cook oysters for 500 people!"
Though Hagood spends a great deal of time cooking for hundreds of oyster lovers these days, he has not changed his certainty about the way an oyster should be cooked for maximum flavor, which is over an open fire.
"It's the old-school way," he explains with a grin. "You put the oysters on a metal plate, propped on a concrete block with a fire beneath...then cover the oysters with a burlap or "croaker" bag and hose them down so they're steamed and roasted at one time. It's a vastly different flavor than what you get from a commercial steamer. To me, it's the quintessential way to eat an oyster."
Apparently, cooking and eating a bushel (or 50) of local oysters is child's play in comparison with the work involved in gathering the oysters.
"To get oysters you have to walk out at low tide with your mud boots on and a bag or bucket in your hand," Hagood explains. "You knock off the oysters as quickly as possible, but getting a large number of bushels can still add up to a day's work. Then, depending on our crowd, they're all eaten in two hours!"
One of Hagood's favorite oyster farmers, Ed Palmer, has always been in the oyster business. In fact, Palmer's father and grandfather began farming oysters over 60 years ago, making Palmer a 3rd generation member of the tradition.
"As I grew up, as young as 12 years old, I would come out and harvest oysters," says Palmer, who took a few minutes to speak with me on the phone while he was navigating Kiawah.
"I watched my grandfather and father do it for years; it was our way of life. I have a passion for it―you have to, because it's such hard work. I'm 71 years old now and still out on the open water because I love it."
For local oysters, the peak season is from October until March. Sure, you can get oysters at other times of the year, but chances are they won't be local―and nothing beats local in either Palmer's or Hagood's mind.
"I tell you what, when people eat these oysters, they tell me they're the best. Like other living things, their taste depends on environment," says Hagood.
And according to Palmer, the best environments are hidden.
"It's much harder to find the higher grade oysters around here. They are never out in the open," he says. "Over the years you locate the hidden beds and you learn where to go."
"Local" oysters can come from Folly River, Beaufort or McClellanville. Hagood admits that he is partial to the Folly River variety.
"Ed lives right by the river," Hagood remarks. "In fact, sometimes he'll pick the oysters and then put them back into the water until we're ready for them. He can also refrigerate them for a few days in the cooler."
In a typical week during the season, Food for the Southern Soul goes through about 50 to 75 bushels, catering three or four roasts. Most of the larger roasts benefit non-profits in the area, with the Dee Norton Lowcountry Children's Center and the Sumter County Museum among these.
"Here's a funny story about the Sumter roast," says Hagood. "When we first started catering that one, the attendees only wanted oysters from the gulf. That was what they were accustomed to. They said that the local oysters from the Lowcountry were 'too muddy'―I told them the mud is what gives them flavor!" He laughs.
"Anyway, we finally weaned them off the gulf oysters and convinced them that local is better."
Hagood also talks about the necessity of cooking quickly enough to suit the hungry masses.
"That's the thing about catering these roasts. You have to stay ahead of the cooking curve and roast faster than they can slurp them down. And keep refilling their spots. They have an oyster knife in their hands; you don't want to make them mad," he says.
I honestly cannot tell if he's joking or not. Having been to a few oyster roasts myself, I've seen how aggressive people can be at the table.
As for the hundreds of shells that are left after an oyster eating frenzy, Hagood is adamant about returning them to nature, where they are put to the best use. As it turns out, the nicest thing to do with an oyster shell is to return it to a bed, where new oyster larvae can attach themselves to the shells and the bed is able to keep replenishing.
"We recycle our shells with the Department of Natural Resources. They provide trailers to put the shells in after a roast," he says. "We try to educate our customers to consider this option as well."
Palmer agrees that taking care of the beds is possibly the most integral part of his profession.
"The number of bushels each day depends on the season," Palmer says. "It used to easily be 40 per day but it's harder now. We have more traffic, less vegetation. Traffic on the water can disturb the oysters. If you run into a bed you can kill the oysters. If you splash them with hot water, it will kill them. Oysters are delicate."
Palmer notes that as Charleston grows, oyster farmers are more numerous. Yet often these newer farmers don't understand the importance of keeping the oyster beds healthy.
"If you take the seeds from the bed, the beds are lost," he says. "If you want the bed to have oysters the next year then you have to care for it."
Hagood walks me around the Food for the Southern Soul headquarters on James Island after our conversation, showing me how the oysters are cooked, how pigs are barbequed and even where the local grits are bagged. The theme here seems to be simple and traditional, with oysters leading the pack as an ancient food source we still enjoy, particularly in the South.
"Humans have enjoyed oysters for thousands of years," Hagood muses. "Shell rings have shown us how long it's been. In fact, if you could ask what our most indigenous food is, it's the oyster."
RECIPES
Grilled Oysters
Makes 8 servings
1 bushel of oysters, rinsed and scrubbed
8 oyster gloves
8 oyster knives
Your favorite cocktail sauce
Melted butter
Lemon wedges
1. Clean and oil the grill racks. Preheat grill on high setting with lid closed for 10 minutes.
2. Place oysters in a single layer over grill grate. Cover oysters with a wet burlap sack. As the oysters start to open, usually after about 15 minutes, remove from grill and place on table or in aluminum pans. Eat immediately. Any oysters that do not open should be discarded.
Oyster Dressing Casserole
Makes 8 servings
2 pints standard oysters, with liquid
5 cups crushed saltines
1 ¼ cups melted butter
1 ½ cups half and half
½ cup oyster liquid
1/4 cup chopped celery
1/4 cup chopped onion
1 teaspoon Worcestershire sauce
Garlic salt
Black pepper
Ground red pepper
1. Preheat oven to 350 degrees. Drain oysters well, reserving the liquid.
2. Mix cracker crumbs with melted butter. In a large buttered casserole dish, layer one-third of the crackers. Top with half the oysters, half the onions, and half the celery. Sprinkle the oysters with the garlic salt and red and black pepper.
3. Make another layer with another third of the cracker crumbs. Place the rest of the oysters, onions, and celery next. Sprinkle the spices on the oysters. Top with remaining cracker crumbs.
4. Mix together the half and half, oyster liquid, and Worcestershire sauce. Pour evenly over the casserole. If the casserole is too dry, add a little more oyster liquid.
5. Bake for 50 minutes.
Sweet Cole Slaw
Makes 8 servings
1 bag (16oz) coleslaw mix
2 tablespoons diced onion
2/3 cup creamy salad dressing
3 tablespoons vegetable oil
1/2 cup white sugar
1 tablespoon white vinegar
1/4 teaspoon salt
1/2 teaspoon poppy seeds
1. Combine the coleslaw mix and onion in a large bowl.
2. Whisk together the salad dressing, vegetable oil, sugar, vinegar, salt, and poppy seeds in a medium bowl, blend thoroughly.
3. Pour dressing mixture over coleslaw mix and toss to coat. Chill 2 hours before serving.